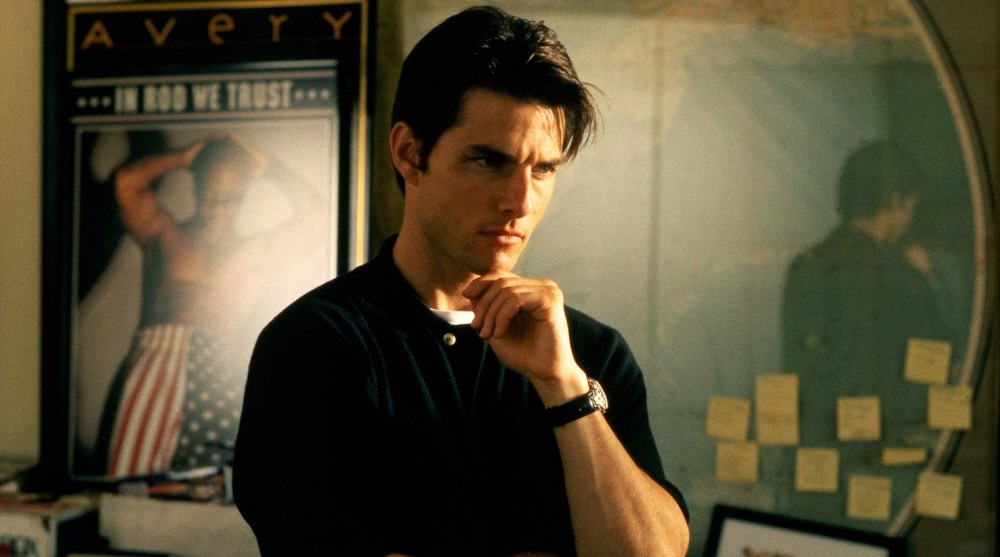 How does the Blu-ray/DVD Disc stack up? (all ratings out of 10.)
Movie
Video
Audio
Extras
Overall
SYNOPSIS
"You had me at 'hello'."
CRITIQUE
Jerry Maguire is a modern classic. But while it is without a doubt writer/director Cameron Crowe's most financially successful film, that does not mean it is his best one. Personally, I'd rate both Almost Famous and Say Anything fairly far ahead of it, those two motion pictures likely in my personal top 100 (especially the former) of the greatest motion pictures ever made.
None of which makes this film, currently celebrating its 20th anniversary, any less wonderful. The story of a sports agent, the titular Jerry Maguire (Tom Cruise), at a moral crossroads, the one client, NFL wide receiver Rod Tidwell (Cuba Gooding, Jr.), who sticks with him through both thick and thin, and the plucky administrative assistant, single mother Dorothy Boyd (Renée Zellweger), this is a movie that just gets better with each passing year. It's insightful, romantic, funny and moving, Crowe's script a knowing wonder that hits one emotional high after another.
Nominated for five Academy Awards (including Best Picture and Best Actor, but NOT for Zellweger, if you can believe it), an Oscar-winner for Gooding's flamboyant, energetically fascinating supporting performance, this is a film that looks rather simple at first glance but ends up being anything but. Crowe's winning script is filled with grace and depth, while his direction is some of the most confident and self-assured of his entire career. Cruise and Zellweger, meanwhile, have seldom been better, both delivering performances deserving of appearing near the top of both actors' impressive resumes.
All of that means that, 20 years on, Jerry Maguire is still something special. Many of its ideas concerning business, personal responsibility and human conscience are as perceptive and as prescient today as they ever were in 1996, and it's a pity more viewers who adore this film to pieces haven't taken them more to heart. That aside, while not Crowe's best, it's right up there, and I imagine in another two decades we'll all still be waxing rhapsodically over all its myriad layers just as boisterously as we are now.
THE VIDEO
Jerry Maguire is presented on a 50GB Blu-ray MPEG-4 AVC Video with a 1.85:1 1080p transfer.
THE AUDIO
This Blu-ray features an English DTS-HD Master Audio 5.1 soundtrack along with French Dolby Digital 2.0 and Spanish & Portuguese Dolby Digital 5.1 options and includes English, English SDH, French, Spanish and Portuguese subtitles.
THE EXTRAS
A majority of the extras are ported over from previous Blu-ray and DVD editions (including the amazing commentary track featuring Crowe, Cruise, Zellweger and Gooding). New special features created for this anniversary release include:
Jerry Maguire: We Meet Again (Part 1) (8:29) – Sensational three part retrospective making-of piece that's just flat-out incredible. Could easily have been longer. As it is, this is still pretty fantastic and fans of the film are going to want to watch it right away.
Jerry Maguire: We Meet Again (Part 2) (15:17)
Jerry Maguire: We Meet Again (Part 3) (15:17)
Deleted & Extended Scenes (55:38) – An embarrassment of riches. Wow.
Mission Statement (booklet) with Introduction from Writer/Director Cameron Crowe
Photo Gallery
A Digital HD Copy is included with this release, as is a CD containing the film's sensational soundtrack. 
FINAL THOUGHTS
This 20th anniversary edition of Jerry Maguire completes any Blu-ray library. Like the movie itself, it's pretty much perfect, and there's no reason to write a giant manifesto because those four words sum it all up rather nicely as far as I'm concerned, so show the clerk, Amazon or whomever the money and buy it already as you all know you want to.