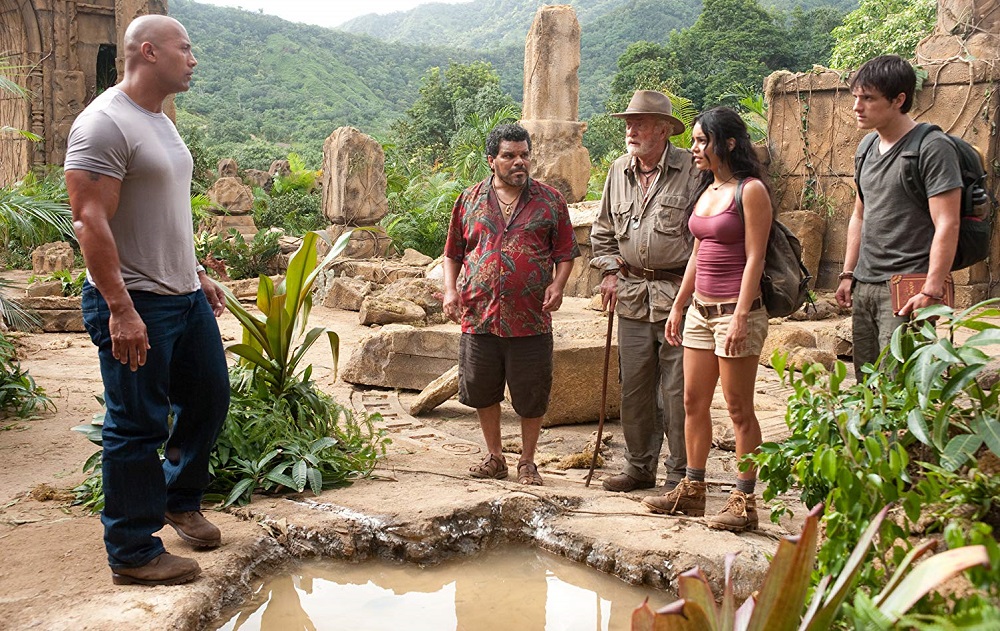 Visually Resplendent Journey 2 a 3-D Bore
In Journey to the Center of the Earth, Sean Anderson (Josh Hutcherson) found himself on an adventure inspired by the works of Jules Verne paired with his uncle Trevor (Brendan Fraser, absent this time around) in a race against time to escape the bowels of the planet. In Journey 2: The Mysterious Island, Sean once again finds himself on an adventure inspired by the works of Jules Verne on a search for his missing grandfather Alexander (Michael Caine) and is paired with his mother Liz's (Kristin Davis) new husband Hank (Dwayne Johnson) in a race against time to escape an island quickly sinking into the ocean.
If you were a fan of the 2008 film, more than likely you're going to be a fan of the sequel. If you were not, well, I mean seriously, why are you even reading this review in the first place? While the majority of the players – sans Josh Hutcherson, of course – have changed, while the locale is different, most what happens is eerily similar to the events depicted in that last 3-D, Verne-inspired (very, very loosely inspired) adventure.
I will say the movie is much more appealing than its horrific trailer indicated, director Brad Peyton (Cats & Dogs: The Revenge of Kitty Galore) keeping things on a much more even keel than I had anticipated. While the silliness does get a bit annoying, while certain sequences have a Disney or Nickelodeon Channel obnoxiousness to them, for the most part Peyton manages to keep things focused on the relationship between Sean and Hank, and in all fairness that isn't a minor thing.
But what's the point? The movie is nothing more than an excuse to keep visual effects artists gainfully employed, the screenplay a series of Big! Event! Moments! filled to the brim with computer-generated images giving the whole thing a video game sheen that's not altogether appealing. It all gets quickly tiresome, and other than a pretty solid sequence of the shipwrecked castaways (which also include a shockingly awful Luis Guzmán and a unexpectedly beguiling Vanessa Hudgens) traversing over a field of gigantic lizard eggs there wasn't a lot that held my attention.
What's left to say? There's very little Verne left in this adaptation, and the nebulous way they connect him to Jonathan Swift and Robert Louis Stevenson is tenuous to say the least. For those who enjoyed Sean's first venture into the unknown, as I said I imagine they'll have just as much fun following him again this time around. As for the rest of us, Journey 2: The Mysterious Island is nothing more than a CGI-filled, visually resplendent 3-D bore, and no forays to Atlantis or rides on Captain Nemo's submarine would ever be able to convince me otherwise.
Film Rating: 2 (out of 4)