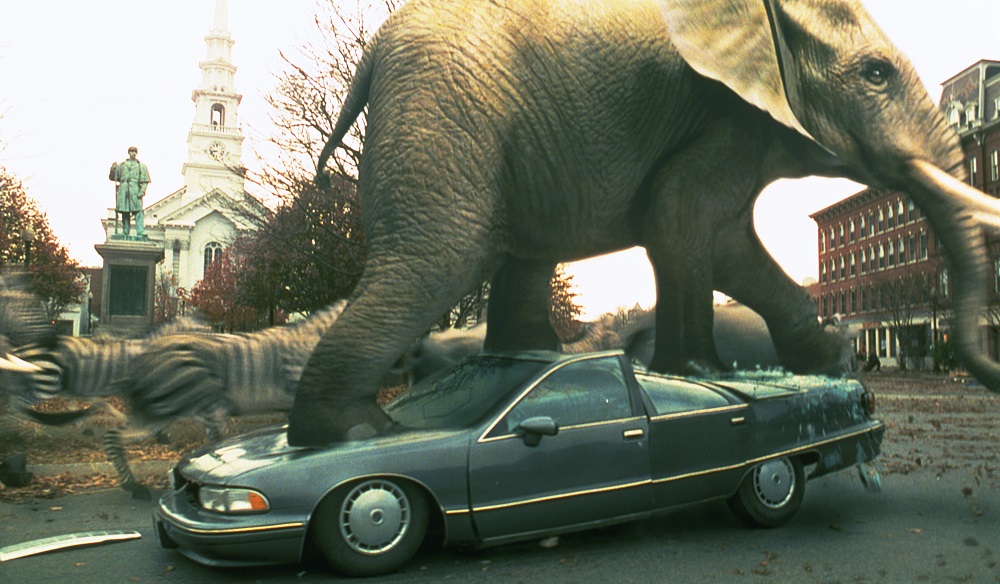 How does the Blu-ray/DVD Disc stack up? (all ratings out of 10.)
Movie
Video
Audio
Extras
Overall
SYNOPSIS
"Twenty-six years ago, you played a game with a little boy down the street. A game with drums." 
–      Alan Parrish
CRITIQUE
I've never gotten the enduring popularity of Jumanji. Twenty years after its original release, this extensive reimagining of the Chris Van Allsburg children's storybook, helmed by The Rocketeer and Captain America: The First Avenger director Joe Johnston, has never done a heck of a lot for me. After an intriguing prologue set in 1969, the film has a trouble finding its footing, and as nicely cast and acted as it might be the whole thing is so obsessed with its overly frenetic visuals it forgets about its characters entirely, building to a rather lackluster finale that's more tedious than it is anything else.
It all revolves around a mysterious board game, "Jumanji," one that once the game has started it cannot be stopped until a victor is crowned. Each moves brings to life a deep, dark jungle terror ranging from hungry lions to rampaging elephant herds, each roll of the dice bringing these terrors into the modern world becoming lethal terrors to all they encounter.
Robin Williams stars as Alan Parrish, a thirty-something man-boy who was strapped inside the world of the game for 26 years, freed when new players Judy (Kirsten Dunst) and Peter Shepherd (Bradley Pierce) on a whim beginning playing themselves and inadvertently roll the correct number with the dice. Bringing Sarah Whittle (Bonnie Hunt), who as a child was playing the game with Alan when he mysteriously disappeared, back into the mix to complete the required quartet, the group attempt to finish the game before the entire town is overrun with jungle craziness, a mad hunter (Jonathan Hyde) determined to stop them before a winner can be declared and all of the unleashed horrors vanish back inside Jumanji.
It starts well enough, both the prologue and the modern day introduction to Judy and Peter working just fine. But as soon as things start leaping from the game into the real world focus on the characters and their plight begins to dissolve. Johnston, so captivated by the visuals (this was one of the first films to utilize CG effects on a such a massively impressive scale), loses touch with the emotions driving events forward, the convoluted script lacking any of the charm Van Allsburg's book offers up in spades.
I get it. A lot of people like Jumanji. I'm just not one of them, and considering how many times I've given this film a chance (the number is surprisingly large for a film I don't care for) I don't see this changing anytime soon.
THE VIDEO
Jumanji is presented on a dual-layer 50GB Blu-ray with a MPEG-4 AVC encode and a 1.85:1 1080p transfer.
THE AUDIO
This Blu-ray features both English DTS-HD Master Audio 5.1 soundtrack along with French, Japanese, Portuguese, Spanish and Thai Dolby Digital 5.1 tracks and comes with optional English, English SDH, French, Spanish, Portuguese, Japanese, Arabic, Danish, Dutch, Finnish, Korean, Mandarin (Simplified), Mandarin (Traditional), Norwegian, Swedish and Thai subtitles.
THE EXTRAS
The majority of the extras, including the raucous (if slightly underwhelming) Special Effects Crew Audio Commentary, are all ported over from the previous Blu-ray release save for the BD Live functionality options (which no longer exist) and the DVD version of the film. New extras for this 20th anniversary release include:
Jumanji Motion Storybook as Read by Author Chris Van Allsburg (8:59) – The Jumanji author reads a motion storybook version of his original tale. If only the movie could have been half this charming, then we'd be talking about something deserving a 20th anniversary celebration.
Jumanji: The Animated Series – Two episodes of the 1996-1999 syndicated cartoon, both of which are more imaginative (and entertaining) than the movie itself proves to be.
– The Price (23:36)
– Bargaining for Time (21:43)
Goosebumps Sneak Peek (3:01) – A very short preview (i.e. glorified trailer) for the new family film hitting theatres October 16.
The Cast of Goosebumps Reflects on Jumanji (5:18) – Goosebumps actors Dylan Minnette and Ryan Lee reflect on their affinity for Jumanji. A preview – the same preview from the Sneak Peek! – for Goosebumps follows.
Original Theatrical Trailer (2:46)
International Teaser Trailer (1:45)
International Trailer (0:32)
An HD Digital Copy of the film is included with this release. 
FINAL THOUGHTS
I don't particularly care for Jumanji. I never have. It's too frantic, too consumed with the razzle-dazzle, never focusing as solidly on the characters and their respective journeys as it should in order to mean something lasting. Still, Sony's 20th anniversary Blu-ray, while no huge improvement over the previous edition, should please the fans, and for those who do not own the last disc picking this one up for the collection is worth going into the jungle in order to do.