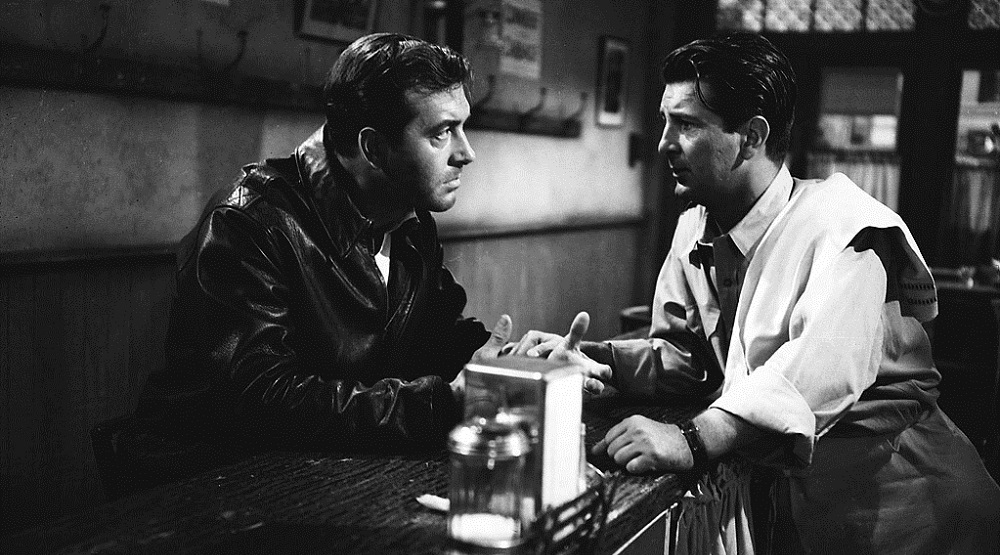 How does the Blu-ray/DVD Disc stack up? (all ratings out of 10.)
SYNOPSIS
"I know a sure cure for a nosebleed: a cold knife in the middle of the back."
CRITIQUE
Kansas City Confidential is likely one of the more famous, influential and important films, at least as far as noir is concerned, that most probably have never heard of. Director Phil Karlson's (Walking Tall) crime-drenched opus inspired everything from The Thomas Crown Affair, to Rififi, to Reservoir Dogs, to even The Dark Knight, the convoluted tale of a perfect robbery and the rube falsely accused of being a member of the gang who pulled it off absolute perfection from beginning to end.
Mastermind Tim Foster (Preston Foster) assembles a small group of thugs to hold up an armored car. None of them know who the others are. None of them see any of the others faces. After the robbery, all go their separate ways, each scheduled to get paid for part in the crime at an undisclosed location and at an unknown time.
Caught in the middle of things is Joe Rolfe (John Payne), an ex-con whose delivery truck is erroneously singled out as the getaway vehicle after it is noticed at the scene of the crime. Forced to flee in order to clear his name, he slowly begins to put the pieces of the puzzle together, tracking down the various members of the gang (a group which includes Lee Van Cleef and Jack Elam) in pursuit of the man at the top who has suddenly made his life a living hell. He is aided by a beautiful young woman named Helen (Coleen Gray), her connection to the crime, and to the criminals who pulled it off, much more intimate than she initially could ever have known.
Spectacularly shot by George E. Diskant (The Narrow Margin) and ingeniously directed by Karlson, the movie pulses with energy and excitement throughout, building to a suitably hard-boiled conclusion overflowing in electricity and excitement. Kansas City Confidential is a seriously great motion picture totally deserving of its status as a noir classic, standing the test of time in ways few similar efforts have. Now, here's just hoping more viewers take the time to actually watch, and not just look at the movies it went on to inspire.
THE VIDEO
Kansas City Confidential is presented on a 25GB Blu-ray MPEG-4 AVC Video with a 1.33:1 1080p transfer.
THE AUDIO
This Blu-ray features an English DTS-HD Master Audio 2.0 track and includes optional English SDH subtitles.
THE EXTRAS
There are no extras included with this release. 
FINAL THOUGHTS
Kansas City Confidential is in the public domain, and as such has received a Blu-ray release in the past. All the same, even with zero extras The Film Detective's new disc is certainly the way to go. Featuring superb video and outstanding audio, this Blu-ray is an outstanding addition to any cinephile's home library, the relatively low price point certainly a major point in the release's favor as well.