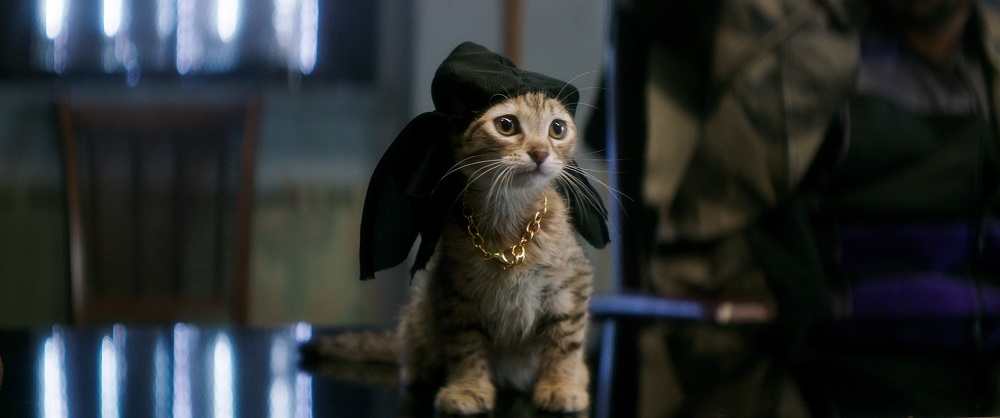 Key and Peele Leap to Features with Violent Kitten Comedy Keanu
After his girlfriend dumps him, Rell Williams (Jordan Peele) is a depressed mess drowning in his sorrows and content to waste his days away in a marijuana-fueled haze. But when Clarence Goobril (Keegan-Michael Key) arrives at his cousin's door, he discovers Rell to be a changed man. Why? A kitten showed up on Rell's porch the very morning of his breakup, the downtrodden man quickly bonding with the little guy, naming him Keanu and swearing to give the animal a safe, happy and loving home.
After a night out at the movies, Rell and Clarence arrive back at the former's house to discover his place broken into and Keanu missing. Learning that an inner-city Los Angeles gang might have him, the pair pretends to be a couple of lethal drug dealers in hopes of getting the kitten back. But the further into this bullet-riddled abyss they descend the more the cousins discover they're actually pretty good at feigning to be thugs, pulling out all the stops as they do whatever it takes to get Keanu back and return him to where he belongs.
Jordan Peele and Keegan-Michael Key are best known for their long-running, Emmy-nominated skit comedy series "Key and Peele," and while the two have appeared separately in a number of television programs and in motion pictures, Keanu is their first feature-length narrative effort working together as a team post their popular TV show. It's pretty much as silly as it sounds, a pair of straight-laced Black men forced to go undercover in a world filled with cultural stereotypes and hip-hop archetypes all in a pursuit to get back a stolen kitten. That's it. That's the movie, this scattershot comedy exactly what one expects it to be for every single one of its relatively brief, if still too long, 98 minutes.
Written by Peele and frequent collaborator Alex Rubens, the pair have constructed a coherent and cohesive storyline for the film. Rell and Clarence go down this particular rabbit hole in a way that's oddly comprehensible, and while the situations they find themselves in escalate into varying extremes of violence, their bonds of friendship make their steadfast refusal to give up and go back home moderately relatable. Because of their experience in sketch comedy, Peele and Rubens have a deft ability to construct complex situations and characters with the use of narrative shorthand, and while here that ability is put to the test, that they manage to pull it off is hardly a surprise.
But, also like most sketch comedians, they sometimes also don't know when to say when. Certain bits go on much too long, wearing out their welcome long after the joke has ceased to be humorous. There's a sensational bit inside a Hollywood starlet's home (not saying who, but she's got ties to Seattle, as well as to a certain galaxy guardian) that's like a shot of pure comedic adrenaline when it begins, but Peele and Rubens don't know when to say when. Director Peter Atencio indulges them, and by the time events reach their crazily absurd, shockingly violent conclusion the impact is sadly severely diminished, in large part because no one had the wherewithal to suggest a little judicious editing.
All the same, Keanu is funny, oftentimes achingly so, watching Key transform himself from George Michael-loving suburbanite into a tough-talking thug a royal hoot that gets more and more hysterical as things move along. Additionally, as violent as the film might be, it's all so achingly playful the majority of the grotesqueries don't come across near as depraved or as disgusting as they otherwise might have. It's all a bit of lark, one I'm not going to say anything more about, that way viewers can experience the majority of the jokes without my ruining any of them. In the end, this is a movie that shows Key and Peele are more than just television personalities, and it likely won't be long before they put forth a picture that potentially equals the pair's comedic virtuosity.
Review reprinted courtesy of the SGN in Seattle
Film Rating: 2½ (out of 4)