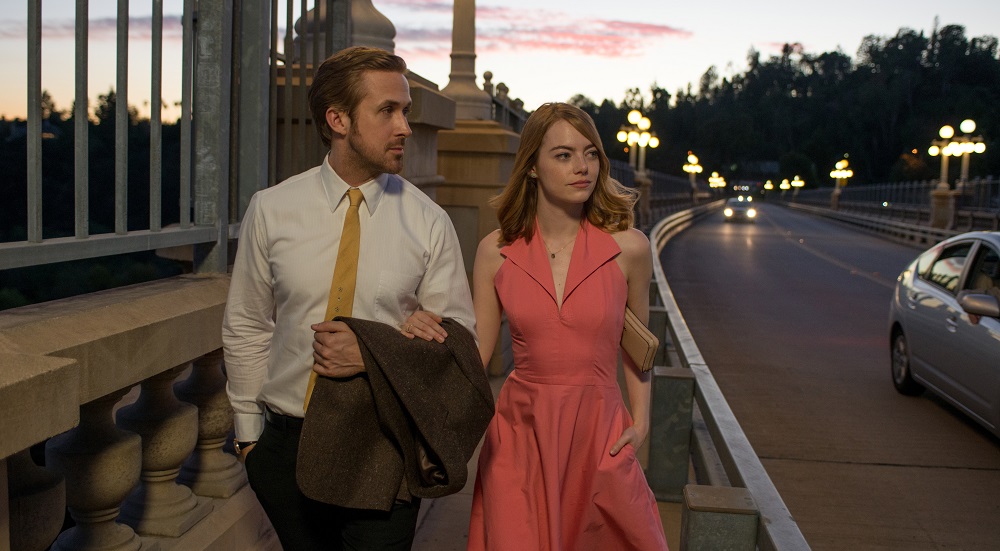 Winsome La La Land a Musically Euphoric Romantic Adventure
I think about my favorite musicals, films like Vincente Minnelli's The Band Wagon, Jacques Demy's The Umbrellas of Cherbourg, Bob Fosse's All That Jazz, Herbert Ross' Pennies From Heaven and John Carney's Once, and I realize so many of them have a sense of sadness that flows throughout, a melancholic grace that tugs at the heart. Yet, in each and every instance, they also have an innate ability to make me feel joy, an unencumbered feeling of euphoria that allows the thought that the world, no matter how bad it can be, no matter how awful things can get, can spin on its axis in the exact opposite direction in the blink of an eye. These films, these triumphs, each makes me love life itself, and as far as I'm concerned that is no small feat and a trait that should never be undervalued.
After wowing everyone, everywhere with his 2014 sophomore outing Whiplash, writer/director Damien Chazelle returns with his most ambitious effort to date, La La Land, an old school Technicolor marvel of imagination and ingenuity that sent my heart soaring into the stratosphere to dance alongside the stars. A whimsical, poignantly touching musical of connection, growth, longing and friendship, this is a movie to be celebrated, a winsome journey into the tuneful vagaries that connect us all and the universal truths that love's variances oftentimes reveal.
Mia (Emma Stone) is an aspiring actress working at a coffee shop located on a busy Hollywood studio's lot. She lives in a Los Angeles home with a cadre of other young women, all of whom go out almost every night of the week to hobnob with anyone who might help jumpstart their respective careers. Mia is starting to lose faith, however, and she's thinking maybe it's time to drop out of this rat race and head back home, the thought of one more rejection potentially more than she can bare.
Sebastian (Ryan Gosling) is a jazz pianist who doesn't like to change his playing style or musical point-of-view for anyone, even his employers. He longs for the old days when clubs were filled with patrons eager to hear the musicians improvising with one another as if they were all sharing a single brain, each night a symphonic adventure where anything was possible and all melodic avenues were available for exploration. But Sebastian is struggling, taking gigs with '80s pop cover bands and playing tired holiday tunes in various restaurants in order to pay the bills.
It's easy to figure out what happens from there. Mia and Sebastian meet. They bicker. They banter. They sing. They dance. They fall in love. More than that, though, they find themselves seeing life through the other's eyes, their time together giving them fresh insights into their dreams and careers that they would never have discovered had they not entered one another's personal space. It's a romance for the ages, but one still not without its pitfalls and dangers, their ability to navigate all the twists and turns going to be the determining factor as to whether or not their time together will stand the test of time.
It's an old story, but still an effective one, and in Chazelle's hands it feels revolutionary. Like a combination of Demy and Minnelli's best musicals, La La Land balances honest emotion and cinematic fantasy with ease. Chazelle juggles the varying components with rapturous eloquence, the emotional maturation of the two main characters coming through with evocative veracity. Sebastian and Mia are real people doing the best they can with what they have, discovering they can do it even better with the other cheerleading and challenging their every movement. They, like the movie itself, suddenly are willing to take risks, and while their dreams remain the same how they go about achieving them is an amorphous adventure that's as ever-changing as the nighttime sky.
The staging is beyond compare. From Mary Zophres' (True Grit) deliriously refined costumes, to David Wasco's (Inglourious Basterds) production design, Austin Gorg's (The Neon Demon) art direction and Sandy Reynolds-Wasco's (Fifty Shades of Grey) set direction, the technical facets are extraordinary, the use of color and texture a breathless wonder from the first second the movie begins. It might just be Linus Sandgren's (Joy) cinematography that impresses the most, however, his dexterous framings, not only of the musical numbers but just in general throughout, a divine spectacle that's tremendous.
Speaking of the musical numbers, Chazelle eschews modern MTV music video methods as far as staging and editing are concerned. Instead, much like the Hollywood greats, he allows these moments to play themselves out so that the poetry of the movement and the connections between the actors speak to the veiwer with dazzling clarity. There is an observational glory to many of the individual sequences that I immediately wanted to rewind and watch again the second they concluded, each building upon the next to shape Mia and Sebastian in ways that are profound no matter how fanciful or dreamlike an interaction might initially appear.
Gosling and Stone, working together for the third time (Gangster Squad, Crazy, Stupid, Love.), continue to display sublime chemistry, their ability to connect with one another reminiscent of Tom Hanks and Meg Ryan or William Powell and Myrna Loy, each in their respective heydays. But as good as the former is, and he's wonderful, it is the latter who steals the show. Stone, so amazing in Birdman, so close to perfect in The Help, is still a revelation, watching her build Mia layer by layer a virtuoso star turn that's extraordinary. Her final musical number left me speechless. The way it builds, how Chazelle daringly holds his camera on her face as she navigates through all the various emotions while singing her chosen song, each second is divine, Stone bringing many moments such of this to such organically energetic life I couldn't help but be amazed by the actress.
There's not a lot here for any of the supporting players who wander in and out of the proceedings to do, and as gorgeously simplistic and honestly sentimental as the denouement might be, the transition to the finale is slightly jarring as it happens with such ferocious rapidity. Yet the feeling of bliss I felt as I exited the theatre afterwards was omnipresent, filtering into every fiber of my being with melodious ease. La La Land is magnificent, Chazelle delivering a musical that instantly ranks alongside my favorites of the genre and as such is a motion picture I'll be almost certain to cherish and sing the praises of for decades to come.
– Review reprinted courtesy of the SGN in Seattle
Film Rating: 3½ (out of 4)