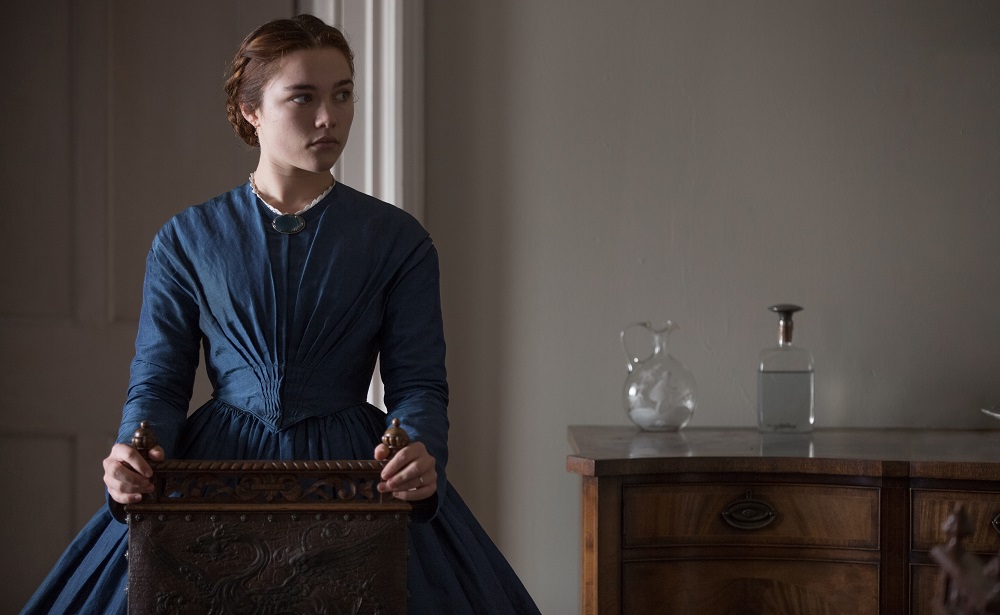 a SIFF 2017 review
Unsettling Lady Macbeth a Viciously Carnal Drama
Somewhere in rural England circa 1865, wealthy industrialist and landowner Boris (Christopher Fairbank) essentially buys his ne'er-do-well son Alexander (Paul Hilton) a wife. She is 17-year-old Katherine (Florence Pugh), a headstrong young woman who loves the great outdoors and has a passionate zest for life that's immediately apparent to anyone who makes her acquaintance. But her wants and needs are utterly insignificant to either Boris or Alexander. They want Katherine to stay indoors, make nice with her personal maid Anna (Naomi Ackie) and bear her new husband a litter of sons. She is to act the proper lady at all times whether the men are in the house or not, and as women are the weaker sex they go by the axiom that it's always better if they're seen and only seldom heard.
This does not sit well with Katherine. When an incident at one of the family's factories forces Alexander out of town while at the same time Boris is off to London for business meetings, this becomes the perfect opportunity for the newlywed bride to see the countryside and to explore her new home more thoroughly. While doing so, she becomes acquainted with farmhand Sebastian (Cosmo Jarvis), he and his cronies engaging in hardly proper games of a somewhat sexual nature involving Anna and another of the property's staff. Katherine is immediately drawn to this assertively insolent young man, the two quickly rushing into an illicit affair that's as brazen as it is obvious.
What happens from there is a downward spiral of sex, murder and manipulation, Katherine battling back against the misogynistic patriarchy of her day with a bloody calculated vengeance that knows no bounds. She gets back at Boris, laughs at the notion Alexander is her equal and revels in the carnal pleasures Sebastian offers her. Based on the book Lady Macbeth of Mtsensk by Russian author Nikolai Leskov and featuring a screenplay by newcomer Alice Birch, Lady Macbeth is a deeply disturbing descent into madness and retribution anchored by a performance from newcomer Pugh that's likely going to be one of the absolute finest I have the pleasure to experience this year. It is a handsomely mounted production, one that flirts with greatness throughout, the final feature a heady mixture of Shakespeare, Tolstoy and Brontë that builds to a shattering climax that's impossible to forget.
Making his feature narrative debut, director William Oldroyd takes a minimalist approach to things, allowing a series of slow, steady transitions and dissolves to help depict both the passing of time as well as Katherine's shifting psychological state of being. He allows cinematographer Ari Wegner (Grey Matter) the freedom to explore the antiseptic, unfeeling interiors and the expansive, windswept exteriors with equal intensity, his spare, unpretentious camerawork a poetical descent into madness that's astonishing.
But, at not even 90 minutes in length, the sparseness of the storytelling does sometimes work against the bigger picture. Some of the core character transitions, most notably Anna's and Sebastian's, both key to the ultimate climactic revelations, happen with an inelegant suddenness that's not entirely genuine. While Jarvis and especially Ackie certainly do their best, their characters end up where they do more because their transitions play a key role in Katherine's evolution from wronged woman to Machiavellian manipulator and not because Birch's script allows them to get where they need to go with any sort of gently developed authenticity.
Thankfully, Oldroyd has Pugh, and she's extraordinary. Her performance is a thing of beauty, watching the young actress come into her own as she breathes life into Katherine a joy in every way imaginable. This isn't a person who sets out to be the great manipulator, a person responsible for all sorts of murderous bits of mischief and mayhem that are well beyond the pale. But the way she is initially treated with such callous indifference has an effect on the youngster that never could have been anticipated, as does the instantaneous lustful longings she feels when she first comes into Sebastian's presence. Pugh finds a way to meld all of this together into something deliberate, almost craven, each inch of Katherine's journey made with a calculatedly intelligent intensity that's executed with masterful charismatic grace.
There's so much more to dig into, not the least of which is a stunning subplot involving an illegitimate 7-year-old child (a haunting Anton Palmer) and his protective grandmother (Golda Rosheuvel), the two of them an unexpected roadblock to Katherine's plans. The relationship this trio ends up forging is surprisingly touching and tender, the outcome of their collective bonding a terrifying turn of the screw that is resolute as it is disturbing. Through it all Oldroyd orchestrates things with utter confidence, never flinching once as things build to their shatteringly self-destructive conclusion. Lady Macbeth strikes hard and digs deep, Pugh's performance alone a superlative bit of ruthless magnificence that lives up to the title character's Shakespearean namesake with unforgettable viciousness.
– Review reprinted courtesy of the SGN in Seattle
Film Rating: 3½ (out of 4)