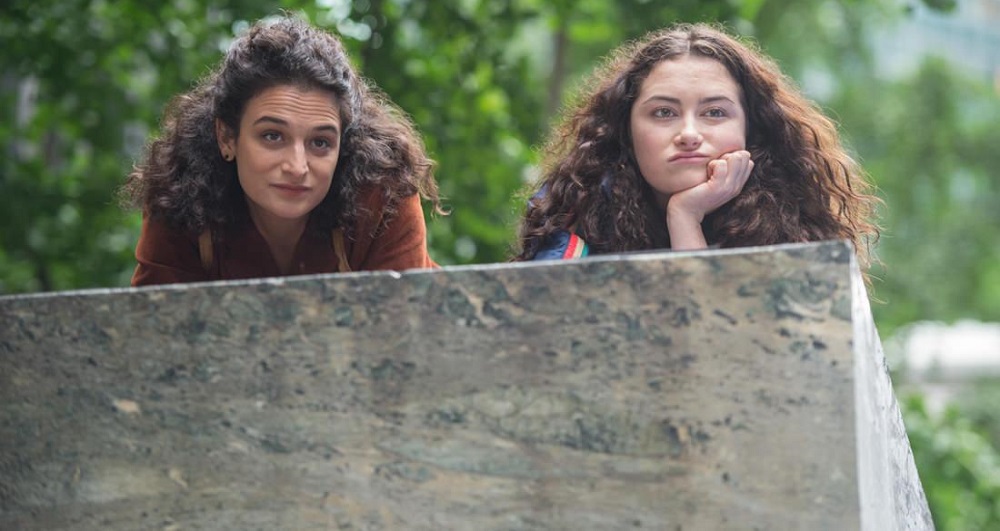 a SIFF 2017 review
Deftly Nuanced Landline a Heartfelt Treasure
With her relationship to fiancé Ben (Jay Duplass) sliding into something of a rut, and with her college beau Nate (Finn Wittrock) unexpectedly re-entering the picture, New Yorker Dana (Jenny Slate) is trying to figure out the best way to put the pieces of her life together in a way that makes even a modicum of sense. Not that her teenage sister Ali (Abby Quinn) is doing much better. She's constantly sneaking away to parties to experiment, discovering in the process following in her older sibling's footsteps isn't all it is cracked up to be.
Then there are the pair's parents, Alan (John Turturro) and Pat (Edie Falco), the two of them floating around the edges of a marriage that's lost much of its spark. That still doesn't make it any easier on Ali when she discovers dear old dad is having an affair, information she feels compelled to reveal to Dana. Soon the two are in cahoots to figure out what is going on, never imagining for a second that what they'll discover will lead to a transformation for their entire family that might not be nearly as disastrous or as tragic as any of them understandably feared it might be.
If writer/director Gillian Robespierre's comedy-drama Landline isn't the instant masterwork her 2014 debut Obvious Child proved to be, that does not make it any less wondrously entertaining. Reuniting once again with both her previous film's star Slate and its co-writer Elisabeth Holm, the filmmaker continues to prove she's a singular talent unafraid to make pieces of pop entertainment that are more complex and nuanced than they might initially appear.
Set in 1995, this film's greatest triumph is that it has the gall to put forth a thesis that divorce, even just the threat of it, isn't always a catastrophe. In some cases, a marriage's end can actually bring a family closer together, and while the travails afflicting the characters here are certainly nothing to belittle or scoff at, the courage in Robespierre and Holm's script is still undeniable. The way they bring Dana and Ali together, the delicate evolution of Pat as she realizes what is happening, the manner in which Alan finds he's becoming both a better parent and a healthier man after lies are forced to become heartbreaking truth, all of it hits home in a manner that is surprisingly affecting.
It's a little slight, and nothing here digs nearly as deeply as the abortion-fueled mechanics at the heart of Obvious Child, that movie throwing romantic comedy conventions on their ear as Slate delivered one of the finest performances of this second decade of the 21st century. But the emotions are pure, their authenticity never in doubt at any point, scene after scene crackling with a jovial majesty that kept a smile plastered right at the center of my face. Robespierre also finds another wondrous talent in Quinn, the youngster so luminous as Ali she practically sets the screen afire with her fervently intricate take on a character who easily could have been a ham-fisted melodramatic cliché coupled with an overly simplistic afterthought.
What might be most refreshing is the story's refusal to judge any of the characters for their shortcomings, no matter how obnoxious, obvious or even odious some of them might be. Robespierre and Holm allow everyone to make their fair share of mistakes, understands that missteps happen and everyone happens to stub their toe while stumbling over a waterfall of their own cascading tears from time to time. But the ability to learn from those mistakes, that knack to pick one's self up after a fall and continue forward again as if nothing of consequence has happened, those are innately human traits to be celebrated, Dana and Abi discovering that for themselves while at the same time strengthening their sisterly bond past the point it could ever be destroyed in the future.
As things catapult to their conclusion, Robespierre manages to steer things towards the point where any tears that might fall on the part of the viewer are justifiably achieved. This remains, start to finish, a story of two sisters, and while their family strife might be the reason they're back together, the catharsis they're able to manufacture is achieved purely through their own tenacity and dogged refusal to bow to societal convention. Landline gets what makes people tick, doesn't shy from reveling in the good, bad and ugly as well as all the gradations hiding in the various grey areas. It's very good, and as such ends up being a movie I can't help but hope finds its audience.
– Review reprinted courtesy of the SGN in Seattle
Film Rating: 3 (out of 4)
Additional Link:
Interview with writer/director Gillian Robespierre and actresses Jenny Slate and Abby Quinn