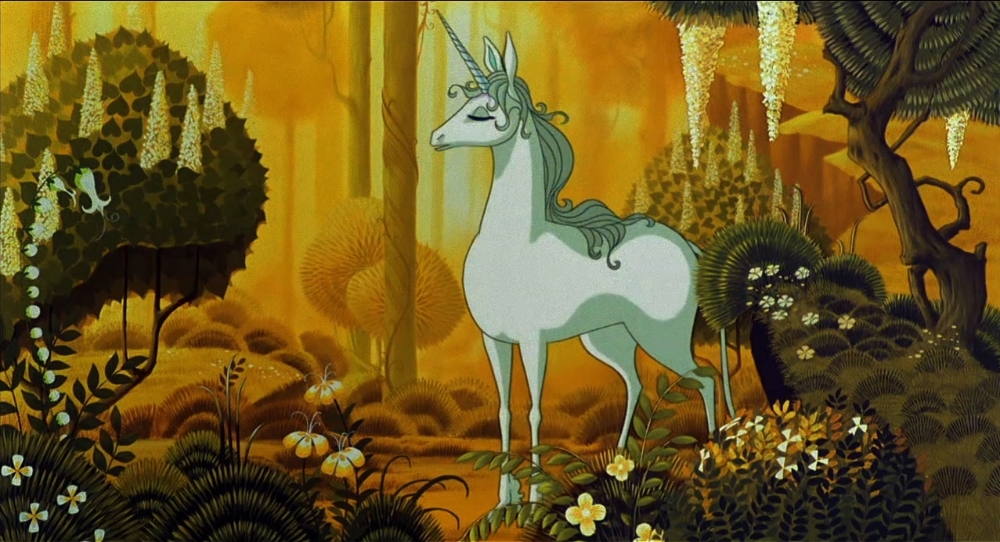 How does the Blu-ray/DVD Disc stack up? (all ratings out of 10.)
Movie
Video
Audio
Extras
Overall
SYNOPSIS
"They passed down all the roads long ago, and the Red Bull ran close behind them and covered their footprints."
–      Butterfly
CRITIQUE
This title was previously released on Blu-ray by Lionsgate back 2011. Here's what I wrote about it at that time:
"On a quest to discover what happened to the rest of her kind, a Unicorn (voiced by Mia Farrow) learns that all her brethren have been lost to the mysterious Red Bull at the behest of the lonely and angry King Haggard (Christopher Lee). She is joined by the bumbling magician Schmendrick (Alan Arkin) and the cook of a wannabe Robin Hood named Molly (Tammy Grimes), the trio gaining access to Haggard's castle after the unicorn is transformed into a human. The resulting overload of human emotions lead her to forget her true mystical nature and allowing for love to blossom between her and the king's heroic adopted son, the dashing Prince Lir (Jeff Bridges).
Based on the acclaimed book by author and illustrator Peter S. Beagle, 1982's animated family epic The Last Unicorn is a bewitching fantasy that's held a soft spot in my heart ever since I first saw it as a young child. It's a charming, uplifting musical poem that has the power to mesmerize, and even if the animation in this Rankin/Bass production isn't quite as good as it probably could have been the story itself and the wonderful vocal cast make up for so many of its shortcomings it's hard for it to disappoint.
My favorite sequence, other than the magnificent finale featuring our heroine finally facing down the Red Bull and finding an emotional resolve her kind inherently do not have but she needs in order to free the rest of her species, is one early on featuring the Unicorn, Schmendrick and a wicked old crone and sorceress named Mommy Fortuna (Angela Lansbury). In her menagerie she comes to realize her journey is more perilous than she previously imagined, facing off with a fellow mystical creature, a captured Harpie, she is compelled to free even knowing it will try to kill her. It's a fantastic sequence, full of many nuances and life-lessons, made all the more effective thanks to Lansbury's hideously melodic cackle.
It is that focus on the characters and their relationships that make the film work as well as it does. Even at a brisk 93 minutes the film covers a ton of territory, the evolutions of the Unicorn, Schmendrick, Molly, Lir and with evil King Haggard the reason it ends up being so effective. Of the all-star vocal cast (Keenan Wynn and Rene Auberjonois also lend key support) Farrow's performance is the standout, the acclaimed actress creating an intoxicating blend of weariness, naiveté, innocence and resolve fitting her character perfectly.
The animation could be better (much of it was farmed out to a Japanese anime company so Disney, or even Don Bluth, this certainly is not), and some sequences don't play as well now that I'm in my thirties as they did when I was seven or eight. But overall this is still a mythic adventure filled with romance, peril and daring-do I'm completely in love with. America's songs, written by pop writer Jimmy Webb, fit the story nicely, and even if the singing voices of Farrow and Bridges leave something to be desired that doesn't make their solo and duet efforts any less sublime. The Last Unicorn is a treasured favorite, and the fact I now own it on Blu-ray makes me happier than I should probably admit."
As I get older, my love for The Last Unicorn only seems to grow. I have little else to add.
THE VIDEO
The Last Unicorn is presented on a dual-layer 50GB Blu-ray with a MPEG-4 AVC encode and a 1.85:1 1080p transfer. A lot has been made about whether this transfer is any sort of improvement over the Lionsgate 2011 release. How much DNR was or was not used? Is there excess filtering? So on. So forth. What I'll say is that this transfer is different than the previous release, on that front there is no debate, but whether it is better or it is worse is entirely up to personal preference. Personally, I like the stronger, more vibrant colors as the appearance of the film on that front looks more true to what I remember seeing it is a kid in the theater back in 1982. The grain structure is definitely played down considerably, but it is still there, so those worrying Shout has smoothed things out like Disney has been doing as of late should let those feelings rest somewhat easy. Again, it's not better than the Lionsgate release, nor is it worse. It's just different, make of that what you will.
THE AUDIO
This Blu-ray features both English DTS-HD Master Audio 5.1 and DTS-HD Master Audio 2.0 soundtracks and comes with optional English subtitles.
THE EXTRAS
Extras here include:
Audio Commentary with author Peter S. Beagle, associate producers Michael Chase Walker, Connor Cochrane, Terri Kempton and Travis Ashmore – Overstuffed but informative, this commentary track is a solid listen for fans of the film.
True Magic: The Story of The Last Unicorn (43:29) – Terrific retrospective piece featuring interviews with many of the key contributors who helped bring the film to life. Wonderful stuff.
Highlights from The Last Unicorn Worldwide Screening Tour with Peter S. Beagle (11:18)
Animated Storyboards (7:23)
Original Theatrical Trailer (2:48)
None of the extras that were included on the Lionsgate release, save the theatrical trailer, are included here, so if you're a diehard fan don't ditch it. You've been warned.
A DVD Copy of the film is included with this release.  
FINAL THOUGHTS
Shout! Factory's edition of The Last Unicorn doesn't necessarily improve upon the 2011 Lionsgate release but it's still pretty wonderful all the same. Colors leap off the screen as they haven't since its 1982 theatrical release, while the newly recorded commentary track is a definite keeper. Not sure I'd say a person has to put forth the cast for a double-dip, but for fans picking up this disc comes remarkably close to being essential. Recommended.