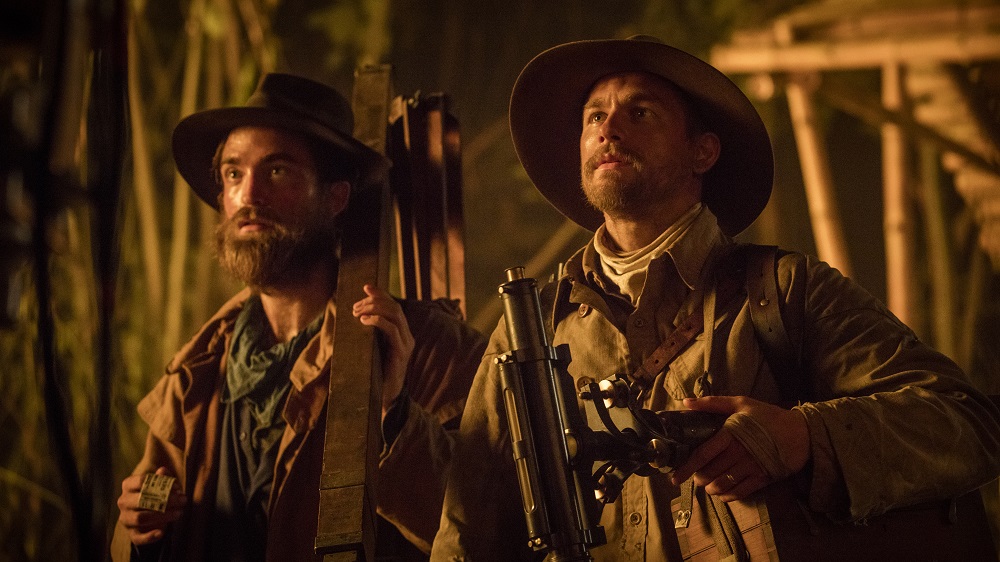 Lushly Enigmatic Lost City Worthy of Discovery
In 1906, professional British soldier Percy Fawcett (Charlie Hunnam) is tasked by the Royal Geographical Society to lead an expedition into uncharted regions of the Amazon to map the Bolivian border and to trace the Rio Verde River to its source. While his loving wife Nina (Sienna Miller) worries about what the years required to accomplish this task will mean to their growing family, both agree that coming home triumphant in this endeavor will change their fortunes substantially, and as opportunities go this could easily turn out to be a major one.
Returning two years later alongside his now trusted aide-de-camp and friend Henry Costin (Robert Pattinson), Fawcett is a national hero, traveling to a far corner of the globe many considered impassible. A tough, tiring journey filled with dangers, this experience has changed this explorer's life forever, his discovery of broken shards of ancient pottery and magnificently detailed carvings where neither should have existed leading him to believe a lost civilization exists someplace in the heart of still uncharted Amazon jungle. Labeling this mythical city "Zed," while many at the Royal Geographical Society scoff at his assertions, Fawcett is determined to return to this South American wilderness in order to prove his theory, and he's hopeful Costin will choose to join him in this endeavor.
Based on the nonfiction best seller by author David Grann, with the eerie, illusory metaphorical stunner The Lost City of Z writer/director James Gray (The Yards) has finally composed a motion picture worthy of masterpiece consideration. Beautifully raw, adventurously esoteric, this is a richly cinematic accomplishment that deserves to be mentioned in the same breath as undisputed classics like Werner Herzog's Aguirre, the Wrath of God, Terrence Malick's The Thin Red Line, David Lean's Lawrence of Arabia and Francis Ford Coppola's Apocalypse Now. It is a movie of that floats through the psyche like it is the wispy beginnings of a dream on the verge of formation, ego and courage, faith and family, reason and insanity all melding into one harmonious, tragically euphoric operetta by the time things reach their stunningly ephemeral conclusion.
Covering nearly a quarter century of history, culminating in an unsolved mystery that will likely never be resolved, Gray's latest is a character-driven sensation, made with confidence and care as it travels along the never-ending rivers of human perseverance where good judgment and common sense can oftentimes give way to flights of fancy born of braggadocio, chutzpah, courage and intelligence. Fawcett's journey is a real life Heart of Darkness foray into the unknown, the explorer's first journey into the Amazon coming only seven years after Joseph Conrad's classic epic first saw publication. It's this sort of through line that Gray follows to its logical, likely its only, conclusion, the elegiac yet hopeful tone of the final scenes heartbreaking in their triumphant, impenetrably tragic ambiguity.
Hunnam, a fine actor mostly known for his long stint headlining "Sons of Anarchy" and yet also one who has also never quite delivered on the potential hinted at early in his career in films as diverse as Nicholas Nickleby, Green Street Hooligans and Children of Men, delivers his best performance yet as Fawcett. His upright fortitude is a mask for a resilience and a drive born of frustration and despair resulting from a family name that's not exactly held in high regard by those in positions of power. As such, he undertakes his hazardous initial Amazonian mission not because he wants to, but because he believes it to be the only way to redeem himself for sins committed in the line of duty by his father decades prior, Hunnam expertly conveying a number of varied emotions as he ponders accepting the challenge put before him by the Royal Geographical Society.
But it's is in discovery where the performance soars. Not just as Fawcett's eyes are opened to spectacular sights and sounds amidst the wilds of the jungle, but also at home, in the way he looks at his wife Nina after years apart or when he embraces his children, awed by their growth and maturation during the time he's been away. Hunnam is masterful in these moments, the regret he oozes over not being there with his family for such long stretches is achingly coupled with a longing to return to the overgrown wilderness in order to pursue his dreams of finding Zed. It is the type of complex, multifaceted performance entire careers can be built upon, the simple, authentically realized dexterity of the actor's accomplishments extraordinary.
The rest of the supporting cast, including Miller, the actress finally given a role equal to her talents for the first time in what feels like ages, is equally wonderful. Pattinson is a hoot, his almost silent portrait of the resiliently faithful Costin a shaggy-eared bit of eccentric whimsy that's as multilayered as it is naturalistic. Upcoming Spider-Man: Homecoming star Tom Holland makes a third act impression as Fawcett's eldest son Jack who's ready to follow in his father's exploratory footsteps, while veteran character actors Ian McDiarmid and Angus Macfadyen are memorably fascinating as members of the Royal Geographical Society who both play a vital role in shaping this story's continually surprising twists and turns. Best of all might be unknown Pedro Coello as Fawcett's initial guide, Tadjui, his insights into what heading down the Rio Verde for the first time will eventually mean for the British explorer earth-shattering in their prescient clarity.
It could be claimed the fashion in which Gray has shaped his narrative might be too vague, and there are certainly moments where the transient observational nature of the film is fairly perplexing. But Fawcett's story has no answer, no resolution, only the faintest outlines of an idea as to where he went, what happened to him and why it did, and as such the filmmaker remains true to that outcome no matter what the consequences for the audience might be. It's an audacious bit of storytelling verisimilitude, Oscar-nominee Darius Khondji's (Midnight in Paris) spellbinding camerawork and Christopher Spelman's (The Immigrant) remarkable score adding just the right touch to hammer home all of the metaphorical madness the director is hinting at. The Lost City of Z is a rapturous achievement worthy of discovery, its enigmatic brilliance of a sublime majesty unique in and of itself.
Film Rating: 3½ (out of 4)