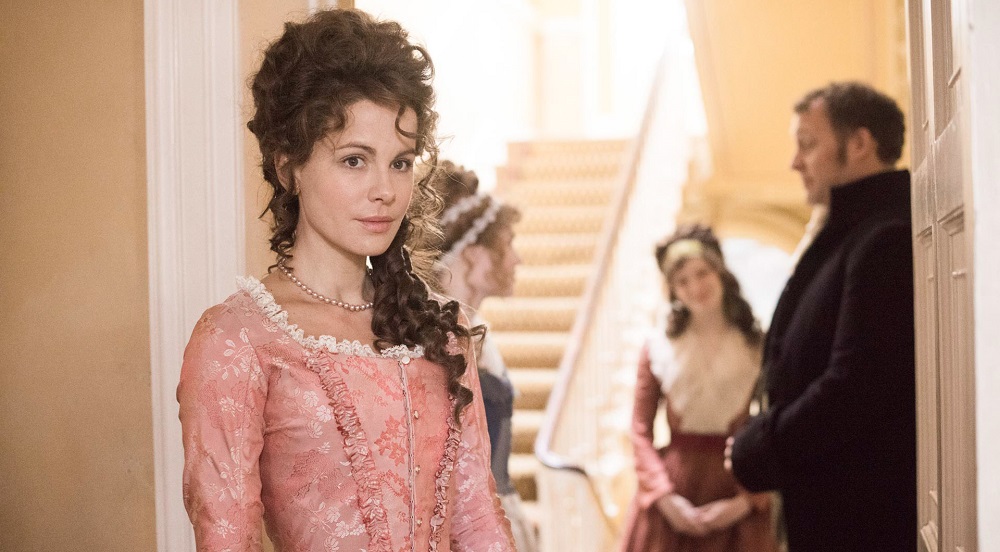 a SIFF 2016 review
Pithy, Pitch-Perfect Love & Friendship a Witty Treat
Lady Susan Vernon (Kate Beckinsale) has come to Churchill for a variety of reasons, the most important one being that, at the moment, there isn't anywhere else for her to go. A widow looking after teenage daughter Frederica (Morfydd Clark), she is inclined to impose upon her magnanimous brother-in-law Charles Vernon (Justin Edwards) and his somewhat befuddled, if kind-hearted, young wife Catherine DeCourcy Vernon (Emma Greenwell). While the former welcomes Lady Susan with open arms, the latter is justifiably suspicious, rumors of her supposed dalliances with members of polite British society quietly spoken about in drawing rooms throughout the country.
American Alicia Johnson (Chloë Sevigny) is Lady Susan's best friend and confidant. But she has been ordered by her sanctimonious husband the "very respectable" Mr. Johnson (Stephen Fry) to stay away from her on pain of being shipped back across the Atlantic, a threat she rarely takes seriously but still remains eternally aware of. Things get truly awkward when the jealous Lady Lucy Manwaring (Jenn Murray) starts spouting accusations to all who will listen, the woman certain her husband Lord Manwaring (Lochlann O'Mearáin) has fallen for Lady Susan's charms.
Based on Jane Austen's earliest known novella Lady Susan, writer/director Whit Stillman's Love & Friendship is an absolute treasure trove of delights big, small and gloriously in-between. The man behind modern classics like Metropolitan and The Last Days of Disco, the filmmaker reunites the stars of that latter 1998 sensation, Beckinsale and Sevigny, and in the process brings to life what will easily end up being one of 2016's best motion pictures. Funny, heartwarming, emotional, tragic, life-affirming and most of all entertaining, this blissful frolic is so magnificent I can't think of one negative word to say about a single second of it.
There's a lot going on here, far more than a brief synopsis can describe. We are witness to love triangles galore, filled with mischievous machinations on the part of Lady Susan as she attempts to secure futures for both herself and her daughter. There are gifts of sincerity and love that defy expectation, while accusations of the foulest sort are bandied about with almost nothing in the way of supporting evidence. Through it all, there is an observational candor to this battle between the sexes that is refreshing in its candor and in its wit, and even though events take place in the latter stages of the 18th century much of what is discussed and debated is every bit as insightful now as it ever was then.
Beckinsale is a revelation. Always a strong actress who has never quite gotten her due, early performances in Much Ado About Nothing, Cold Comfort Farm and, of course, The Last Days of Disco notwithstanding, thanks to her time spent in cheesy spectacles like the Underworld adventures and forgettable thrillers like Whiteout, it's been sadly easy to take her for granted. This is simply impossible here, Beckinsale infusing Lady Susan with a cagey tenacity that is sublime. This is a lively, rambunctious performance that is filled with rhetorical nuance, the actress a pithy sensation who delivers putdowns, canny societal observations and declarations of motherly affection with magnetic relish.
Even more impressive is Stillman's script. This is early Austen, and while elements of future timeless masterpieces like Pride and Prejudice and Sense and Sensibility are evident, it's also just as clear the author was still in the process of finding her voice with this particular novella. Stillman manages to take Austen's words and ideas and transform them into something amazing, celebrating all we love about the novelist while at the same time crafting a narrative that fits right in with the director's small, if still impressive, filmography. The clarity of how each character interacts and sits alongside the others is magnificent, themes of empowerment, female equality, self-determination and sexual freedom all delivered with refreshingly quirky candor.
There are some stunning set pieces, not the least of which revolves around the arrival of a suitor, Sir James Martin (played to comedic perfection by Tom Bennett), for Frederica's affections at Churchill and his bemused fascination with elements ranging from poetry to peas. Additionally, all of the tête-à-têtes between Lady Susan and Alicia Johnson are superb, their snooty guilelessness dripping in acidic insight as they each make sense of the travails the other is currently going through. The film's 92 minutes pass by so quickly it's all over almost as soon as it begins, everything building to a smashing conclusion that had me wanting to leap from my seat and give Stillman, his production team and his entire cast one long, rousing, vigorous cheer. Love & Friendship is magnificent, and anyone saying otherwise is in my eyes one gouty attack away from objectionable ignominy.
Review reprinted courtesy of the SGN in Seattle
Film Rating: 4 (out of 4)