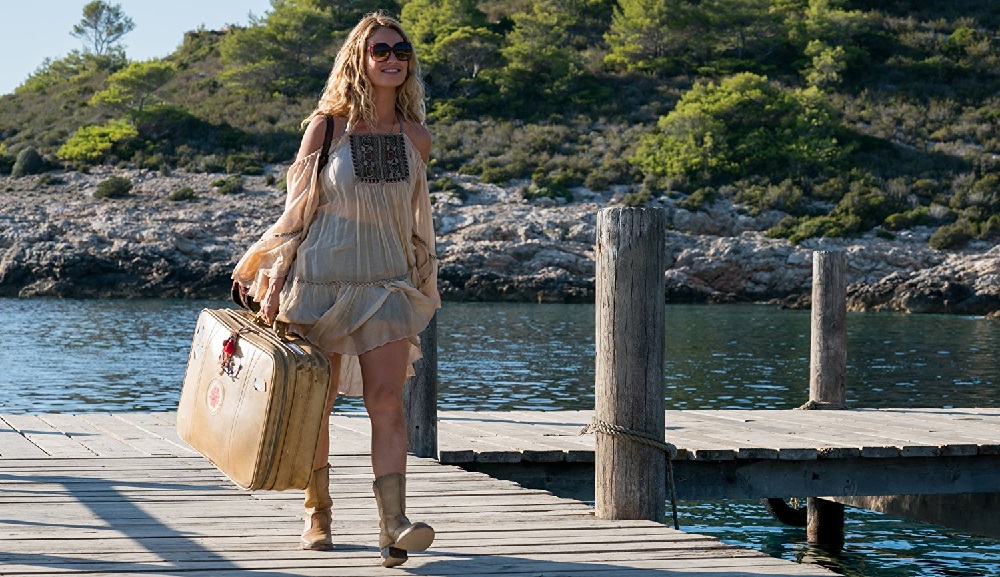 Enjoyably Pleasant Mamma Mia! Sequel a Musical Surprise
I like to say I go into every press screening with an open mind. No matter what the film is, no matter who is in it, no matter how horrible the trailers might be or the general synopsis might make things sound, once the room darkens and the screen lights up all preconceptions hopefully vanish into the ether. The excitement of every motion picture's potential is manna to my soul, and so I sit there in my seat eager to find out if this glorious anticipation is warranted or is instead sadly nothing more than a frustrating waste of good emotive speculation.
Considering just how much I abhor 2008's surprise smash Mamma Mia!, I honestly can't say I walked into its long-gestating sequel Mamma Mia! Here We Go Again with as clear a head as I like to proclaim I always do. Watching the first film wasn't just a painful experience; I actually felt like that cinematic adaptation of the Broadway smash was actively trying to assault me. Every second I sat in the theatre was an eternity, and by the time it was over I was a stunned I had survived the ordeal and not keeled over dead someplace between performances of ABBA standbys "Our Last Summer" and "SOS." I don't like the word "hate" very much but it fits my feelings in regards to Mamma Mia! quite nicely, and as such sitting through a follow-up wasn't exactly high on my personal to-do list.
I'm not going to say Here We Go Again is any sort of musical classic. I can't proclaim that it's so far heads and tails over its predecessor it makes me look at that 2008 original in a whole new light. I can't say that it isn't as silly, that it's not cartoonish and that its placement on the plausibility meter is anything other than low. But I don't know if it is the involvement of Imagine Me & You and The Best Exotic Marigold Hotel director Ol Parker, or if it is the addition of Parker and Richard Curtis (Love, Actually, About Time) to the screenwriting team alongside returning scribe Catherine Johnson, but gosh darn it if I didn't have a rather wonderful time watching this story play itself out. There is an emotional warmth and a narrative subtlety to this sequel that caught me by complete surprise, and even if I'm not the biggest ABBA fan in the world (that would be my mother, thank you very much) there were still moments even I almost wanted to rise to my feet and sing right along to the film's infectious soundtrack.
On the Greek island of Kalokairi, Sophie Sheridan (Amanda Seyfried) is just days away from fulfilling her mother Donna's (Meryl Streep) lifelong dream of transforming her mountaintop home into a thriving hotel. While one of her potential three dads Sam (Pierce Brosnan) is there to offer emotional and moral support, unfortunately Bill (Stellan Skarsgård) and Harry (Colin Firth) are not able to attend the grand opening. Even her husband Sky (Dominic Cooper) is stranded in New York learning the tricks of the hotelier trade working for a major international company, this time apart putting an unforeseen strain on the couple's marriage.
Thankfully Donna's lifelong friends and songstress soul mates Tanya (Christine Baranski) and Rosie (Julie Walters) have just arrived on Kalokairi to lend a helping hand. Also being particularly useful is her resourceful and wise hotel manager Señor Cienfuegos (Andy Garcia), a newcomer to the island who's especially eager to see this project meet with success. Through it all Sophie begins to wonder what it must have been like for Donna when she first came to the island that would become her home and what the circumstances were that led her to become involved with Sam, Bill and Harry in relatively quick succession, believing this knowledge will help her and Sky through the difficult portions of their still young marriage.
In many ways all of this is just a convenient excuse for Johnson, Curtis and Parker to spend half of their movie going back in time and following Donna around as a wide-eyed adventurous young woman excited to see what the world has to offer her. As portrayed by Lily James, this Oxford graduate is a fearless risk-taker who embraces who she is body and soul. More importantly, she refuses to compromise anything about herself because she is a woman. Instead, Donna celebrates that fact, and whether that be her views on sex, romance, friendship or anything else, she is committed to achieving a level playing field that won't allow anyone, especially men, the opportunity to plant her in a corner where she'd likely wither and die.
This section of the story is easily the film's strongest. James, who after Mirror, Mirror, Cinderella and Baby Driver should have been thought of as a major star, is sensational, her emotionally astute performance a shocking thing of beauty I was entranced by. Not only does she sing the ABBA songs with a sweetly haunting tenderness that's deeply affecting, her dramatic moments sparkle with an intuitive and feisty authenticity that's darn near perfect. As silly and as sitcom-like as events might become, James makes them intimately resonate almost as if by the sheer force of her will, and as such the musical obtains a melodious eloquence that's oftentimes sublime.
The story itself is still a giant sophomoric fairy tale crossed with a melodramatic soap opera, and taking almost any of this seriously is impossible. But where the previous film spent its entire running time with the volume turned all the way up to 11, this time there's some actual tonal variances to the storytelling that helps give the narrative an emotional ebb and flow that's far easier to become swept up within. While the big moments are all still monstrously larger than life, the little ones quiet down just enough to become impactful. I cared about young Donna and I was hopeful Sophie's struggles to bring her mother's hotel to life would meet with success. I liked these two characters, their parallel stories working just in tandem enough to make me contentedly smile.
ABBA's music is orchestrated into events seamlessly for the most part save for a couple of exceptions, most notably a stunning version of "Andante, Andante" performed by James. There's also a sublime duet of "Fernando" sung by Cher (portraying Sophie's Las Vegas megastar grandmother Ruby Sheridan) and Garcia that, as cheekily staged as it might be, is so heartfelt and nakedly raw the fact the moment itself was a great big pile of over-the-top hooey didn't really matter one single solitary bit. It's also interesting that the three actors they've cast to play Sam (Jeremy Irvine), Bill (Josh Dylan) and Harry (Hugh Skinner) as youngsters can actually sing pretty well while Brosnan, Skarsgård and Firth noticeably still cannot, and as such I can only assume all three became tone deaf the moment Donna exiled them all from her life to remain on Kalokairi on her own.
I still can't stand Mamma Mia! That movie drove me so up the wall I'm sitting here cringing in aural pain as I think about it again right now writing this sentence. That means I'm as flabbergasted as anyone that I enjoyed Mamma Mia! Here We Go Again as much as I did. But this sequel got to me and did so within in the first few minutes, an opening rendition of "When I Kissed the Teacher" having a sundrenched Technicolor exuberance that's wondrous. This is why it's important to give each film the benefit of the doubt instead of throwing in the towel before the curtain even opens, because you never know when the song the filmmakers are about to sing is going to be one you're going to merrily want to hum right along with.
– Review reprinted courtesy of the SGN in Seattle
Film Rating: 3 (out of 4)