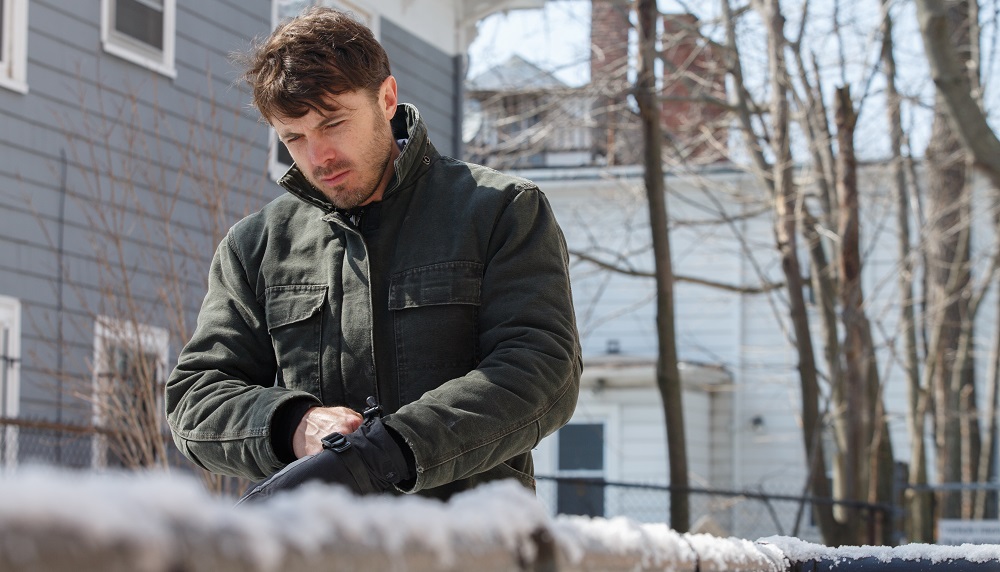 Powerfully Bleak Manchester an Honest Drama of Human Resilience
When his brother Joe Chandler (Kyle Chandler) finally succumbs to a rare heart condition, it is up to Lee (Casey Affleck) to take leave from his handyman position in Boston and head up to Manchester to break the news to his 15-year-old nephew Patrick (Lucas Hedges). Taking up residence in his deceased sibling's house, what is most shocking to Lee is that in Joe's will he's named as being Patrick's guardian, a position he is not even certain he is emotionally capable of being able to fill.
His reasons go back years, and it is why most in Manchester walk to the other side of the street when they see him coming. It is also why Lee's marriage to Randi (Michelle Williams) came to such a bitter end, the unfathomable pain that confronted them simply too much for either to be able to bear. Now, forced to decide what is best for Patrick, the still relatively young man must revisit these past tragedies to see if he can put them behind him and, in healing, become the sort of guardian and father figure Joe believed he could become.
Quiet, unassuming and direct, Kenneth Lonergan's (Margaret, You Can Count on Me) third directorial effort is a startlingly effective melodrama filled with honest insights and even more profound observations. The emotions running through it all are stunning in their purity, events building to a potent, powerfully cathartic denouement that's unafraid to leave some questions unanswered as characters continue to make their way in the world step by unbalanced step.  Like life itself, resolutions are hard to come by, and sometimes one tragic mistake is all it takes for uncertainty to reign supreme and depression to grab hold to the point shaking it loose becomes impossible.
Slipping backwards and forwards in time, showing how strong the bond between the two brothers was and how close Lee was to Patrick, Lonergan manages to ground these relationships in an instantly recognizable fashion. He doesn't have to spend long stretches of the narrative spelling things out. It's obvious why Joe believes his brother is up to the challenge. I understood immediately how the connection between uncle and nephew could become frayed. Long before the writer/director reveals what it was that destroyed Lee and Randi's marriage, the deeply rooted pain that both are suffering through still manages to echo loud and clear. There is a clarity here that's continually profound, Lonergan achieving a level of naturalism that's astonishing.
So is Affleck. As incredible as the actor has been in the past, as award-worthy as turns in films as diverse as The Assassination of Jesse James by the Coward Robert Ford, Gone Baby Gone, Ain't Them Bodies Saints and this year's The Finest Hours might have been, his lived-in, hypnotically nuanced turn as Lee is something else entirely. Disappearing into the role, there is not a single step that feels false or out of place. He moves between moments and emotions with ease, finding humor in the darkest of memories only to fall into emotional disrepair at the most unexpected of moments. Affleck is extraordinary, the movie owing a great deal of its success to him.
Not to say others do not rise to the occasion. Newcomer Hedges is shockingly good, while Williams is an absolute knockout in a pair of scenes that left me speechless in their catastrophic wake. Veteran character actress Heather Burns (Miss Congeniality) is also superb, her brief scenes as a single mother who goes out of her way to try and catch Lee's attention sparkling in their vivacious, winsome need. Chandler, seen mostly via flashback, is also excellent, while youngster Ben O'Brien makes a vivid impression portraying Patrick as a child.
I can't say a central subplot involving Patrick's estranged mother Elise (Gretchen Mol) did a lot for me, a dinner scene between her, the teenager and her new husband, religious fundamentalist Jeffrey (Matthew Broderick), going over a bit like a lead balloon. Lonergan also hammers home Lee's pariah status a little too often, especially after we learn about what horrors in his past continue to haunt him. I just found it all a little unnecessary, the point being made quite clearly early on so I'm not sure returning to it on multiple occasions was particularly useful.
Not that it matters. Manchester by the Sea is a stunner, delivering in ways that defy easy description. Lonergan is fearless, going after the human condition in ways that are beyond compare, refusing to soften his points or offer easy outs for any of his characters. This is a movie about life, its ugliness and the destruction a single unintended mistake can exact upon those both guilty and innocent. But he also finds the laughter inside the tragedy, light inside the darkness, offering up a coda of hope and understanding that, while purposefully imperfect, still allows the glimmer of a fresh new dawn to be a possibility worthy of continuing to strive for.
– Review reprinted courtesy of the SGN in Seattle
Film Rating: 3½ (out of 4)