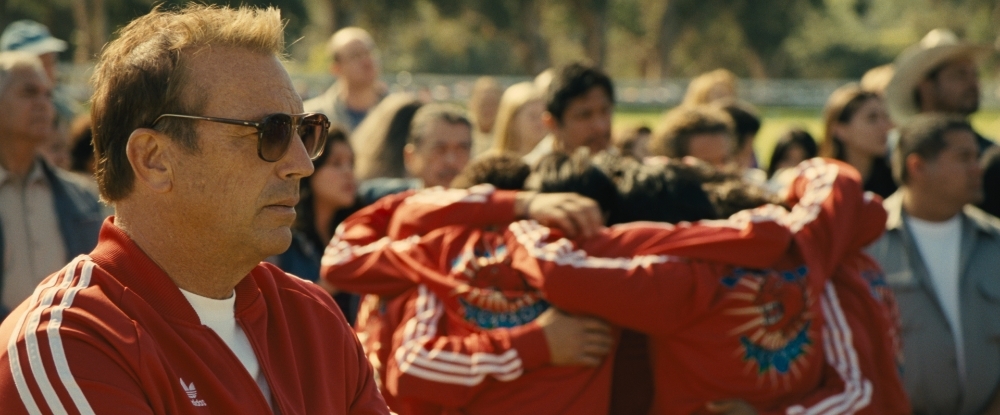 Powerful McFarland Wins a Hard-Fought Victory
In 1987, High School teacher and football coach Jim White (Kevin Costner) came to the small California town of McFarland to take an assistant position and to teach physical education. His wife Cheryl (Maria Bello) and children Julie (Morgan Saylor) and Jamie (Elsie Fisher) aren't thrilled to be there, wondering what it is they'll all have to do to get out of this Latino-filled wasteland and return to something akin to their idea of civilization.
After it becomes clear that White isn't going to cut it as an assistant, Principal Camillo (Valente Rodriguez) makes the decision to keep his latest hire on strictly as a teacher relieving him of his coaching duties. But sports are in the man's blood, and when he sees the staggering endurance displayed by a handful of the school's students, mostly the children of local migrant farming workers, he comes up with the crazy idea to start a cross country team. What happens next will change the face of McFarland forever, his and his family's lives irrevocably transformed for the better in the process.
There's nothing new about Disney's latest sports-themed melodrama McFarland, USA. Where this all is headed is never in doubt, the true story on which it is based the stuff of High School sporting legend. Starting in 1987, White would take the cross country team to unparalleled heights, leading his students to nine State Championships in 14 short years helping send countless kids to college in the process. It's amazing, no doubt about it, and as such it is easy to see what drew a star like Costner, as well as the studio itself, to the project.
All the same, in the wrong hands this all could have easily become nothing more than melodramatic treacle that wouldn't have come close to rising to the standards set by White or his team. Thankfully, producers brought along Whale Rider and North Country filmmaker Niki Caro, and under her assured and confident direction the film takes nary a false step. The whole thing feels bracingly authentic, so lived-in and multifaceted it ends up having a dramatic resonance that goes beyond the simple tale of a handful of students overcoming the longest of odds. It's flat-out terrific, and outside of a couple foreign titles and independent releases the director composes 2015's first undeniable triumphs as far as any of Hollywood's most powerful studios are concerned.
Costner has rarely been better. Slipping into White's shoes with ease, he looks right at home running alongside his charges, becoming a better man, a better coach and, most of all, a better father as he figures out what makes the kids, their families and the community click as he puts everyone on the path towards victory. He creates a character that could easily sit beside Crash Davis, Ray Kinsella or Roy 'Tin Cup' McAvoy, Costner displaying charm, moxie, intelligence, compassion and tenacity as he brings the man to life.
At the same time, Caro refuses to allow the kids themselves to play second fiddle to Costner. She gives all seven of the 1987 team moments to shine and evolve, allowing them dimensions a lesser film wouldn't have taken the time to showcase. Of them, Ramiro Rodriguez, Johnny Ortiz and Carlos Pratts are given the most to do, each adding an indelible imprint to the proceeding that only adds dimensionality and resonance as the story itself moves rather predictably towards its forgone, if still emotionally rousing, conclusion.
Sadly Bello isn't given near as much to do, her role as White's well-meaning if long-suffering wife Julie nondescript and as threadbare. Additionally, plenty of the bits revolving around the family's two daughters more often than not feel like they have been lifted from a lesser, far more uninteresting motion picture, and other than a sequence revolving around an impromptu surprise quinceañera there's sadly not a lot to talk about.
The script and story, credited to three different writers including Glory Road scribe Chris Cleveland, doesn't do a lot that's extraordinary. Yet nothing is ever demeaning, and I like how the audience is continually treated with respect and their collective intelligence is never once belittled. With Caro at the helm, the filmmakers do a marvelous job of making the community of McFarland itself into one of the characters, Antonio Pinto's (The Host) stirring, suitably soaring score augmenting things beautifully throughout. McFarland, USA might not be a great movie, but it is a very, very good one, crossing the finish line with power and exuberance winning a victory for entertainment that's as hard-fought as it is well-deserved.
Review reprinted courtesy of the SGN in Seattle
Film Rating: 3 ½ (out of 4)