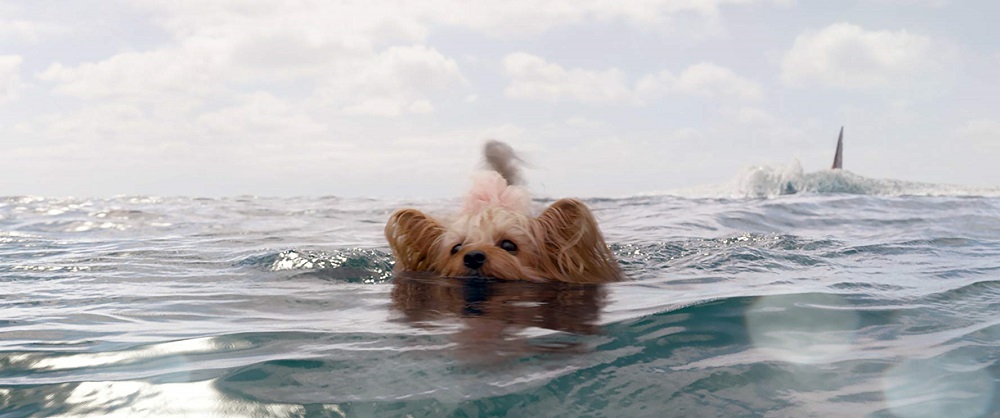 How does the Blu-ray/DVD Disc stack up? (all ratings out of 10.)
Movie
Video
Audio
Extras
Overall
SYNOPSIS
"There's a monster outside, and it's watching us."
CRITIQUE
Here's what I wrote about The Meg back in my original theatrical review:
"In the deepest recesses of the Pacific Ocean, monsters are real. At least, that's what esteemed deep-sea rescue diver Jonas Taylor (Jason Statham) claims, essentially retiring from his chosen profession five years ago after a mission to save the crew of a badly damaged submarine resulted in the tragic death of his team. He claimed a mysterious creature attacked them during the course of their rescue and caved in the side of the sub, an assertion he unfortunately cannot substantiate and is roundly ridiculed by his superiors.
Fast-forward to the present day, and vaunted Chinese oceanographer Dr. Zhang (Winston Chao) and Taylor's former best friend Mac (Cliff Curtis) are suddenly in Thailand sitting in his small apartment about to ask him to go back underwater. Bankrolled by billionaire Jack Morris (Rainn Wilson), the pair has built an advanced research laboratory designed to study the uncharted depths of the Earth's oceans. Having met with initial success, they've recently lost a three-man submersible piloted by Taylor's ex-wife Lori (Jessica McNamee). At over a depth of 11,000 meters, the former rescue diver is the only one with the knowledge and the experience to save all aboard the damaged submarine before they run out of air. More importantly, Taylor's also the only one who knows what they're up against, Lori's last words before power cut out unequivocally stating that her ex's claims of gigantic creatures roaming the depths of the ocean floor weren't the ravings of an oxygen-deprived lunatic after all, but were instead undeniable scientific fact.
That's the warm-up to director Jon Turteltaub's The Meg, an unabashedly silly, obnoxiously cartoonish adaptation of Steve Alten's best-selling book MEG, a techno horror-thriller about a massive prehistoric shark and the team of scientists attempting to kill it. A long way from the filmmaker's previous hits like the romantic comedy While You Were Sleeping or the two Indiana Jones-style family-friendly adventures National Treasure and National Treasure: Book of Secrets, nonetheless there is still a level of craftsmanship and attention to detail here that's moderately laudable. Featuring an eclectic international cast of character actors that includes the likes of Statham, Chao, Curtis, Wilson, Li Bingbing, Ruby Rose, Ólafur Darri Ólafsson and Masi Oka (just to name a few), this is a fast-paced bit of loopy Jaws meets Jurassic Park meets Piranha silliness that's far more entertaining than it honestly has any right to be. The truth is that I had a rather nice time watching events play themselves out to their preordained conclusion, Turteltaub and his talented cast doing just enough to keep my attention for almost all of the film's reasonably well-paced 113 minutes.
The killer shark in question is a megalodon, a 75-foot prehistoric creature Dr. Zhang's scientific team accidentally frees from its undersea prison. Things proceed pretty much as expected, and it's rarely in any doubt which actors will survive until the end and which ones won't be getting a phone call if the studio decides to greenlight a sequel. Mostly this is an excuse for Statham to flex his muscles and a bunch of visual effects technicians to strut their stuff, and there really isn't a whole lot more I can add.
The Jaws references are thankfully kept to a bare minimum, the one direct lift really rather funny if the viewer is perceptive enough to catch it. At the same time, it should be said that the screenplay as composed by writers Dean Georgaris (Paycheck), Jon Hoeber (RED) and Erich Hoeber (Battleship) does have difficulty maintaining its own unique identity, and it's hard not to look at this whole enterprise as just a big budget hodgepodge of ideas and moments culled from other giant-creatures-run-amok-on-the-high-seas stories ranging from 1955's It Came from Beneath the Sea to 1977's Tentacles to 1999's Deep Blue Sea. It also plays on a handful of racial stereotypes that are borderline loathsome, and if the cast weren't so exuberantly winning there's a chance some of them might even have moved into the realm of being flat-out offensive.
But Statham looks to be really enjoying himself, his angrily perturbed bravado fitting into the sheer absurdity of everything Taylor is tasked with accomplishing kind of awesome. Better is his chemistry with child actor Sophia Cai, and I feel like I could watch an entire film where the two of them banter back and forth about the weather, crayon colors or the inner workings of high-tech futuristic submarines on repeat for a good two weeks without growing tired of it. Statham also has some nice scenes with Bingbing that are far more emotionally astute than anticipated, and even if their erstwhile romantic meanderings come off as forced and false their conversations in regards to loss, sacrifice and overcoming grief are honestly heartfelt and pack a moderately significant punch.
In the end, though, people are going to see this movie to watch the actor essentially punch a gigantic prehistoric shark in the face and on that front I'm hard-pressed to claim I was ever disappointed. While I could have used a little more of the creature chomping down on boaters, surfers, swimmers and other various unsuspecting bathers floating in the megalodon's path, for the most part The Meg was a goofily enjoyable seafaring creature feature that kept a smile pleasantly planted firmly upon my face. As Saturday matinee fair is concerned, this is one B-grade bit of shark attack silliness I'd happily see again."
I have nothing new or profound to add. I like The Meg, and watching it again at home proved to be nearly as goofily enjoyable as it was viewing it in the theatre.
THE VIDEO
The Meg is presented on a 4K (2160p) Ultra HD disc with a 2.39:1 1080p transfer.
THE AUDIO
This 4K Ultra HD disc features English Dolby Atmos and English Dolby TrueHD 7.1 tracks along with English DTS-HD Master Audio 5.1 and English, French, Spanish and Portuguese Dolby Digital 5.1 options and includes English SDH, French, Portuguese and Spanish subtitles.
THE EXTRAS
Extras are located on the included Blu-ray disc. These include:
Chomp on This: The Making of The Meg (12:09)
Creating the Beast (10:25)
New Zealand Film Commission (1:53)
Not a lot to talk about here. The two featurettes are fine, nothing more.
A Digital HD copy of the film is also included with this release.
FINAL THOUGHTS
I like The Meg. I enjoy watching Jason Statham and his ragtag team of charming eccentrics battle their megalodon to the death. An unabashedly silly movie, Jon Turteltaub's crazy little giant shark action spectacular almost can't help but make me smile. While certainly not for everyone, those open to its charms will be more than pleased with Warner's 4K Ultra HD presentation and won't be dissatisfied if they make the decision to add the title to their personal library.