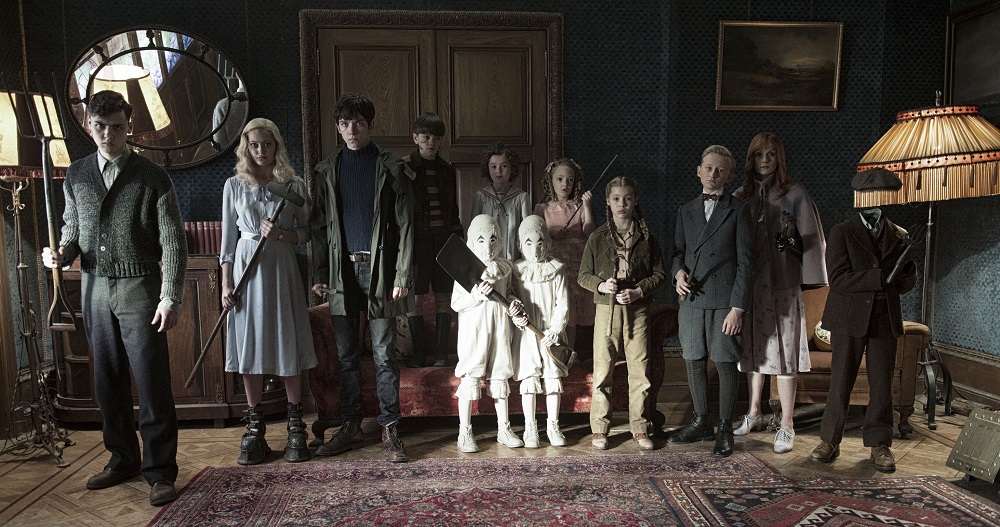 Burton's Miss Peregrine Casts a Peculiarly Enchanting Spell
Jake Portman (Asa Butterfield) is understandably upset. His beloved grandfather Abe (Terrence Stamp) died in his arms, his eyes pulled from his head while a mysterious serpentine figure disappeared inside an ominous Florida fog. Fueled by stories of adventure and world travel told to him as a child, egged on by his approving therapist Dr. Golan (Allison Janney), the teenager somehow convinces his parents to allow him to head to England to investigate a children's home Abe stayed at during WWII. With his father Franklin (Chris O'Dowd) begrudgingly joining his son on the trip, Jake's excitement is palpable, the young man eager to find this fabled orphanage as soon as possible.
What he discovers defies all sorts of practical belief. Turns out, the home was bombed by the German's during the height of the war, its ancient ruins slowly crumbling to dust with each passing decade. But, after meeting the ethereal Emma Bloom (Ella Purnell), Jake is led on a journey that takes him back in time, to the day before the bombing, to be exact, and right into the waiting arms of Miss Alma LeFay Peregrine (Eva Green). She's been expecting him, her stories putting Abe's fantastical ones in an entirely new light that changes everything he thought he knew about the world, its wonders and the disturbing dangers that lurk perilously inside the shadows.
I have never read Ransom Riggs' best-selling young adult novels on which director Tim Burton's latest foray into the fantastical Miss Peregrine's Home for Peculiar Children is adapted from, so I can't exactly say how closely Jane Goldman's (Kingsman: The Secret Service) script mirrors the first book in the series. What I can exclaim is that the story fits the Beetlejuice, Batman, Ed Wood, Sleepy Hollow and Frankenweenie filmmaker's sensibilities perfectly, the odd, disjointed abnormality of the proceedings right up his suitably dark gothic alley.
Which is why the first half of the film is so wonderful. Burton and Goldman do a superb job bringing this world to life, the way they flesh out its rules and set about explaining its mythologies equally so. Jake's wide-eyed awe as he learns about who Miss Peregrine is and the extent of her powers while also getting to know the children who have lived in her care, purposefully stuck in a magical time loop, is authentically palpable. This allows for his affections for Emma to be rooted in something honest and pure, the same going as far as his growing fondness for the rest of the kids is concerned. There is an emotional elegance to these early portions that captured my imagination in its entirety, Burton's signature visual stylistics augmenting these feelings beautifully.
The hiccups come into play about the time the evils hunting Miss Peregrine's charges come into focus. Not because they aren't scary, they are, but more because that's when familiarity and convention start to filter into the proceedings with a rather conformist thud. Things build to an ending that, while well-staged and filled with energy, still feels a bit too on the nose. It's almost as if the studio was willing to give Burton plenty of leeway to do what he wanted during the introductory bits but felt the need to make him play things safe as far as the climax was concerned. In doing so, a lot of the ingenuity and imagination that had been omnipresent until then is lost, and as wonderful as Miss Peregrine's Home for Peculiar Children can be, the fact it can't maintain its spunky dreamlike identity all the way through to the end is rather disappointing.
Still, even if the movie is something of a child-friendly, Scary Stories to Tell In the Dark meets X-Men meets The Goonies variation, I still found myself captivated. Veteran Bruno Delbonnel's (Inside Llewyn Davis) elegantly refined camerawork is a revelation, as is Gavin Bocquet's (Warcraft) mesmerizing production design. The various children residing in the home and their amazing powers are introduced and showcased with organic sophistication, allowing Jake's utilization of them when push finally comes to shove to hit home with satisfying certainty. I also felt Samuel L. Jackson portrays his central villain, the terrifyingly evocative Mr. Barron, to chilly perfection, and what could have been nothing more than another paycheck role in a potential major studio franchise turns out to be one of the veteran's better genre performances in quite some time.
I'm not sure how Miss Peregrine's Home for Peculiar Children will be received by the masses, but for my part, even with a handful of strong reservations, Burton's interpretation of Riggs' source material kept me suitably intrigued for just about all of its rather enthralling two hours of narrative eccentricity. I loved his gentle bits of homage directed towards the likes of Ray Harryhausen and Charles Addams, and his pick of the abnormally luminous Green to headline things is downright inspired. The movie has a mesmeric sincerity that grows in magnitude the more I think about it, and even if a sequel never comes to pass the fact I find myself desperately wanting to see one is a grand magic trick Burton can be proud of conjuring.
Film Rating: 3 (out of 4)