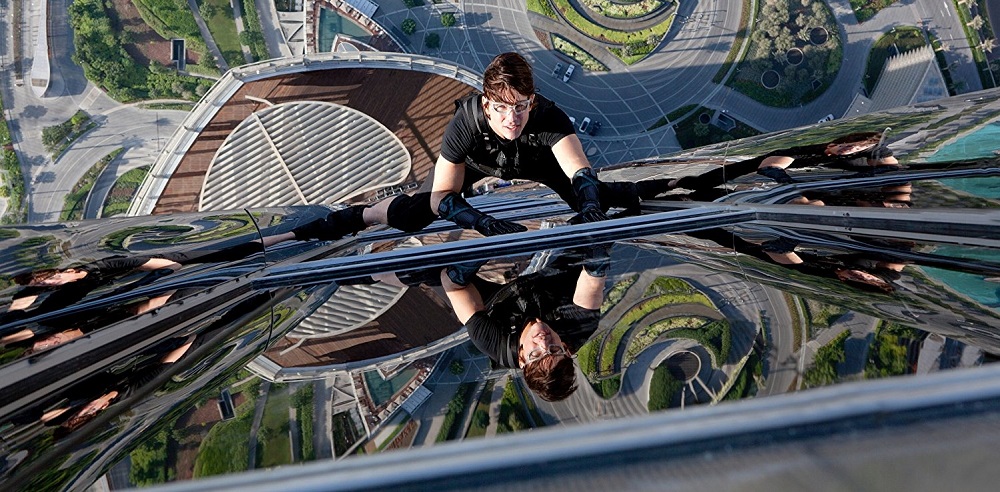 How does the Blu-ray/DVD Disc stack up? (all ratings out of 10.)
Movie
Video
Audio
Extras
Overall
SYNOPSIS
"Light the fuse…"
CRITIQUE
Here's what I wrote about Mission: Impossible – Ghost Protocol back in my original theatrical review:
"Mission: Impossible – Ghost Protocol is, in a word, awesome. Better than that, it is the first film in Tom Cruise's TV-to-feature series that I have enjoyed start to finish, beginning to end and for every single moment of its two hour-plus running time. With efforts directed by the likes of Brian DePalma, John Woo and J.J. Abrams this one helmed by The Iron Giant and The Incredibles director Brad Bird is easily the best of the bunch, and to say it left me breathless would be selling the finished product short.
Yeah, I'm kind of shocked about that, too. Listen, while I've enjoyed facets of all three of the Mission: Impossible adventures, I've always been upfront about how much their lazy plotting and herky-jerky scripts left me wanting for more. All of them have moments of wonderment and awe, and each feature set pieces that blow your socks off. But none have scripts designed to keep the viewer interested for long periods of time, and for all their strengths each has just as many faults to sadly contemplate at the exact same time.
Not Ghost Protocol. Easily the silliest entry in the series, nonetheless writers Josh Appelbaum and André Nemec keep things remarkably focused while never losing sight of the narrative's ultimate endgame. They know where they're taking things, understand the path Impossible Mission Force (IMF) hero Ethan Hunt (Cruise) has to tread, the screenwriters making every step of his journey an incredible one that's as giddily mesmerizing as it is lump-in-the-throat astonishing.
The basic plot concerns a Russian bad guy named Hendricks (Michael Nyqvist) who manages to implicate Ethan and his team in the bombing of the Kremlin, stealing top secret nuclear launch codes in the process. You see, he's an hard-line communist from the Stalin days who believes the only way humanity can be purified is through the fire of atomic Armageddon, and he's going to start a limited war between the U.S. and Russia to prove he's right.
When the entire IMF is disavowed by the American government, Ethan, revenge-seeking agent Jane Carter (Paula Patton), tech genius Benji Dunn (Simon Pegg) and government 'analyst' William Brandt (Jeremy Renner) discover they're the only ones capable of stopping this madman's plot. To do it, they'll have to work as a team, put interpersonal secrets aside and travel the globe to put an end to Hendricks' plan, all the while being chased by a dogged Russian agent (Vladimir Mashkov) intent on capturing them.
Silly, yes, but also straightforward, free of fat and refreshingly simple, all of which are very good things indeed. Appelbaum and Nemec keep things moving fast and furious, their script a model of restraint that knows how to flesh out its characters and uses action as a way to develop story and not as just residual fodder to pad out the running time. Former writers for J.J. Abrams' on Alias (who returns to produce and oversee this fourth installment), it's clear these guys have learned some pretty solid lessons as far as spy-vs.-spy action dynamics are concerned. Whether we're in Moscow, Dubai or Seattle, focus is always maintained, and for that I give them humongous props because it's a feat not a single previous Mission: Impossible flick can also proclaim.
But the real star here isn't Cruise, isn't Renner and it isn't the sterling supporting cast inhabiting their respective stock character rolls perfectly. It is instead director Bird seamlessly making the transition from animation to live action with mesmerizing aplomb. Filming portions of this epic in mind-blowing IMAX, featuring stunt work the likes of which no other picture this year can equal, the excitement generated by this sequel comes perilously close to bursting right through the roof of the theatre. This is edge-of-your-seat stuff, Bird orchestrating it all as if he'd been doing this thing for decades. He shows a remarkable aptitude to handle this type of genre filmmaking, mixing old school retro James Bond style with twenty-first century theatrics to produce something that feels exhilarating and fresh. The Mumbai sequence alone is worth the price of an IMAX admission, and to say things don't stop but only get better from there is about as pleasant an understatement as any I've made in ages.
Who knows if this series will continue, as maybe some of the naysayers are right and Cruise's days as an IMF action hero are behind him. But my money isn't just that there will be more Mission: Impossible adventures, but that the still-powerful Hollywood superstar will likely be right out there fronting them. Ghost Protocol is the best Hollywood produced action film of 2011, and if you'd asked me if I thought the chances of that being the case was unlikely before watching, I wouldn't have just agreed with you, but I would have added that the possibility of that being the case was downright impossible."
Having now re-watched all five of the Mission: Impossible films, I can say definitively that Ghost Protocol is my favorite in the series up to this point. Featuring the most complete script, a bevy of eye-popping set pieces and a marvelous climactic sequence in an automated car port, thanks to Brad Bird's confidently authoritative direction and star Tom Cruise's continued complete and total commitment to do whatever it takes to make all of the action sequences authentic no matter what, this film is a total joy for every single second of its 132-minure running time. I love this entry in the Mission: Impossible franchise. It's absolutely terrific.
THE VIDEO
Mission: Impossible – Ghost Protocol is presented on a 4K (2160p) Ultra HD disc with a 2.40:1 1080p transfer.
THE AUDIO
This 4K Ultra HD disc features English Dolby TrueHD 5.1 track along with German, French, Spanish, Italian, Japanese and Portuguese Dolby Digital 5.1 options and includes English, English SDH, French, German, Italian, Japanese, Portuguese, Spanish, Danish, Dutch, Finnish, Norwegian and Swedish subtitles.
THE EXTRAS
All extras are contained on the two included Blu-rays and are ported over from the previous releases of the film. Nothing new has been added.
A Digital HD copy of the film is also included with this release.
FINAL THOUGHTS
Ghost Protocol is my favorite film in the Mission: Impossible series. In my opinion it is the most consistently entertaining entry of the long-running franchise. Paramount's 4K presentation is rather spectacular, and while I would have preferred a 7.1 or Atmos audio upgrade instead of the Dolby TrueHD 5.1 included here, I seriously doubt fans of the film will be even moderately disappointed by anything the studio has done as it pertains to this release.