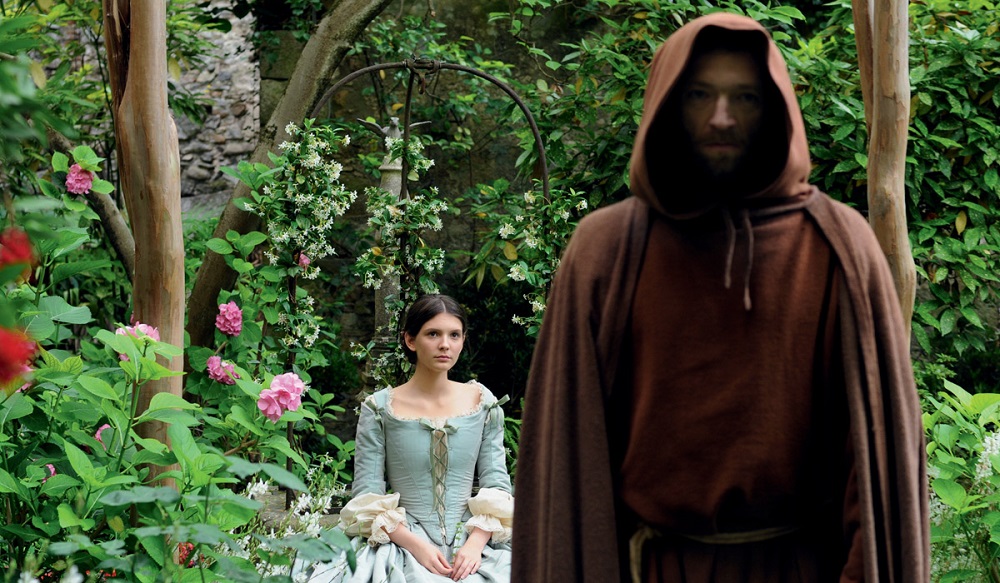 Gothic Monk a Tale of Faith and Consequence
Father Ambrosio (Vincent Cassel) was abandoned as an infant at the gates of a Capuchin monastery on the outskirts of Madrid. He has grown into a revered leader, a heady spiritualist who has led many to accept Christ's love and is revered as a stalwart and devout follower of the Bible's teachings.
Things become complicated when two new figures enter into his life. The first is a strange young man, Valerio (Déborah François), claiming to have been irrevocably scarred in a tragic accident and longing to become a monk just like Ambrosio. The second is a woman from the city, Antonia (Joséphine Japy), who has been inspired by the Father's sermons and is certain his words of healing and spirituality can ease her ill mother's beleaguered soul.
What follows is a twisted tale of faith and corruption that's tragically compelling, Ambrosio finding himself led down paths that could put his immortal soul in jeopardy. Throw in a subplot concerning a questioning nun, Sister Agnès (Roxane Duran), who is subjected to unspeakable torment thanks to the Father's strict interpretation of the scripture and the Abbesses' (Geraldine Chaplin) horrific punishments, and there is more going on than initially meets the eye.
Based on Matthew G. Lewis' 1796 novel, co-writer and director Dominik Moll's (With a Friend Like Harry…) The Monk is not going to be for everyone. The film is not so much a treatise on religion and faith as it is a grim, gothic and unrelentingly dark look at corruption, showcasing how the tiniest and most unintentional of steps can lead even the most devout heart right into the center of darkness. It builds to its crushing conclusion with a measured restraint that's mordantly unsettling, everything anchored to Cassel's incredible, multifaceted performance that's as subtle as it is explosive.
Not everything works. The subplot dealing with Agnès and the Abbesses is curiously didactic and annoyingly unresolved, and even considering the setting the latter's decisions as they concern the young woman can't help but feel disgustingly harsh. A romance between Antonia and a wealthy suitor isn't nearly as well developed as it should be in order to allow a climactic turn of events to deal the harshest emotional blow, while the supernatural elements filtering into the proceedings are a bit too on the nose, Ambrosio's dreams and nightmares, as well as his third act conversations with a seductive compatriot, not always resonating as fully as they could have.
At the same time, Moll's eye for detail, his deliberate pacing of the material and his ability to conceal vital clues as to what is going on are exquisite, making revelations and character transformations shockingly potent. Veteran cinematographer Patrick Blossier's (The Hedgehog) camerawork is a series of shadows and light, each playing off the other in order to reveal the inherent human complexities at the drama's core. Add in three-time Oscar-nominee Alberto Iglesias' (Tinker, Tailor, Soldier, Spy) suitably operatic score and the unnerving undertones simmering throughout take on a life of their own, the transfixing nature of it all impossible to resist.
Ultimately, The Monk works as well as it does because Moll never relents, never compromises, ultimately delivering a final coda that is both heartbreaking and heroic, everything leading to a ruinous moral quagmire that will leave one soul in perdition while another does their best to heal a broken heart devastated by deception, chaos and regret. With Cassel's masterful performance the glue holding everything together, the movie rises above the fray to become something memorable, its spiritual search a mystery worth the time it takes to solve.
Film Rating: 3 (out of 4)