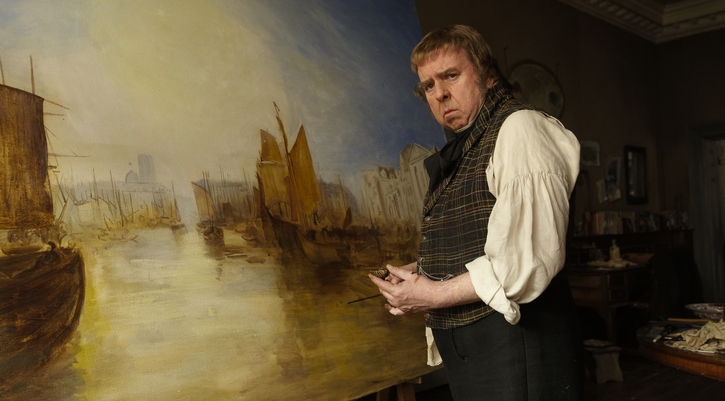 Leigh's Mr. Turner a Biographical Wonder
Director Mike Leigh's (Secrets & Lies, Another Year) intimate character study Mr. Turner is about more than the life of artist J.M.W. Turner. Reteaming him with his Topsy-Turvy star Timothy Spall, the film roughly charts the painter's final 25 years, chronicling the death of his working class barber father William (Paul Jesson), his somewhat disturbed liaison with his longtime housekeeper Hannah (Dorothy Atkinson), his attempts to distance himself from the mother of his two illegitimate daughters Sarah (Ruth Sheen) and his clandestine affair with widowed seaside landlady Sophia (Marion Bailey). It looks at his rebellious relationship with the Royal Academy of Arts and doesn't soft-peddle his oftentimes belligerent and bellicose demeanor towards his fellow artists.
But that's not all Leigh's latest is. It is, rather deftly, an intimate exploration of artistic expression in its bewildering complexities. It is also probably the closest to an actual autobiography of the filmmaker himself that we are ever likely to get, and it's obvious from the outset this motion picture is saying just as much about him as it is the 19th century painter. The film's complexities are internal, each rotating one within the other, and by the time it's all over the emotional effect watching this journey had upon me was close to extraordinary.
This film is not made for the Facebook or Twitter generations. There aren't quirky little two-second bits that would make a terrific gif. No one is going to want to Instagram any images or compile a playlist out of anything that happens which might be suitable for posting on Spotify. Attention spans longer than a handful of nanoseconds are required to grasp and grapple all that is going on, and even though the 25-year period depicted flies by in an instant the viewer must focus on all the minute details if they're going to appreciate everything Leigh is talking about.
And what is that? What is it about Turner's life that has the filmmaker so fascinated? Creation, pure and simple, and the idiosyncratic interior, highly personal machinations that compel an artist to put forth the effort to see their works come to life. It is about the fire and the brimstone, the emotional highs and lows, success and failure constantly butting head one against the other in order to realize the barest bones of an idea some will love, others will hate and the creator has to go out of their way to act like either reaction isn't important.
Turner famously turned down 100,000 pounds for all his personal paintings in order to give them gratis to the "British Nation" even though Queen Victoria absolutely despised his work, considering it vulgar. With that in mind, Leigh still doesn't present the painter as the most likeable guy to ever walk an English country road marveling at steam locomotives or who allows himself to be tied to the mast of a ship so he can observe a violent snowstorm at sea. He also doesn't depict him as a monster, this a man equally apt to loan a fellow starving artist 50 pounds while also berating him for not being able to properly support his family.
In short, this is a movie about duality, a look at the complexities that make up the crux of the human condition whether one is a filmmaker, a writer, a musician, a school teacher, a factory drone or a child looking at the world wide-eyed in awe. Leigh navigates these varying peculiarities and nuances with subtle verisimilitude, not doing a thing that could be considered showy, instead letting the themes and ideas inherent to the character he is exploring do the heavy lifting for him. He makes the creative process hard, onerous, exciting and, most of all, universal, never skimping to showcase the pain while still reveling in the ecstasy, both at the same time.
Spall towers over the film, delivering one of the best performances of 2014 as he trudges and rumbles through each scene. He finds emotion where it is least expected, moves with ferocity at the most unforeseen of times, finding comfort and solace where there appears to be none while laying down didactic judgments when one would have hoped for kindness and empathy. The veteran character actor astonishes in ways I seldom saw coming, and it is impossible to imagine things being near as successful without him leading the way.
But this is Leigh's show, start to finish, and one can't watch Mr. Turner without coming away feeling as if it is the seven-time Oscar-nominee's most personal effort in all his four-plus decades behind the camera. He obviously sees something of himself in Turner, connects to him in ways that are deep, almost primal. The film's observations might not be new yet they are still fresh and alive. Most of all, even with the 19th century setting they are thrillingly current, the filmmaker finding brushstrokes connecting past and present together into one continuous line. Leigh is no stranger to throwing paint at a canvass, blowing, spitting and fussing over every detail in order to see his vision take shape; whether or not he's crafted a masterpiece something he's left up to the viewer to decide for themselves.
Film Rating: 3½ (out of 4)