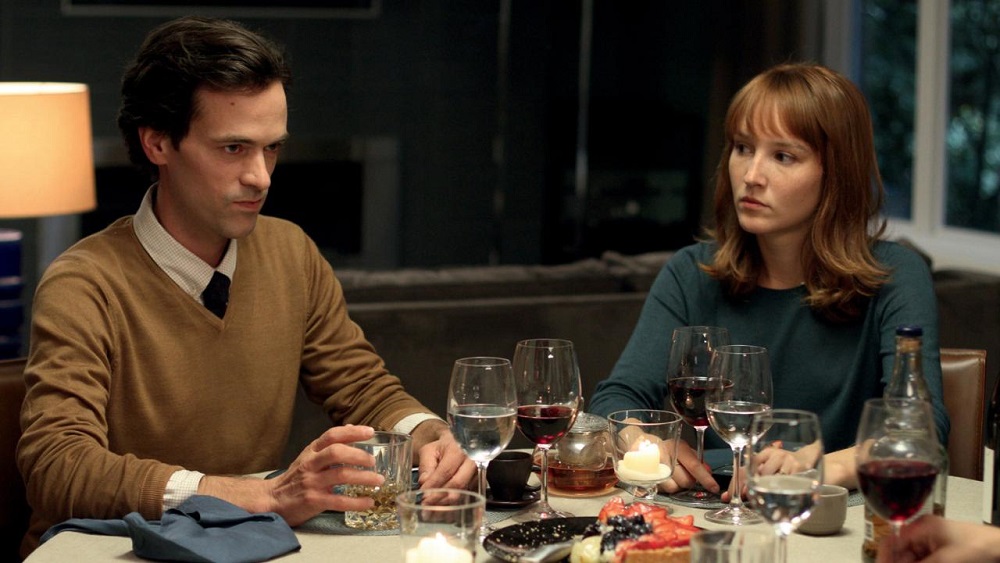 How does the Blu-ray/DVD Disc stack up? (all ratings out of 10.)
Movie
Video
Audio
Extras
Overall
SYNOPSIS
After the death of her best friend Laura (Isild Le Besco) from cancer, heartbroken Claire (Anaïs Demoustier) attempts to fulfill her promise to look after the deceased woman's new baby as well as her grieving husband David (Romain Duris). During an impromptu visit, she discovers David dressed up in Laura's clothes, setting off a chain of events that transforms their friendship forever. 
CRITIQUE
Based on the novel by Ruth Rendell, writer/director François Ozon's The New Girlfriend is an intriguing exploration of gender, identity and sexuality that doesn't always know what it is doing. While some moments are remarkably forward-thinking and progressive, others feel as if they were pulled straight out of La Cage aux Folles, the balance between serious drama and camp comedy an oftentimes uncomfortable one to say the least. But the film has a nerviness to it that's entrancing. On top of that, it builds to an emotionally eloquent ending that I couldn't help but be impressed by, the beauty of the last shots filling my heart with a quiet joy I didn't want to see come to an end.
In some ways you could look at this as the modern day The Danish Girl, save David's transition into Virginia is thankfully not so cut and dry. There is a complexity to this transition that's refreshing, and I love that the character goes through so many difficult travails as they attempt to discover which path to self-awareness to walk upon. It helps considerably that Duris is terrific, The Beat That My Heart Skipped and Chinese Puzzle scene-stealer arguably giving his greatest performance, the emotional complexity astonishing.
Demoustier is almost equally as good, but her character is undone at times by some of the story's more farcical machinations, forced to balance between broad slapstick comedy, saccharine melodrama and documentary-like seriousness on far too many an occasion. Some of her reactions feel like they stepped out of 1970s cinema, and I don't mean that as a compliment, Ozon forcing her character into corners that moderately off-putting, if only on occasion.
This could have been disastrous, and in the hands of a lesser filmmaker it probably would have been. But Ozon is too good at his craft, to forward-thinking for any of this to be a constant problem, and the way he has the friendship between Clair and David/Virginia evolve ends up being far more refreshing than many of the overbearing first act comedic antics would have led me to believe. The New Girlfriend might not showcase the director at his best, but it does feature him continuing to try and tell stories many of his contemporaries would shy away from, this film finally ending up as a courageous saga of friendship, acceptance and identity I was happily captivated by.
THE VIDEO
The New Girlfriend is presented on a 50GB Blu-ray MPEG-4 AVC Video with a 1.85:1 1080p transfer.
THE AUDIO
This Blu-ray features a French DTS-HD Master Audio 5.1 audio track along and includes optional English subtitles.
THE EXTRAS
Extras here include:
Romain Duris: Portrait of an "Actress" (45:47) – More of an extensive making-of piece than an actual featurette entirely focused on the lead actor, this is still a strong behind-the-scenes effort filled with solid interviews with members of the cast and crew (including, naturally, Duris).
Deleted Scenes (10:24)
Original Theatrical Trailer (1:18) 
FINAL THOUGHTS
The New Girlfriend is remarkably perceptive and modern while at the same time features humor and observations straight out of French cinema of the 1970s. The pieces don't always mesh together, screenwriter/director François Ozon not always having as firm a grip on what it is he wants to say or the material itself as he typically does. But there are some truly sublime moments, as well as a number of fantastic observations, all of it anchored by performances from Romain Duris and Anaïs Demoustier that are absolutely superb. Worthy of a look.