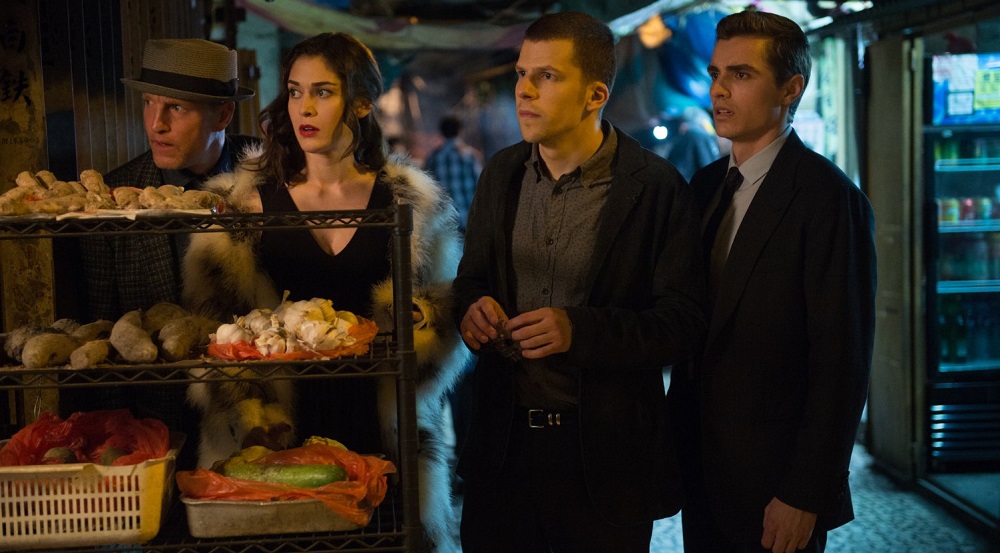 How does the Blu-ray/DVD Disc stack up? (all ratings out of 10.)
Movie
Video
Audio
Extras
Overall
SYNOPSIS
"We are going out with a show people will never forget."
CRITIQUE
I did not care for 2013's surprise box office hit Now You See Me. The film just left me cold. No hate. No vitriol. I just found the thriller revolving around the world of magicians and their tricks to be far too routine, much too silly and, frankly, much too boring to care about one way or the other.
This summer's Now You See Me 2 is another story entirely. This is a bad movie. On fact, it's close to risibly terrible, this return of The Four Horseman a nonsensical mess that's gets more infuriatingly stupid as it goes along, building to a spectacularly awful climax that feels like a swift kick to the gut for anyone who made up their mind to sit through all 129 minutes of the sequel.
Hiding for the past year, still wanted by the FBI, magicians J. Daniel Atlas (Jesse Eisenberg), Merritt McKinney (Woody Harrelson) and Jack Wilder (Dave Franco) find themselves brought back together by a blackmailer wanting them to pull off supposedly impossible heist. Joined by new member Lula (Lizzy Caplan), the puppet master pulling their collective strings also reveals that FBI special agent Dylan Rhodes (Mark Ruffalo) isn't who he appears to be, vaulting him to the top of his agency's most wanted list as he's forced to go on the run alongside The Four Horseman.
Things get more convoluted from there, the film introducing a new bad guy hidden away in an Asian skyscraper played by former Harry Potter Daniel Radcliffe and a twin brother for McKinney (also played by Harrelson), while former antagonists Thaddeus Bradley (Morgan Freeman) and Arthur Tressler (Michael Caine) are also in the mix of individuals giving the Horsemen and agent Rhodes a hard time. There's stuff involving top secret computer chips, heists in impenetrable vaults and a series of magic tricks that misdirect from the real designs of both the heroes and of the villains.
Who cares? The script is a mess, and while director Jon M. Chu tries to keep the energy pulsating at the same type of tempo he brought to his various Step Up entries, the whole thing is so unpleasantly stupid none of it ends up mattering all that particularly much. On top of that, the climactic tricks are just blatantly unbelievable, utilizing cinematic visual effects and copious amounts of CGI, and as such feeling as if any of them could have been pulled off in real life is absolutely, positively nonexistent right from the moment any of them begin. Now You See Me 2 is legitimately terrible. I never want to watch it again.
THE VIDEO
Now You See Me 2 is presented on a 50GB Blu-ray MPEG-4 AVC Video with a 2.40:1 1080p transfer.
THE AUDIO
This Blu-ray features English Dolby Atmos and English Dolby TrueHD 7.1 soundtracks along with Spanish Dolby Digital 5.1 and English Dolby Digital 2.0 tracks and includes English SDH and Spanish subtitles.
THE EXTRAS
Extras here include:
Audio Commentary with Director Jon M. Chu – I honestly couldn't bring myself to watch the film again so I didn't listen to this track. Apologies.
The Art of the Ensemble (21:11) – Fine cast and crew interview featurette. Fans will likely enjoy it.
You Can't Look Away (17:14) – Solid look at the film's visual effects. They might be part of the problem from a story perspective, but the craftsmanship behind them was still fairly above average, and as such this featurette is more interesting than it has any right to be.
Bringing Magic to Life (16:09) – Good featurette; pity the movie didn't spend more time on actually exploring magic inside the confines of its story as nicely as this featurette does.
A Digital HD Copy and a DVD version of the film are included with this release.
FINAL THOUGHTS
I really disliked Now You See Me 2. It's a terrible sequel, one of the worst I've seen in quite some time. Still, from a technical perspective Lionsgate's Blu-ray is just fine, and I'm sure fans (if there are any) will be more than satisfied with this release.