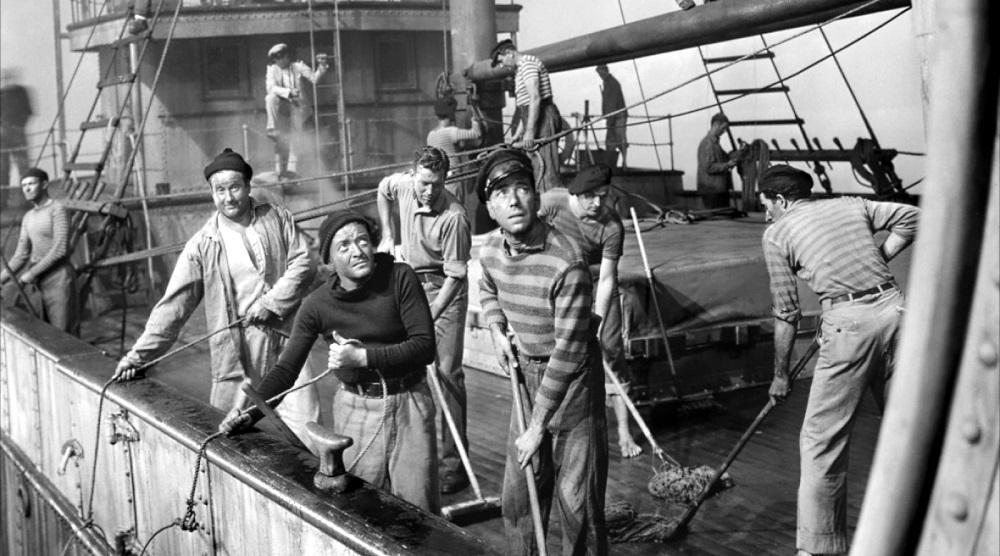 How does the Blu-ray/DVD Disc stack up? (all ratings out of 10.)
Movie
Video
Audio
Extras
Overall
SYNOPSIS 
"The bombs they're dropping tonight are editorials the Germans will understand."
– Captain Freycinet 
CRITIQUE
It's interesting that, after the massive success of Casablanca, with Warner Bros excited about doing something similar with celebrated director Michael Curtiz once again back at the helm, with members of that Oscar-winner's cast – namely Claude Rains, Sydney Greenstreet and Peter Lorre – signed on in key supporting roles, it's interesting that Humphrey Bogart had to reportedly fight the studio in order to be allowed to star in the WWII patriotic actioner Passage to Marseille. Granted, when you realize he was taking up the visage of Jean Matrac, a patriotic Frenchman undone by fascist supporters of the Third Reich railroaded into prison on Devil's Island who leads a group of other loyalists in a daring escape so they can return to France and fight the Nazis, maybe Warner's reticence to have him headline doesn't seem so strange.
Not that I personally care. Story similarities to Casablanca notwithstanding, this fun, thought-provoking thriller is like four stories in one, Curtiz unleashing a series of expertly constructed flashbacks within flashbacks within flashbacks that all revolve one around the other in order to reveal how Matrac and his fellow former prisoners came to be trusted soldiers working for Captain Freycinet (Rains) at a top secret airfield located in England. Working from a novel written by Charles Nordhoff and James Norman Hall, screenwriters Casey Robinson (Captain Blood) and Jack Moffitt (Night and Day) do a crackerjack job of keeping time frames and character interactions always clear, and no matter who is telling a story we always know exactly what is going on and what the hoped for outcome is supposed to be.
The main crux of the story, one that begins with Capt. Freycinet recounting the first flashback to military journalist Manning (John Loder), takes place on a cargo ship attempting to  deliver an important cargo to the port at Marseille in order to aid the war effort. Captain Malo (Victor Francen) pilots the vessel, picking up five strange castaways – who include Matrac – during the course of their journey. When news reaches them that Paris has fallen and the Vichy government has chosen appeasement over continued fighting, Major Duval of the French Army (Greenstreet), with the aid of the of ship's chief engineer (Edward Ciannelli), attempts to stage a mutiny because he doesn't believe Capt. Malo will follow through on his orders to keep going to Marseille and deliver their cargo to the Germans.
He's right, of course, but with the majority of his crew loyal, and with the assistance of the five castaways – all revealed to be escaped prisoners from Devil's Island (another flashback, in which we also learn about how Matrac ended up being erroneously sent there, as well as his devotion to beautiful, and equally patriotic, wife Paula, played by the gorgeous Michele Morgan) – Malo and Freycinet are able to organize a strong resistance to Duval's duplicity. All of which builds up to the film's most notorious, controversial and, it should be noted, strongest moment, an assault on the ship by German fighter, a moment where Matrac not only proves to be a fiercely determined hero willing to sacrifice everything for victory, but also a deeply flawed human being who does allow the horror of warfare to lead him to doing the unthinkable.
Is Bogart miscast? Sure he is, the Hollywood icon about as believe a Frenchman as Arnold Schwarzenegger would be playing an Irish leprechaun. But that doesn't make him any less magnificent, his forcefulness in the lead role undeniable all the way through. He's an early version of the type of action hero that would one day the likes of Lee Marvin, Steve McQueen and Bruce Willis would emulate in countless motion pictures, his commitment to both the role and to the film readily apparent first moment to last.
Passage to Marseille isn't the greatest WWII thriller of its era. It's similarities at some points to Casablanca are more than a little silly. But Curtiz's handling of all the various elements is extraordinary, while the central emotional dynamics concerning patriotism are emotionally stupendous throughout. More than that, it builds to a suitably complex, yet still rousing, climax that makes one think about warfare, as well as those fighting on the front lines, in a way few films of the time period had the guts to do.
THE VIDEO 
Passage to Marseille is presented on a dual-layer 50GB Blu-ray MPEG-4 AVC Video with a 1.37:1/1080p transfer.
THE AUDIO 
Passage to Marseille comes to Blu-ray with a strong English DTS-HD Master Audio 2.0 soundtrack and includes optional English SDH subtitles.
THE EXTRAS
Extras here are ported over from the previous DVD release and include:
Warner Night at the Movies:
1. Uncertain Glory Theatrical Trailer (2:13)
2. Vintage Newsreel (0:56)
3. I Won't Play Short Film (17:56)
4. Jammin' the Blues Short Film (10:15)
5. The Weakly Reporter Animated Merrie Melody Short (6:41)
The Free French: Unsung Victors Featurette (16:51)
Breakdowns (6:46)
Original Theatrical Trailer (2:17)
As solid a group of extras as anything one could hope for save for the fact none of them are new or have been put together for this new Blu-ray release. Love the Chuck Jones animated short, while 'Breakdowns' is essentially the era's version of a Gag Reel and includes mistakes from a number of Warner productions. It's terrific stuff, and for newcomers to the film absolutely essential viewing across the board.
FINAL THOUGHTS
Who cares about Humphrey Bogart's exceedingly odd casting as a French war hero? I certainly don't, Passage to Marseille a wonderful old school patriotic WWII actioner with a unique overlapping flashback structure that's beyond one-of-a-kind. Warner Archive's Blu-ray presentation is another strong one featuring superb picture and sound, and while extras duplicate the previous DVD edition that doesn't make this disc any less spectacular. Highly recommended.