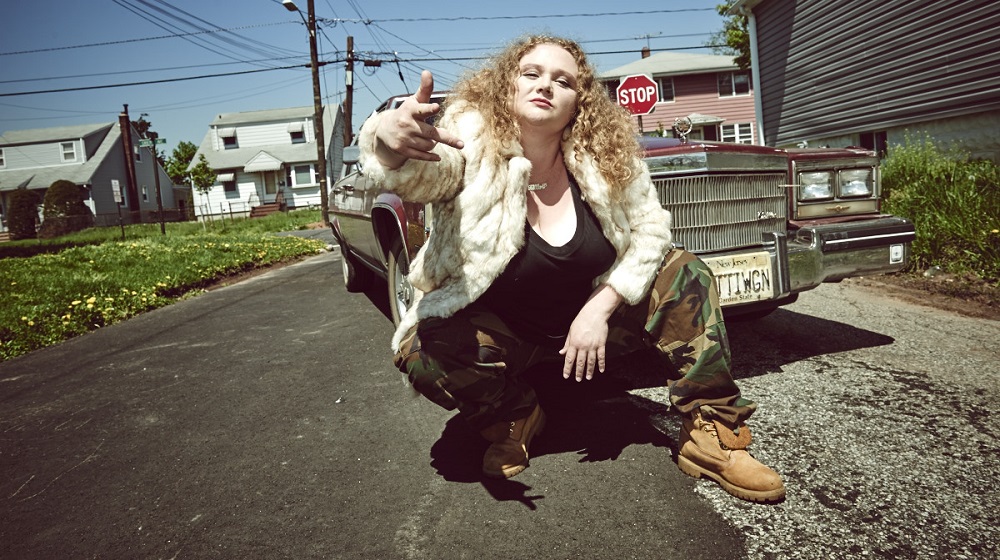 a SIFF 2017 review
Rousing Patti Cake$ an Electrifying Debut
Patricia "Patti Cake$" Dombrowski (Danielle Macdonald) has big dreams. She's obsessed with becoming the next big name in Rap, daydreaming of being brought up onto the stage by her idol O-Z (Sahr Ngaujah), a legendary musician with his own record label who has sold millions of records all around the globe. But she's not exactly someone who would normally catch the impresario's eye. Patti is 23-years-old, lives with her failed rock star of a mother Barb (Bridget Everett), takes care of her wheelchair-bound grandmother Nana (Cathy Moriarty), works at a local karaoke dive bar and is moderately overweight. The chance she's going to be getting out of her New Jersey rut anytime soon isn't good, and no matter how talented the young woman might be getting anyone to listen to her music is going to be next to impossible.
But Patti's best friend Jheri (Siddharth Dhananjay), a local pharmacist, refuses to give up on her, constantly pushing her to not give up. Patti responds to this constant pressure, especially after the two of them encounter enigmatic musician Basterd (Mamoudou Athie) and she quickly comes to the conclusion his original compositions could be the perfect accompaniment to her angst-ridden lyrics. Giving them an assist is Nana, her nicotine-fueled enthusiasm for her granddaughter's ambitions never in doubt.
Patti Cake$ shouldn't work. It's cut from the same inspirational cloth as sports-themed dramas like Hoosiers and Rocky. It parties in the same playground as Curtis Hanson's Oscar-winning Eminem hit 8 Mile did back in 2002. There's little to nothing original about the scenario writer/director Geremy Jasper has come up with, and from the boozy mother who has trouble allowing her daughter to blossom without feeling like her own life has been a waste, to scenes of redemption, compassion, forgiveness, heartbreak and euphoria that feel pulled from any random Frank Capra flick from the 1940s, it's all familiar. Every. Single. Second.
But I'm just fine with that. I'm fine with that because if Jasper's debut proves anything, it confirms that a smart, perceptive and sincere film with interesting, three-dimensional characters worth investing in emotionally is worth the price of a ticket no matter how unoriginal the central narrative construct might be. This is a real story, one with real heart, real emotion, all of it centered around a main character whose faults and shortcomings are every bit as fascinating as her strengths and attributes prove to be. Patti Cake$ soars into the stratosphere like a shooting star spurting truth in its wake as it streaks across the sky, this drama a stunning, entertainingly electrifying crowd-pleaser deserving of a standing ovation.
There are two core elements that run on parallel tracks, both racing towards a conclusion where their paths will suddenly shift course in order for them to smash into one another like a pair of bullet trains sharing the same track. One involves Patti and her friends, most notably Jheri, as she attempts to put the hardships she's endured into perspective while also crafting music and lyrics that will hopefully make her a star. The other concerns her relationship with Barb, their inability to communicate continually, if also inadvertently, fueling the self-doubt lurking inside the wannabe musician to the point any dream she has could be shattered long before it has the chance to become reality. Jasper balances these two competing elements beautifully, never allowing one to overshadow the other as both are vitally important to the outcome of Patti's tale.
It helps that Macdonald, a young Australian actress with few major credits to her name, is sensational. I couldn't take my eyes off of her, her ability to mine a variety of complex interior emotions in the blink of an eye extraordinary. She sings. She raps. She shows determination. She shows vulnerability. She shatters. She rebuilds herself. She lets her guard down and begins to feel the initial inklings of love's warm embrace. She destroys a friendship and then does the hard, tiresome work to build its foundation stronger than it ever was before. Macdonald navigates all of this and more, and in the process of doing so crafts a character who is every bit as unforgettable as Gugu Mbatha-Raw in Beyond the Lights, Bette Midler in The Rose or Judy Garland in A Star is Born all proved to be once upon a cinematic time.
The rest of the cast is equally up to the challenge, an unrecognizable Moriarty a particular treat as Nana. But it is Everett who caused my eyes to open the most, the actress delivering a surprisingly complex performance that easily could have devolved into cliché and caricature if it had been in lesser hands. The look of selfless, unfiltered love Barb passes Patti's way during the show-stopping climax broke my heart into tiny little pieces, the authenticity of their bond never in doubt no matter how hard, ugly and dysfunctional it oftentimes proved to be.
There's never any doubt where all of this is headed, and I think I could have done without a couple of the scenes where Patti daydreams about her idol O-Z, the overabundance of these sequences slightly diluting a scene where the two characters unexpectedly come into contact with one another a tiny bit. But overall Jasper shows a confident control over all elements of his debut, the closing concert sequence so stupendous I wanted to run out of my screening as soon as the film was over and start dancing in the streets. Patti Cake$ deserves every ounce of the acclaim it's been generating ever since its Sundance premiere this past January, and personally I cannot wait to head back to the theatre and watch it again.
– Review reprinted courtesy of the SGN in Seattle
Film Rating: 3½ (out of 4)
Additional Link:
Interview with writer/director Geremy Jasper