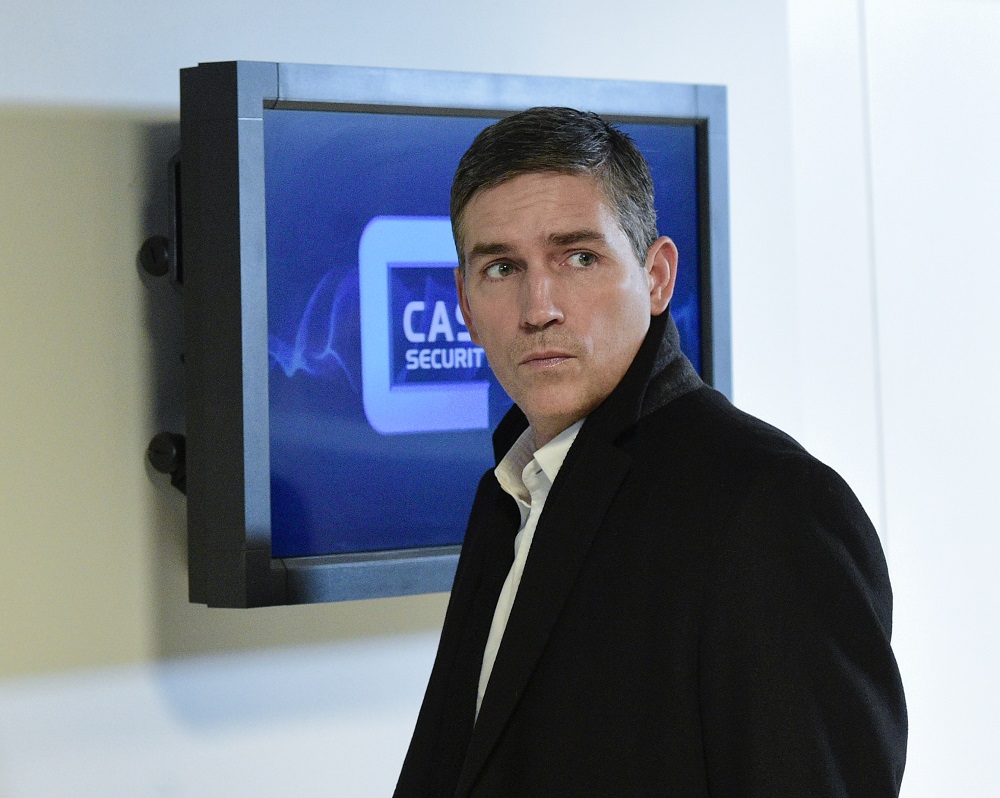 How does the Blu-ray/DVD Disc stack up? (all ratings out of 10.)
Movie
Video
Audio
Extras
Overall
SYNOPSIS
Computer genius Harold Finch (Michael Emerson), ex-soldier John Reese (Jim Caviezel), former government assassin Sameen Shaw (Sarah Shahi) and the mysterious, and still very deadly Samantha Groves, a.k.a. Root (Amy Acker), find themselves on the run from deadly A.I. Samaritan and its operatives, The Machine doing its best to hide them all in plain sight as they continue on their mission to help the helpless and restore order to the human world. Still reeling from the death of his partner, Det. Lionel Fusco (Kevin Chapman) does what he can to help them all while staying off of Samaritan's radar.
CRITIQUE
Season 4 of Person of Interest finds the script flipped somewhat, the group scattered here and there hiding in various aliases courtesy of The Machine (Shaw's particular humorous, the lethal assassin forced to take on the guise of a department store makeup counter saleswoman) trying to avoid detection from Samaritan. While Taraji P. Henson's absence is certainly felt, overall the show rebounds nicely from the somewhat underwhelming Season 3, the 22-episode arc having a wonderful ebb and flow building to a startling, intellectually stimulating conclusion that's filled to the brim with exquisitely staged action set pieces fans will surely delight over.
One of the best additions to the show is the appearance of new supervillain Dominic (Winston Duke), a Wilson Fisk/Kingpin-like bad man eager to take over the running of New York's criminal underworld from the always grinning, exceedingly confident Elias (Enrico Colantoni). But as great as this subplot might be, it comes to an admittedly bittersweet conclusion in the final episode, and I can't help but wish series creator Jonathan Nolan and his talented cadre of writers and directors had come up with something better as far as sendoffs for the pair are concerned.
Root/Samantha Grove's continued evolution is fascinating, however, and Harold's reticence to trust The Machine as he once did feels entirely genuine, making how each reacts to the A.I.'s climactic plans in the group's battle against Samaritan surprisingly affecting. There's also some great material involving Shaw and her growing emotional attachments to her teammates (especially Root), making her midseason disappearance slightly annoying considering just how invigorating a presence she was proving to be.
Overall, though, this is a wonderful season, and other than a couple of throwaway episodes that don't add up to very much (one, featuring the return of Henson, particularly unnecessary, which is upsetting considering it marks the brief return of one of the show's best characters – even if only as a ghostly reminder of missions past) by and large this is a pretty solid narrative that grows in intensity and power as things progress. More, it sets up a potentially outstanding Season 5, giving Reese more insight into how The Machine works while also setting up Samaritan as the most insidious and murderous A.I. this side of Skynet. Person of Interest is on solid footing, make no mistake, and I can't see fans of the show turning their backs on this program anytime soon.
THE VIDEO
Season 4 of Person of Interest is showcased on four dual-layer 50GB Blu-rays with MPEG-4 AVC encodes and 1.78:1 1080p transfers.
THE AUDIO
These Blu-rays feature English DTS-HD Master Audio 5.1 soundtracks along with a Spanish DTS 2.0 track, each coming with optional English SDH, French, Spanish, Danish, Finnish, Korean, Norwegian and Swedish subtitles.
THE EXTRAS
Extras here include:
Music of Interest (17:44) – Excellent, in-depth featurette speaking primarily with veteran composer Ramin Djawadi about his compositions for the show and how they have evolved over time going back to the very first episode.
Going Underground with Root and Finch (4:57) – Tour of the new underground base of operations with Amy Acker and Michael Emerson.
Person of Interest 2014 Comic-Con Panel (28:36) – The cast and crew at San Diego's Comic-Con. It's fine (if nothing all that special).
Gag Reel (2:58) – Another (sub)standard gag reel. Enjoy! 
A Digital Copy of Season 4 is included with the release. 
FINAL THOUGHTS 
It runs a little in circles at times, but overall Season 4 is a strong one for Person of Interest, and I for one am quite curious to see where the show goes from here.