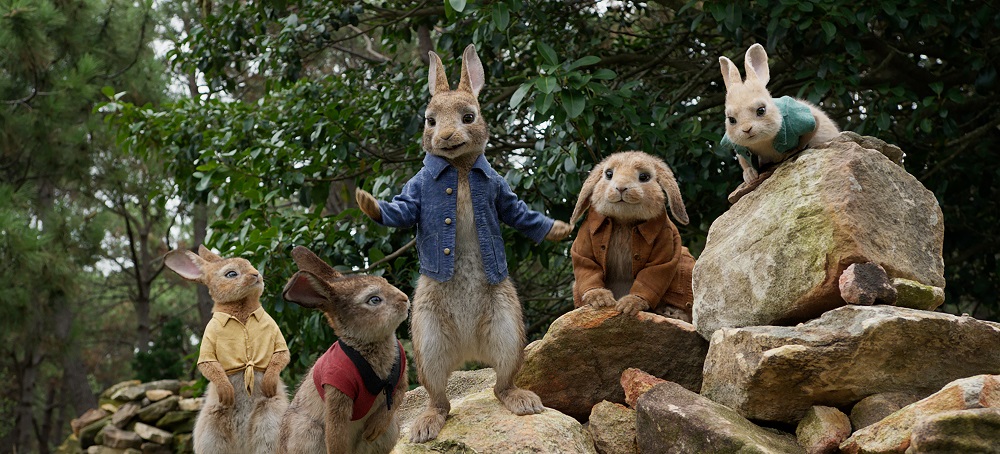 Violently Obnoxious Peter Rabbit a Vile Adaptation
There is almost nothing about Peter Rabbit that makes me think Beatrix Potter would have been pleased by this frantic, violently juvenile adaptation of her classic character. Beginning with the publication of The Tales of Peter Rabbit in 1902, the author wrote a number of books featuring Peter, his siblings Flopsy, Mopsy and Cotton-Tail, and a great many of their countryside friends including Pigling Bland, Jemima Puddle-Duck and Mrs. Tiggy-Winkle. She detailed his mischievous adventures as he invaded Old Mr. McGregor's farm in order to steal vegetables for his kin, the proud and prideful Peter learning a number of lasting lessons about sacrifice, family, community and humility as he did all he could to keep from being baked into a meat pie.
Had I never read a single one of Potter's books as a child, I can say with conviction I would still have loathed director Will Gluck's (Annie, Easy A) distasteful adaptation. While the CG animation utilized to bring Peter and his fellow critters to life is undeniably extraordinary, maybe some of the best I've ever seen, and even though actors Rose Byrne and Domhnall Gleeson manage to give two pretty solid performances reacting to all the madness and mayhem, this movie still made me so angry I was practically speechless afterwards. It was like I was sitting there getting pelted in the face with one rotten vegetable after an another, and while I can appreciate certain aspects of the production that doesn't mean I'd want anyone, anywhere to waste their hard-earned dollars taking the family to see this unmitigated disaster anytime soon.
Only the basic semblance of a connection to Potter's source material exists. After Old Mr. McGregor's (Sam Neill) untimely demise, Peter Rabbit (voiced by James Corden) believes he's finally won the battle for the human's lush, carefully tilled vegetable garden. But not so soon after he, his siblings Flopsy (Margot Robbie), Mopsy (Elizabeth Debicki), Cotton-Tail (Daisy Ridley) and their cousin Benjamin Bunny (Colin Moody) take up residence in his now empty house, along comes the farmer's grand-nephew Mr. Thomas McGregor (Gleeson). He's the new owner, and the persnickety and fussy busybody intends to get the property into tip-top shape so he can sell it for a tidy profit. That means Peter and his brood are not welcome in the vegetable garden, and he'll go to whatever lengths he feels are appropriate to ensure no rabbit sets foot inside of it ever again.
Enter kindly artist Bea (Byrne). She's lives next door and adores Peter, making room for him and his family whenever possible. But the young woman also catches the eye of her new neighbor, Thomas smitten right from their first meeting. For Peter, this is a step too far, and where he was initially willing to play cat and mouse with the new McGregor in much the same way as he did his predecessor, with Bea showing signs of falling for the man's charms the rabbit decides to take things to a level he's never ascended to before. It is man versus bunny, both determined to do whatever they must to win Bea's affections, and if there's any collateral damage so be it.
One of the film's chief gags revolves around Peter's happiness that he "killed" Old Mr. McGregor. He didn't, of course, the older man dying of a heart attack, but the fact this ends up being a running joke is moderately repulsive, and for a story designed to appeal to younger viewers I have no idea what Gluck and co-writer Rob Lieber (Alexander and the Terrible, Horrible, No Good, Very Bad Day) were thinking when they wrote it into the script. From there, the film is overflowing in overly exuberant moments of violence and pandemonium, and there is an entire set piece revolving around the rabbits pelting Thomas in his privates with vegetables. There are explosions, electrical shocks and acts of extreme vandalism that are well beyond the pale, all of it centered on a selfishly narcissistic main character who bears little to no resemblance to his beloved literary forbearer.
What's most annoying is that Byrne and especially Gleeson really are good, both of them giving lively, three-dimensional performances that in a better motion picture might have added something in the way of depth to the material. If anything, I'd love to see Gleeson do even more comedy, his willingness to do whatever it takes to garner a laugh divine. A strong dramatic actor, it would have been lovely to have watched him have such a terrific time portraying this character had the movie itself had made even the slightest of attempts to rise to similar heights. But frustratingly this is almost never the case, and save for a few instances of undeniable charm, Gleeson's strong performance ends up being nothing more than a minor saving grace in a motion picture that needed at least another half-dozen of them in order to have met with even the faintest semblance of success.
Earlier this year we were gifted the divine beauty of Paddington 2, a piece of family-friendly entertainment that respected and trusted its source material while at the same time still felt modern, fresh and new. On the flipside, Peter Rabbit feels nothing like Beatrix Potter's timeless books, the majority of the modern elements injected into the story to make it current hitting me as being nothing short of ugly, coarse and vile. While some will undoubtedly be amused, I certainly cannot count myself amongst any who would, this distasteful animation-live action hybrid an odious misfire I hope I never have to think about, let alone watch, ever again.
– Review reprinted courtesy of the SGN in Seattle
Film Rating: 1½ (out of 4)