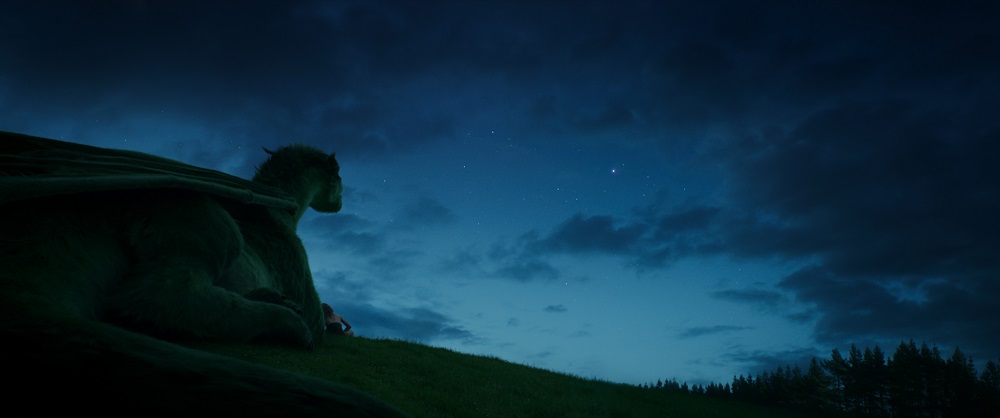 Disney's Pete's Dragon a Magically Enchanting Remake
Deep in the heart of the Pacific Northwest, forest ranger Grace Meacham (Bryce Dallas Howard) and young schoolgirl Natalie (Oona Laurence) have made a startling discovery. A boy, no more than nine or ten, named Pete (Oakes Fegley) has apparently been living out in the wild all on his own. But that's not entirely true. He claims he's had help, a friend who has seen him through both thick and then for the past handful of years. A friend named Elliot. A friend who just so happens to be a gigantic, fire-breathing, furry green dragon.
As unbelievable as this sounds, Grace finds herself wanting to believe Pete's story, if only because then it would mean all the tall tales her father (Robert Redford) has been recounting over the years about a dragon secretly living in the woods would be more than a fanciful fairy tale. Her fiancé Jack (Wes Bentley), who also happens to be Natalie's father and is operator of the local lumber mill alongside his brother Gavin (Karl Urban), is a little more incredulous, certain there has to be another reason for the boy's survival in the wilderness. But there is magic in the forest, and it's up to Pete to protect it, and in the process inspire Grace, Natalie and a number of others to achieve a kind of greatness heretofore they had never dreamt was possible.
Dipping into their deep well of classics for the second time this year (box office smash The Jungle Book being the other), Disney sets their sights on the 1977 live action-animation hybrid Pete's Dragon for their latest remake. Handing the reins over to Ain't Them Bodies Saints auteur David Lowery, this isn't so much a new take on Seton I. Miller and S.S. Field's source material as it is a complete and total reinvention of it, the movie something of a E.T.: The Extra-Terrestrial meets The Black Stallion meets Tarzan hybrid that while comfortably familiar still manages to strikingly original and new at the exact same time. It is a beautiful, life-affirming reworking, one that is as pure as it is heartfelt, the final product a rousing testament to the human spirit that's darn near close to perfect.
This is a movie that never overplays its hand, doesn't attempt to dive into self-indulgent extremes in order to provide audiences with pointless action sequences that add nothing to the characters or their collective stories. Lowery, composing the script with his Ain't Them Bodies Saints producer Toby Halbrooks, goes out of his way to cement events in a believable reality that allows the fantastical to come to life with striking intimacy. While the various motivations driving each protagonist are understandably different, they are still comfortably familiar and thus easy to relate to, allowing the inherent emotionalism at the center to resonate with viewers of all ages.
While still kid-friendly, the opening is still rather startling, the events that end up putting Pete in the forest all alone enough to break even the most hardened heart into two. But the way Lowery depicts the first encounter between dragon and child is remarkable, deftly hinting at the majesty and magic to come but not in a way that feels heavy-handed or overly melodramatic. It's also the moment where I realized just how essential Daniel Hart's (Tumbledown) poetically haunting score would end up playing in the proceedings, the composer delivering a litany of themes that highlight and augment the on-screen action without ever coming close to overwhelming them.
Urban's villain is a little one-dimensionally cartoonish, his actions far more on-the-nose than anything else that lurk inside the picture's myriad of otherwise complexly humanistic layers. He goes from nonbeliever to opportunist at the drop of the hat, and while the veteran character actor still underplays things nicely, that doesn't make Gavin any less silly. He's the bad guy because the movie feels that it needs one, has to have someone around who longs to take advantage of the situation and allow for moments of capture, escape and frantic chase during the climax.
Thing is, Lowery handles all of this with the same frank simplicity he brought to the elegiac temperaments running through Ain't Them Bodies Saints, and while that rural piece of Americana crime noir was a much different motion picture, the respect with which the director treats both stories is no less significant. As a filmmaker, he trusts his audiences, understands he can save the biggest, boldest moments for last, and as such doesn't feel the need to fill the screen with superfluous visual filler which would add little of substance and even less that's dramatically necessary.
Lowery isn't afraid of emotion, but that doesn't mean he's willing to let his version of Pete's Dragon wallow in it, so when the tears ultimately flow, they do so with a luminosity so genuine the overall effect is positively miraculous. He's crafted a movie that feels so of the moment, so of the now, walking out of the theatre I doubt I could have stopped smiling even if I had wanted to try. As remakes go, Disney's latest might just be their best one yet, soaring to such stratospheric heights I almost can't help but be amazed.
Review reprinted courtesy of the SGN in Seattle
Film Rating: 4 (out of 4)