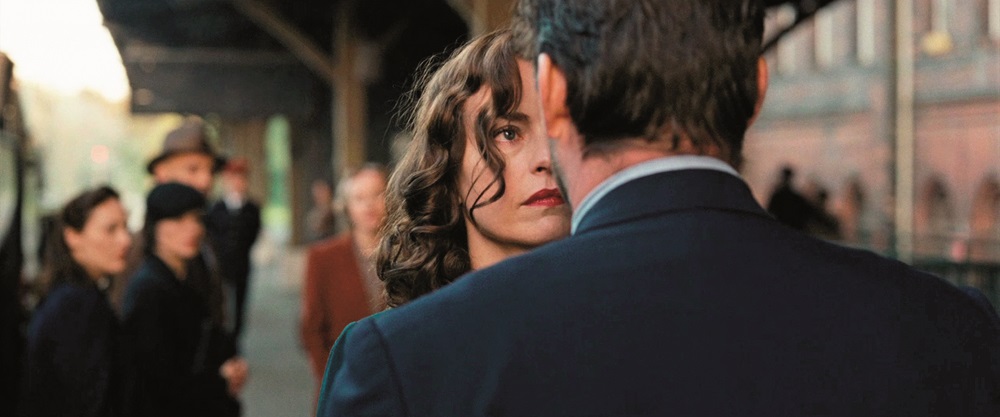 Spellbinding Phoenix a Thrilling Resurrection
Nelly Lenz (Nina Hoss) did not die. Horribly disfigured, traumatized beyond belief, thinking she'll never find the strength to take to the stage and sing again, the German star has somehow survived the horrors of Auschwitz, the only one in her family to do so. With the help of best friend Lene (Nina Kunzendorf), with the aid of doctors tasked with reconstructing her face, she will attempt to put her life back in order, and, while the traumas of WWII will never fully heal, somehow, someway she must still persevere and find the strength to carry on.
Something is holding Nelly back. She's obsessed in finding out what happened to her husband Johnny (Ronald Zehrfeld). Lene strongly believes he was the one responsible for her being captured by the Nazis, and as such she urges her friend to stop trying to find him, to give up on her quest to learn the truth. But Nelly is undaunted, and whether by fate, by luck, or by her own dogged determination, things have transpired that have allowed the singer to come into contact with her former husband again.
That's just the start of what's going on in director Christian Petzold's latest character-driven thriller Phoenix. Reuniting with his Barbara star Hoss, adapting Hubert Monteilhet's novel Le Retour des cendres with frequent collaborator Harun Farocki, the film is an absorbing marvel that twists and turns its way to stunning conclusion. Playing with false identities, constantly keeping things anchored on Nelly and all that she is thinking and feeling, the movie builds with pinpoint precision as it moves towards its destination. Never what I thought it would be, the film plays on convention and expectation, flipping the script and dropping the mic, going out with a bang that echoes with nothing less than greatness.
Hoss, winner of the Golden Space Needle Award for Best Actress during this year's Seattle International Film Festival, continues to be one of the best actresses working today most have probably never even heard of. Stupendous in everything from Barbara, to We Are the Night, to Jerichow, she is quickly becoming the type of irresistible chameleon that makes any film she is a part of one I cannot wait to watch. This is one of her most complex, more astonishing balancing acts yet, portraying a once strong woman broken down to the barest minimum by unimaginable tragedy who then proceeds to make choices and decisions that on the surface feel entirely wrong.
The trick is that, as odd as what she's doing might initially appear, the rhyme and the reason only becomes clear at the very end, and it's up to Hoss to sell this moment in ways that are honest, emotional and, most of all, believable. If she doesn't do it, then the preceding 90 minutes have all been for naught. If she doesn't do it, the whole movie collapses in upon itself, making the whole thing much ado about nothing. The actress doesn't just nail the moment, she encapsulates the entire motion picture and all that's transpired in what is essentially a single glance, making one instantly want to go back and analyze every other facet of the narrative in a way they were originally failing to do.
The pacing is odd, maybe even slow, and accepting Nelly's choices, at least initially, isn't exactly easy. But Petzold, making an even greater directorial leap forward than he did on Barbara (which, to be clear, is excellent; everyone should check it out), takes what looks like a relatively simple storyline and makes something complex, intricate and innately personal out of it. He puts the viewer into the main character's shoes, has us walk through the shattered streets of Berlin right alongside of her. It's glorious, and even when I was questioning Nelly's decisions, there was something about the ambience that Petzold created that kept me watching no matter what.
It's not a shock, I'm certain, that Phoenix embraces its title completely. Its main character is looking for resurrection, wanting to be reborn, the problem being she spends a lot of time not entirely realizing that this is exactly the journey she has in fact set herself upon until it is potentially too late. But when it happens? When awareness hits? The effect is breathtaking, rising from the ashes of self-doubt, chaos and tragedy rarely as heroic as it turns out to be here.
Film Rating: 3½ (out of 4)