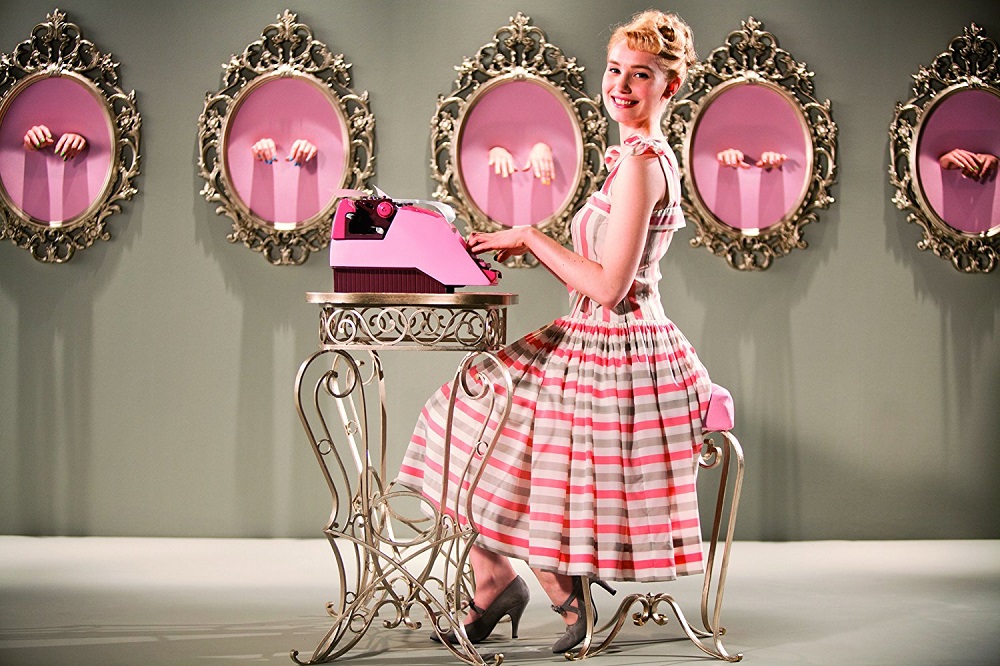 Charming Populaire Just My Type of Romance
The French comedy Populaire is admittedly slight. A rather unassuming and overly familiar romantic comedy set in 1958, the film concerns itself with 21-year-old Rose Pamphyle (Déborah François), a starry-eyed small-town girl who comes to the big city to become a secretary. Problem is, she's a horrible one, her pleasant demeanor doing little to mask her poor organizing and office skills, all of which leaves her charismatic independent insurance agent boss Louis Échard (Romain Duris) perplexed as to what to do with her.
Rose does have one skill, and it's a doozy: she's the fastest typist her boss has ever laid eyes on. Louis, a former athlete and big-time competitor, sees in his secretary championship material. He's going to enter her in a national speed-typing competition, and whether she's interested or not he's going to go out of his way to train her to be the best.
In other words, this movie is the Rocky or Hoosiers of secretarial speed-typing movies only with a little old-school Rock Hudson-meets-Doris Day office romance daydreaming thrown in for good measure. It doesn't do a darn thing unexpected or different, prancing around in genre tropes and clichés that have been around since Claudette Colbert showed a little leg to bum a ride for herself and Clark Gable. The scenario and relationship at the heart of the script are all fairly obvious, nothing surprising happening during any single gosh-darn rudimentary step of Rose and Louis's romantic journey.
Funny thing, but I don't care. Director and co-writer Régis Roinsard has crafted a dexterous little gem that's utterly charming. It's a candy-colored jaunt that doesn't overstay its welcome, doesn't brag about its intentions and doesn't attempt to do anything more than its simple synopsis would lead one to believe it is going to do. Bottom line? The movie is fun, and I can't say I thought for a single second that my time in the theater watching it was being misspent.
It helps that both Duris and especially François are a total joy, their chemistry sparkling with a vivacious ebullience that had me captivated from the start. Duris, a great actor appearing in films as diverse as The Beat My Heart Skipped, Molière, Russian Dolls and Paris, slips into his smoothly masculine chain-smoking persona with ease. His narcissistic machismo oozes out of every pore, as does a wounded fragility born from his time fighting for the French Resistance during World War II. There are layers many unexpected layers to his performance, Louis a more intriguing character than I initially imagined he was going to be.
Rose, sadly, isn't nearly as interesting or as complicated, and considering the nature of the film's setting and the era it is depicting, her wants and dreams aren't exactly what many modern women see themselves shooting for. Even so, François is maybe even more impressive in the film than her costar. She's an effervescent spark whose light never dims, even when pain and disappointment threaten to derail her quest. Her infectious spirit rises above the rote familiarity buried deep within the script allowing her character to become something glorious, Rose's tenacious ferocity as she pursues this dream of a typing championship easy to get behind.
What's most interesting is, for all the film's embracing of genre clichés, how subtle much of the story ends up being, Roinsard never slathering unnecessary musical cues upon the proceedings in order to play up the melodramatics that are constantly in play. He shows restraint, keeping the focus on the performances of his stars and in the process allows Louis and Rose's blossoming love to feel more realistic than it otherwise might have been.
Not that he skimps on the technical stuff. The brightly colorful make up (can't help but love the shimmery manicured nails, all in brightly iridescent primary colors), the svelte costumes, the over-coiffed hairstyles, the mannerisms, the unadulterated femininity, all of it comes together in a way that's positively electric from a visual standpoint. More importantly, these technical and visual flourishes feed the main characters, everything combining to give them a glossy veneer of '50s-era armor slowly builds up as the movie progresses only to allow their counterpart to strip it away later on in order for their romance to have the meaningful impact it eventually achieves.
Couple in a pair of deft, sometimes rapturous supporting turns from The Artist Academy Award-nominee Bérénice Bejo and American actor Shaun Benson, and it's hard not to come out of Populaire feeling anything other than pleased. Sure, its story isn't new, and without a doubt Roinsard isn't reinventing the romantic comedy wheel, but that doesn't make the movie any less fun. I was smiling broadly as I exited the theater, and while I can't type nearly as fast as Rose, the giddy gusto I attacked my keyboard with in order to write up this review afterwards was still pretty furious. Better, I didn't break a single nail while doing it. C'est magnifique!
– Review reprinted courtesy of the SGN in Seattle
Film Rating: 3 (out of 4)