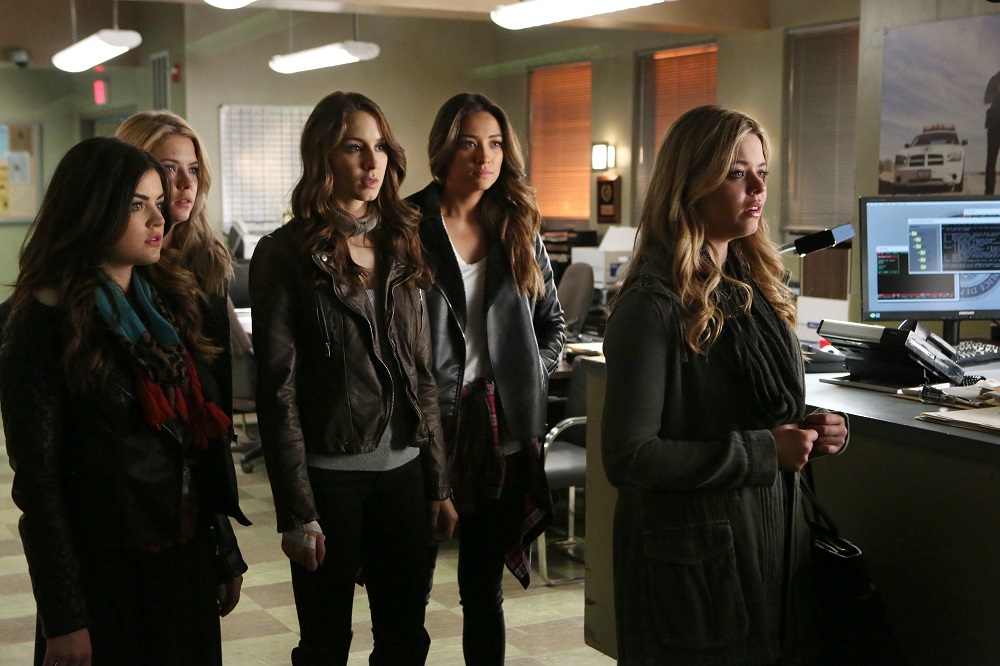 How does the Blu-ray/DVD Disc stack up? (all ratings out of 10.)
Movie
Video
Audio
Extras
Overall
SYNOPSIS
In the wealthy community of Rosewood, PA, Aria (Lucy Hale), Spencer (Troian Bellisario), Emily (Shay Mitchell) and Hanna (Ashley Benson) must figure out who is who and what is what when long-thought dead friend Alison (Sasha Pieterse) returns from the grave and joins them in their quest to uncover the identity of the mysterious "A." 
CRITIQUE
When it debuted back in 2010, Pretty Little Liars was definitive proof that the ABC Family Channel wasn't exactly as "family friendly" as programmers or the network would have liked everyone to believe. I mean, a 20-plus episode a season television show about a gaggle of teenagers (none of the core cast were even freshman in High School when all this began) who perpetually lie, cheat and cover up a variety of crimes (including – potentially – murder) while being harassed by a mysterious nemesis calling themselves "A" just screams wholesome all-ages family-friendly entertainment, obsessing over clothes, hair, makeup, boys and – gasp! – sex making it even more so.
All kidding aside, the show has proven to be massively successful with its committed fan base, and as guilty pleasures go it's awfully hard not to get swept up into this Pennsylvanian world and wonder what's going to happen next. But the show is starting to show its age at this point, and the fact so little time has transpired over the course of five seasons (season six just started, while season seven is reported to – hopefully – be the show's last) is kind of mind-boggling. I mean, even "One Tree Hill" had to engage in a five-year time jump in order to help the actors age appropriately, so it goes without saying that a few of the key actresses are starting to understandably look a lot less like teenagers and more like the mature young adults they in reality are.
As for Season Five, not only do you have Alison joining in on the investigation, you also get answers to a couple of the prior season's more vexing mysteries, including all the behind the scenes shenanigans revolving around Ezra's (Ian Harding) shooting. There's also the long-promised reveal of A's identity, a reveal that proves not to be a reveal meaning the answers we thought were coming didn't actually materialize. What else happens? Tons of activity, consternation, lip gloss primping, accusations, recriminations and looks of astonishment, but actually very little of substance as far as the main plot points established way back when in the very first season are concerned. It's all foreplay just going through the motions of getting to the next season, teasing fans with callous disregard to their enjoyment levels knowing its got them hooked just enough that they'll keep watching no matter how exasperated they might be on the verge of becoming. 
THE VIDEO
Pretty Little Liars is presented on six DVDs with 1.78:1 Widescreen transfers. 
THE AUDIO
Each disc features an English Dolby Digital 5.1 soundtrackand includes optional English SDH, French and Spanish subtitles. 
THE EXTRAS
This six DVD set includes the usual random assortment of extras including a selection of Deleted Scenes as well as Four Featurettes ("Celebrating a Pretty 100th," "Christmas in Rosewood: Designing the Ice Ball," "Pretty Little Liars: The Guys are Back!," "Good Girls, Bad Lies: The Stronger PLLs"), while an item dubbed "Special Episode: We Love You to DeAth" will prove to be a special treat for fans of the long-running television show.
FINAL THOUGHTS
Pretty Little Liars has its devoted fans, and as such they are going to be eager to nab this Season Five DVD set for their collection.