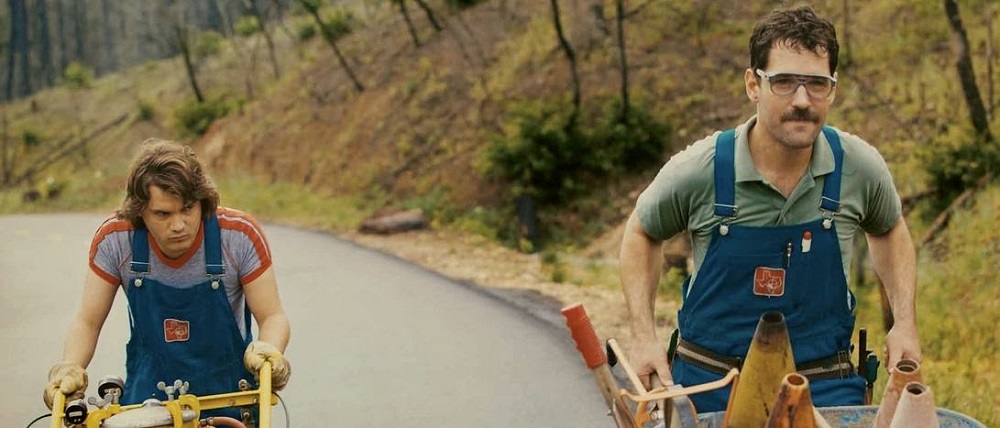 a SIFF 2013 review
Quietly Haunting Avalanche an Intimately Delicate Gem
There is a quiet intoxicating intensity burning behind the simple intimate authenticity of David Gordon Green's Prince Avalanche that's something else. A small picture, a return in some ways to the director's early days of crafting indie gems like George Washington and Snow Angels and far removed from his larger budget Hollywood comedies (The Pineapple Express, Your Highness, The Sitter), this marvelous drama is bursting at the seams with real insights, honest emotion and heartfelt comedy. It hits home in ways that sneak up on you, slowly, devoid of sappy sentimentality and free of melodramatic treacle, the characters and their journey not exactly large yet still coming across as massive and of weighty import all the same.
Somewhere in the American wilderness, two highway technicians, Alvin (Paul Rudd) and Lance (Emile Hirsch), are tasked with painting fresh traffic lines on roadways ravaged by a forest fire. They live and work in the outdoors, camping overnight in makeshift sites moving from here to there based on the miles they travel through the secluded wooded countryside.
That's it. That's all there is. The tightly wound, buttoned-up Alvin working alongside the free-spirited, somewhat unfocused young upstart Lance, a kid he hand-picked for the job mainly because he wanted to keep in the good graces of the kid's sister, his long-distance girlfriend. They bicker. They joke. They learn from one another. They take their time experiencing what their seclusion offers them. They become friends. There's no more, and there's certainly no less, all of it transpiring over the course of a few hardscrabble days, maybe a week, as we watch them do their job slowly and with methodic, almost banal, precision.
And yet, the movie is haunting, entering into the heart in ways that are staggeringly profound. Green, loosely basing his screenplay on the Icelandic import Either Way, allowed Rudd and Hirsch ample freedoms to improvise and transform their respective characters as the shoot progressed, the three of them working in tandem to find the core of the narrative and reveal its beating heart as they went along. Long stretches of silence, most of them involving Alvin as he explores his burned-out surroundings while Lance enjoys a weekend back in civilization, permeate the picture, moments of profound beauty and emotional warmth discovered along the way.
The genius of all of this is that, to a large extent, Green manages to reveal so many staggering truths about who we are as people and what we all long for as individuals even while keeping his focus on these two lonely men doing a drone-like job few would find satisfying. Yet while the task at hand seems simple, while the work is both physically taxing and mentally stupefying, doing it forces both Alvin and Lance to deal with interpersonal quagmires gestating within their very skins, each taking a look inside they likely wouldn't have had they not been presented with their current task.
Comparisons to films by Hal Ashby, Terrence Malick, Kelly Reichardt and a handful of others obviously abound, but the simple truth is that Green cuts his own path, making these characters and their respective conjoined excursions uniquely his own. There is an intoxicating beauty to this barren austerity, the emotional authenticity of what is going on at any given moment seldom in doubt and almost entirely free of contrivances. The actions taken feel true, and even though there are ghostly apparitions forcing each man to question what exactly is going on and why their presence only adds to the overall majesty of the core emotional underpinnings being presented.
Rudd and Hirsch are excellent, each playing against type just enough to keep me off-guard, wondering what both were going to do next. Better is veteran Tim Orr's (Seeking a Friend for the End of the World) luminous cinematography, the landscape just as important a character in the motion picture as either Alvin or Lance prove to be. A special shout-out must also be given to David Wingo (Snow Angels) and group Explosions in the Sky's unique and ethereally haunting score, their collaboration allowing the film to have a distinctively hypnotic sonic scope fitting both the setting and the characters just about perfectly.
Prince Avalanche isn't loud. It doesn't bark out its intentions in the first frame or seem interested in being more than the sum of its tiny, intimately woven parts. It's leisurely paced and doesn't spell everything out, Green assuming the viewer will be smart enough to put the pieces together for themselves and decide on their own what the final truths as to what Alvin and Lance have experienced and witnessed mean for their respective futures. All of this is more than fine as far as I'm concerned, and I have this sneaky suspicion this just might end up being a movie I greedily return to again and again reveling in its soothing, rhythmically restrained graces with satisfied glee every viewing.
Review reprinted courtesy of the SGN in Seattle
Film Rating: 3½ (out of 4)
Additional Link:
Interview with writer/director David Gordon Green