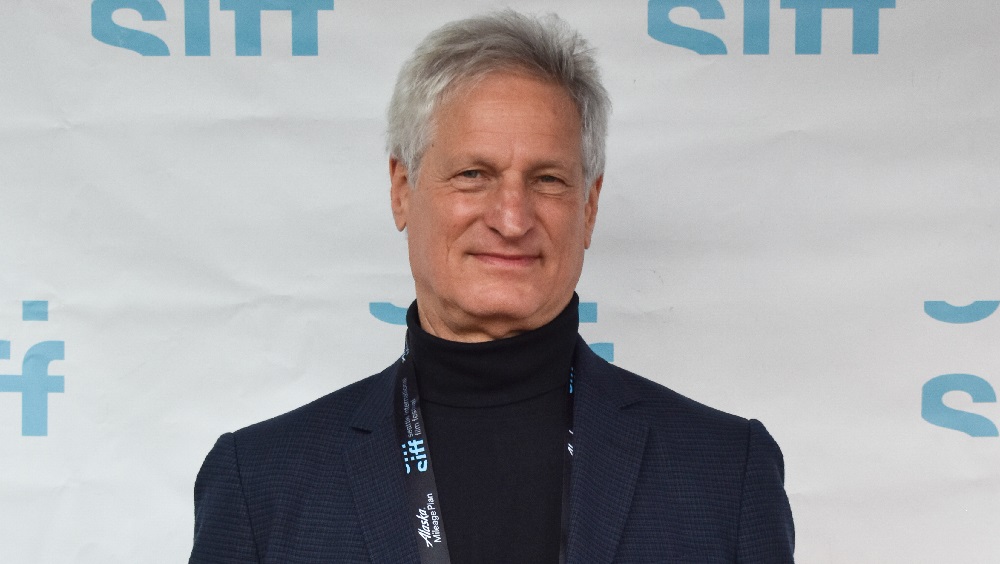 a SIFF 2018 interview
Director Marc Turtletaub Puts the Dramatic Pieces Together with the Emotionally Perceptive Puzzle
Marc Turtletaub is a veteran, Academy Award-nominated producer known for shepherding films as diverse as Little Miss Sunshine, Loving, Sherrybaby, Safety Not Guaranteed, Sunshine Cleaning and Louder than Bombs across the finish line. He steps behind the camera as director for the second time with Sundance Film Festival sensation Puzzle, the story of forty-something housewife and mother Agnes (Kelly Macdonald) who discovers she has a knack for putting together jigsaw puzzles. While searching for new jigsaws to challenge herself with she makes the acquaintance of championship puzzler Robert (Irrfan Khan), the pair deciding to enter into a partnership in order to compete in an upcoming competition.
Based on the Spanish film Rompecabezas and featuring a screenplay written by Owen Moverman and Polly Mann, Puzzle is a masterfully multifaceted melodrama, a coming of age tale about a woman discovering who she is and what she wants from life right at the moment she's supposed to be on the wrong side of 40. Featuring a magnificent performance from veteran character actress Macdonald that might just be the best of her career, Turtletaub does a fine job of keeping the central narrative focused entirely on Agnes no matter what else might be happening. Perceptive and thought-provoking, this is a sublime dramatic achievement, one I'm quite likely to get a second, and maybe even a third, look at before the end of the year.
I had the pleasure to sit down with Turtletaub during his visit to the Emerald City in order to present his film to a sold-out audience during this past summer's Seattle International Film Festival. Here are some of the highlights from our all-too-brief conversation: 
Sara Michelle Fetters: Were you familiar with the Spanish film Rompecabezas before you got involved here as director?
Marc Turtletaub: No. I wasn't. A friend sent the script for Puzzle to me after it had been adapted by Oren Moverman, but I had never seen the original. In fact, I intentionally didn't watch the original all the way through shooting through editing, and only when I finished the film did I say, "Okay. I'll watch it." 
Sara Michelle Fetters: I want to ask you about your reaction to the film but I have to enquire about working with Moverman. He's such an acclaimed screenwriter and director in his own right. What was it about this script that got you excited and, at the same time, were you at all surprised he wasn't going to direct it himself?
Marc Turtletaub: I don't know that Oren ever thought about directing it. He adapted it, he and Polly Mann had worked [the script] long before I knew anything about it. We did some minor additional work on the screenplay after I received it, but I honestly don't think he ever intended to direct it. So I guess that's my way of saying I wasn't surprised.
What drew me to it? You know, great writing is great writing, and I never thought I would want to do a movie about a woman who gets involved in jigsaw puzzles, but the script really stirred something inside of me. Of course, the movie is not just about jigsaw puzzles, it's about Agnes and the relationships that she has. The writing was extraordinary. A story about a woman of a certain age is rare, especially for one who finds herself after the age of 40. I call [Puzzle] a coming of age story for a woman over the age of 40; I don't say that in front of Kelly because she's already giving me the eye when I say that. Truly, though, a story about a woman over the age of 40, who finds herself later in life, it's so rare. One this beautifully written? About how her change ripples through the whole family? That is even more rare. It was really lovely to read.
Sara Michelle Fetters: I love that you brought that up because that was actually one of the things I was going to talk to you about. To see cinematic stories about women over 40, one that doesn't deal with explosions or action or heists or something vaguely supernatural, it's obscenely rare.
Marc Turtletaub: I'm not sure in our society why that is. I'm always drawn to stories about people who find their authentic self, but I think there are so few of them about complex, interesting women. There are always plenty of roles for men over the age of 40. But to find one like this, which is so well wrought for a woman over 40, it is so rare. Even last year, Three Billboards was another drama primarily centered on a woman that was a very different story, and also really powerful. But those are few and far between.
Sara Michelle Fetters: Then there is that puzzle aspect.
Marc Turtletaub: There is indeed.
Sara Michelle Fetters: You movie is titled Puzzle. 
Marc Turtletaub: It is.
Sara Michelle Fetters: It is about a woman who discovers she's exceptionally good at putting together jigsaw puzzles.
Marc Turtletaub: Right.
Sara Michelle Fetters: She's going to go to a puzzle championship. There's all of these things happening that have to do with the puzzles. The trailer is all about the puzzles.
Marc Turtletaub: I see where this is going. [laugh]
Sara Michelle Fetters: As you're watching the movie, though, you realize that these puzzles have just been a gigantic metaphor the whole time for what she's going through in her life and what she's discovering about herself. I don't want to call it a bait and switch, but in some ways it is almost as if you set up the film as this empowering kind of puzzle sports melodrama only to discover you've been watching a rather intimate relationship movie instead. As the director, how do you balance these various components so that audiences don't feel duped?
Marc Turtletaub: Great question. I don't think anyone has asked that before.
I personally didn't think of it as a bait and switch. The film is a character study and is about relationships. It's just that this woman finds she has an ability to do one thing and she follows the string of that talent from her little world in Bridgeport, Connecticut all the way into Grand Central Station. Suddenly her life begins to open up. Her eyes are opened.
For me, that's what the story's about. It's not a Rocky story for puzzlers. It just isn't. That's never what it was on the page. Then when we shot it, we didn't feel like we needed to put our emphasis on the actual tournament itself. Yes, it's a piece of this story, but what's really important is what's happening with Agnes, what's happening with her relationship to her family and what's going on with this new man that she's met.
Sara Michelle Fetters: We were joking a little earlier about Kelly Macdonald, but in all seriousness I think anyone who has followed her career even in passing would recognize just how talented she is. But she's stunning in this. It's so refreshing to see a veteran character actress like Kelly not only get a role like this one, but in the same breath knock it so clearly out of the park. For you, as the director and as a veteran producer, to see her so at the top of her game, I would imagine there were days on the set where you just had to be beaming watching her work.
Marc Turtletaub: It makes a director's job so much easier when you have someone like Kelly. I fell in love with her as an actress with a movie called The Girl in the Café, a small movie with Bill Nighy. I was like, who is this woman? She's extraordinary.
I honestly didn't remember her from Trainspotting. But you watch her in movies like No Country for Old Men and in "Boardwalk Empire" you start to connect the dots and she's appeared in so many diverse roles. Like you said, she's one of our great talents. I have always wanted to work with Kelly, and when I read this script it was so obviously right for her. I was fortunate to get Kelly, and also Irrfan Khan, who is another one of our great actors.
Sara Michelle Fetters: No question. He is. And both actors have such amazing chemistry. When did you know their pairing was going to work?
Marc Turtletaub: You don't know beforehand. For one thing, Irrfan and I had only communicated over the Internet. He lives in India, in Mumbai, of course, so while we chatted and talked and messaged about the movie he and Kelly did not work together beforehand.
But I don't rehearse beforehand. I like to keep it alive and fresh. So we talk instead. I talk with the actors about the role, about key scenes. But Kelly and Irrfan were not in a room together but for a couple hours before we started filming. You have to trust in the quality of the performers and in the massive talent that they have. The results are on the screen.
Sara Michelle Fetters: I can see how that sort of approach could work really well as it pertains to material like this. Agnes and Robert's initial meeting is so spontaneous. If you had rehearsed it too much, if you had spent too much time working on it, you wouldn't feel that spontaneity. It wouldn't feel so natural.
Marc Turtletaub: Exactly.
Smart. It's smart. That's what it is. The very first day working with Irrfan, I looked at the way he was playing Robert. It was so interesting. I never expected that that's how he would play the character. But that's his genius, and one of the real gifts of being a director is you have an idea of how something will play, and then once it's embodied by a wonderful actor, it suddenly has a life all of its own.
Sara Michelle Fetters: Both actors really do things here that I found continually surprising.
Marc Turtletaub: Nice! I'm glad you think that because it's true. It really is.
Sara Michelle Fetters: We would be remiss if we didn't talk about David Denman.
Marc Turtletaub: Thank you! It amazes me more people don't ask me about him, because he's great here as well. I love David.
Sara Michelle Fetters: That is a character that so easily could just drop into cliché or stereotype. He could have become a melodramatic drag on Agnes' journey. What was the process like for you all to make sure that did not happen with this character, so that we understood what Agnes was going through and why she would be feeling about this as she does? We don't hate David's character, which in many ways I find quite surprising where it comes to a story such as this one.
Marc Turletaub: That's lovely. Well put. I never want to demonize anyone. Louie, David's character, is a product of the environment he grew up in. We know a little bit, we get hints about what his father was like, but it's – the way you avoid a cliché or a stick-figure character is to begin with the casting. When I met with David and talked with him about the role it was clear that neither one of us wanted to have the husband by the heavy. We wanted to have somebody who was challenging, yes, but at the same time you also needed to feel for him. It's like real life. The character becomes real and becomes alive. David did a beautiful job. 
Sara Michelle Fetters: You have spent so much time behind the scenes as a high-profile producer of some pretty terrific films. Little Miss Sunshine. Loving. Safety Not Guaranteed. Jack Goes Boating. Sherrybaby. Not that I need to list the films you've worked on to you, but that's just a handful of the notable titles you've had a hand in seeing complete their productions and make their way into theatres. 
While this isn't your first directorial outing, you've certainly spent more time as a producer than you have sitting behind a camera instruction actors and tossing back and forth ideas with the cinematographer. How do things change when you take off that producer hat and exchange it for a directorial one?
Marc Turtletaub: As a producer, there are all kinds of producers, but my producing partner, Peter Saraf and I, are creative producers. We're very much involved in every stage of the process. From finding the original idea or material or book, whatever that might be, and being there right through the editing process. So we're always very involved.
But the vision has to come from the director, and so you mediate your thoughts through the director. We've worked with a lot of great first-time directors. Safety Not Guaranteed with Colin Trevorrow is an example. Little Miss Sunshine with Jonathan Dayton and Valerie Faris is another. And we've worked with some who have far more experience, like in Loving with Jeff Nichols. A lot of the first time directors we play a much larger role in the casting and crewing, even in some of the editing process. But it's always the director's vision. Always.
When you direct yourself, you're on the line. For me, the biggest thing to learn was how to stay open to good ideas from everyone because there are so many people who are so smart on a movie set. From being around movies you tend to have very smart cinematographers, script supervisor and editors, all who also own the process. So you have to be open to listening to good ideas while not losing your vision of the movie. It's a tricky line to walk.
Sara Michelle Fetters: It seems to me that you are drawn to stories that ooze authenticity. Stories about the human experience.
Marc Turtletaub: Yes. Exactly.
Sara Michelle Fetters: Why is that? What is it about these stories that excite you?
Marc Turtletaub: It's what draws me, stories that are grounded. I just find those the most interesting. They seem to have the most depth for me. We've worked on stories which are either life-affirming in some way, or life-revealing. These stories can go to a dark place, like Sherrybaby, with Maggie Gyllenhaal, which goes to a dark place, but it's always for a purpose. That movie, at the end of the day, it's about a woman who is not capable of love, who has had sex abuse in her family, and it's done in a really subtle way. We see all that was in her background. Then you realize that she can't raise a child unless she heals herself first. It was worth going to that dark place because there's ultimately something redeeming about it.
With these stories, I just follow in my heart. I follow in my instincts. But those are the kinds of stories that I grew up watching and that I love. Those are the stories that inspire me.
Sara Michelle Fetters: The other thing I've noticed, and Sherrybaby is a perfect example of this, as are Little Miss Sunshine and Loving, is that you are drawn to stories featuring strong, complicated women.
Marc Turtletaub: That's very true. I think that's because these stories are so underrepresented. I think I'm interested in strong people. When Kelly and I talked about [Puzzle], we both said we didn't want to dumb Agnes down. We want to make her bright as a character, but also unaware. Just like her husband, her life has been circumscribed by her family, her church, her friends and her husband's business. It's all very small. She doesn't know anything different.
But just because she doesn't know anything different, I still want to see the intelligence and the humor and the wit. It's in the script, but it's the way Kelly plays it. The way she described it initially, and how we talked about the character, Kelly said, "I want to let that leak out." What she meant by that was that intelligence and humor and wit, it's there, buried inside Agnes, and we get to see it little by little. But it's always been there.
Sara Michelle Fetters: I wanted to just circle back around to this, and now that we're running out of time this seems like the perfect moment. When you were finished with the film, what did you think when you watched the Spanish version? 
Marc Turtletaub: It's different. Very different. And yet it's very good. It does its own thing. So I think it is very good in its own way. But I'm also really glad I didn't see it beforehand. I'm glad we made a point of making our own motion picture. I wouldn't have wanted it to cloud my process.
Sara Michelle Fetters: At the end of the day, what do you want people talking about as they exit the theatre? What do you hope is on an audience member's mind?
Marc Turtletaub: That's a great question. I try not to think about how people will react. I just hope that they're touched by the film, that they laugh because there's humor in it and they are moved by the drama. But that's one of the things that we couldn't anticipate is how people would be laughing out loud during the movie. We knew it was emotional and touching, that it was a great story about one woman's journey to find herself, but we were surprised to see how people appreciated the humor. I just hope people enjoy the movie and take what they can from it.
Sara Michelle Fetters: And will you direct again?
Marc Turtletaub: I hope to. I've been reading nonstop. I'm not going to write my next film, but I've been reading nonstop and looking for just that perfect project. Hopefully, I'll find it sometime soon.
– Interview reprinted courtesy of the SGN in Seattle