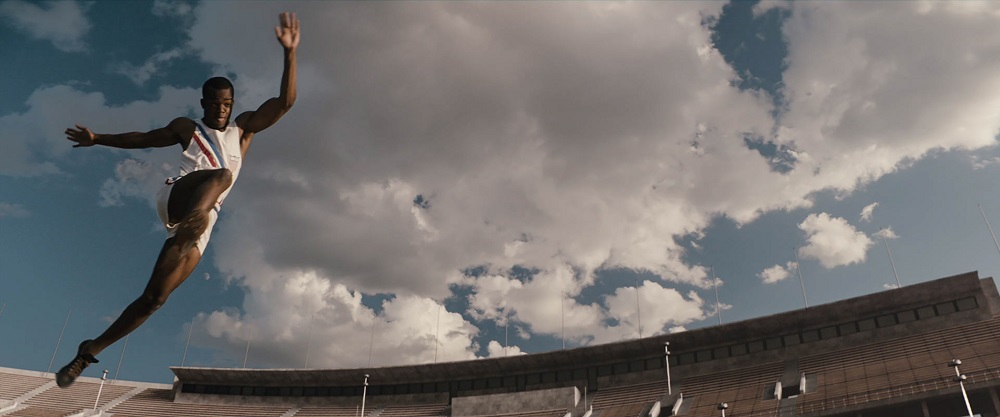 Jesse Owens Biopic Race an Olympic Disappointment
It's hard to imagine a more frustrating inspiration biopic of an iconic Olympic athlete then director Stephen Hopkins' Race. The story of Jesse Owens and his triumphant four Gold Medal performance at the 1936 Berlin games, in front of Adolf Hitler, is the stuff of myth, after all, the man's undeniably awesome history speaking proudly for itself. In short, it's a tough narrative to screw up, some many components writing themselves.
I never want to keep a filmmaker from attempting to broaden their horizons, but maybe the man behind pulp genre efforts like Predator 2, The Ghost and the Darkness and Lost in Space just wasn't the right person for the job. There is a perfunctory inelegance to the film that's oppressive, almost as if Hopkins is unsure of what pieces of Joe Shrapnel and Anna Waterhouse's (Frankie & Alice) relatively straightforward, everything-including-the-kitchen-sink script he wants to focus on at any one time. The first hour is particularly troublesome, editor John Smith (Leaving Las Vegas) tasked with presenting things in a way that's almost a frontal assault on the senses, the basics of Owens' early steps toward greatness presented with zero subtlety and even less attention to detail.
Granted, the second half of the film, concerning opposition to U.S. involvement in the 1936 Olympics, to vocal Black leaders expressing their wish Owens refuse to attend, to his eventual victory in four events at the Games, all documented by Triumph of the Will director Leni Riefenstahl (an outstanding Carice van Houten), is sometimes wonderful. The energy level rises, Smith's editing settles down and Peter Levy's (Broken Arrow) cinematography achieves a kinetic intensity that's irresistible. It is also here where Hopkins allows Owens' accomplishments to do the majority of the talking for him, and even if there are numerous melodramatic contrivances reeking of schmaltz they don't annoy to the level they maybe should have.
The basic thrust to Shrapnel and Waterhouse's screenplay revolves around Owens' relationship with Ohio State University track coach Larry Snyder, relative newcomer Stephan James portraying the former while veteran comedian Jason Sudeikis attempts a change-of-pace by slipping inside the latter's skin. The movie chronicles everything from the first meeting to their combined triumph in Berlin, various speed bumps along the way unsurprisingly complicating matters.
There is also the side story of the U.S. Olympic Committee debating whether or not to attend the Games at all, developer Avery Brundage (Jeremy Irons) pushing the pro side of the argument while Chairman Jeremiah Mahoney (William Hurt) argues for the con crowd. This subplot takes Brundage to Germany where he meets with Riefenstahl and, most importantly, Joseph Goebbels (Barnaby Metschurat), all involved coming to an understanding that will hopefully lead to America's participation.
In short, there is a lot of movie here, and at just over two hours there's never a point where it feels like Hopkins has a firm grasp of any portion of it for a sustained period of time. The Brundage/Goebbels stuff, while fascinating, is particularly underwhelming, their relationship composed more of clichés and melodramatic trickery than it is anything concrete or substantive. As for the Owens side of the coin, while I appreciate the fact that the script wants to show all sides of the Olympic superstar, including an affair with a gorgeous groupie, most of these moments feels shoehorned into the proceedings in a way that's hardly edifying. They shortchange the film in ways difficult to get beyond, undercutting the inherent dramatics at critical points throughout.
Do not blame James. The young man is superb as Owens, and it's easy to imagine that had the film itself been just a tiny bit better he could have elevated to an even higher plateau all on his own. His electricity is palpable, the depth he brings to things consistently impressive. There is an inner fire burning within him that I couldn't take my eyes off of, while the overarching humanity of his compassion, his sense of right and wrong (even when he takes a wrong step and engages in the latter) consistent throughout.
I want to be able to say the same about Sudeikis, but I just don't know if I can. Not because he isn't good, he is, but more because it's impossible to not think of him as the star of We're the Millers and Horrible Bosses and not as the important historical figure he's portraying. It's almost as if Hopkins doesn't know how to do his star any favors, can't figure out how to showcase him in a fashion that would allow him to disappear, and for all the actor's effort I never could entirely buy him as the OSU track and field coaching legend.
In a movie about Jesse Owens, the fact I wanted to spend more time with the polarizing, controversial Riefenstahl is probably the most damning statement I could make. This is his story, his tale, his journey to greatness, and yet there's more complexity hinted at as it pertains to her in the brief screen time allotted to the character than there ever is as it concerns the Olympic champion. Race means well, and it certainly wants to tell Owens' story as completely as it can. Yet Hopkins and company never quite get there, the whole enterprise coming up a little short of the finish line as it lumbers its way down the track.
Review reprinted courtesy of the SGN in Seattle
Film Rating: 2 (out of 4)