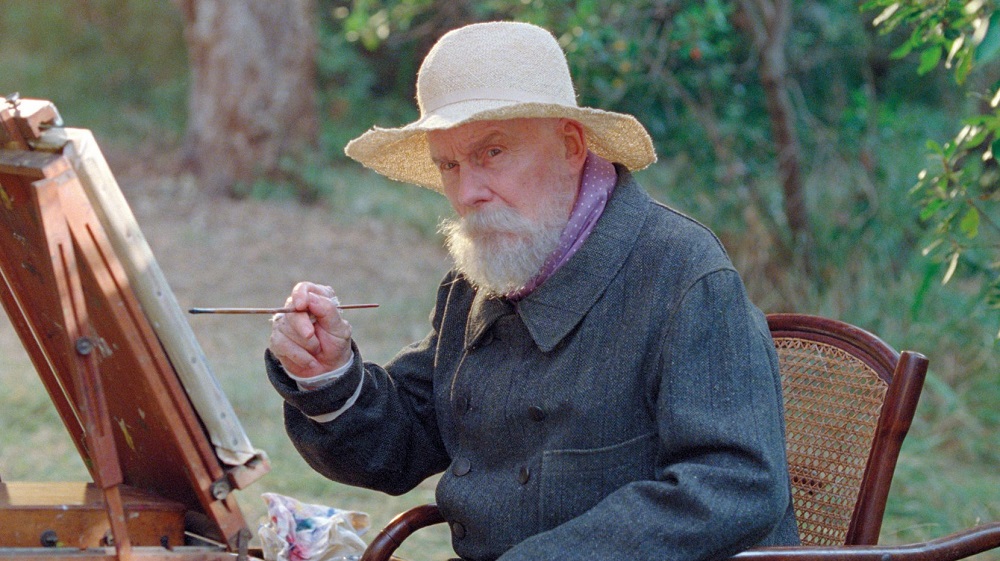 Elegantly Understated Renoir a Drama of Artistic Imagination
At 74, celebrated impressionistic painter Pierre-Auguste Renoir (Michel Bouquet) is in declining health. To paint, his arthritic condition demands that his brush be tied to his hand, and although the mind is still sharp the body seems to be working in direct opposition to every one of his careful brushstrokes.
It is 1915 and WWI has thrown the European continent into chaos. Pierre-Auguste's two eldest sons Pierre (Laurent Poitrenaux) and Jean (Vincent Rottiers), both veterans of the war, have joined him at the family home on the French Riviera, the latter suffering a devastating injury to his leg that has him in constant pain. Youngest son Claude (Thomas Doret), still a teen, also lives on the estate, dreaming of one day joining his brothers on the battlefield even though both men aren't exactly enthusiastic about his doing so.
Into this familial mélange comes 15-year-old beauty Andrée "Dedee" Heuschling (Christa Théret), an intriguing ingénue recommended as a model for Pierre-Auguste by none other than Henri Matisse. At first the elder Renoir sees himself as too old and too frail to capture the young woman's beauty. But the longer she remains on the property the more inspiration he finds his aging, aching hands reinvigorated. She has awakened something inside Jean as well, the battle-scarred veteran curiously drawn to her, the young man connecting with Dedee in ways that will affect him for the remainder of his life.
Thus the stage is set for a true story involving two of France's most celebrated artists, the father a painter of celebrated renown while his son is soon to become a cinematic auteur who will go on the make some of the greatest motion pictures ever made (The Rules of the Game, Grand Illusion). But director Gilles Bourdos (Afterwards) does not allow his drama to slip into sentimentality, refuses to let treacle to overwhelm any of the robust melodrama, allowing the characters and their actions to evolve naturalistically thus giving the movie a loving ebullience that's difficult to resist.
The film plays a bit like a 1915 version of Olivier Assayas' Summer Hours, only here the characters are real and the events being depicted are inspired by historical recollections. While many of the conversations are obviously imagined, they still have a vibrancy that feels luxuriously real. This is probably in large part thanks the to the fact Bourdos and Jérôme Tonnerre's screenplay is based in large part on Jacques Renoir's memoir Le Tableau Amoureux, the pair, assisted by collaborator Michel Spinosa, writing a dexterous scenario for parent and child to interact within.
In many ways Dedee is the star of the show. She gives Pierre-Auguste the energy to create some of his most iconic latter works while at the same time producing an interest in the still-new world of cinema into Jean that would spark in him the desire to craft some of the greatest films ever produced. Young Théret is an almost hypnotic presence within the confines of the story yet Bourdos never turns the character into something she was not, actress and director grounding Dedee in a way that is both authentic yet ethereal, a tricky high-wire balancing act to be sure.
As good as she is, and as great a job as Rottiers does matching her luminescent intensity, the spotlight still belongs to the iconic Bouquet. The actor, known for superb performances in a number of noteworthy classics ranging from The Bride Wore Black to Toto the Hero to All the Mornings of the World, is incredible, and the way he goes through the entire range of the painter's emotional tumults while still keeping him sharp-eyed and mentally acute is astonishing. Even though Pierre-Auguste knows his days are nearing their end his lust for life is felt in every brushstroke, the raising of an eyebrow enough by itself to send the mind racing to figure out what is going on beneath the surface, while a slight twinkle lingering in the corner Bouquet's eye is enough to speak volumes.
The movie, while just under two hours in length, can feel a little long, Bourdos allowing Mark Ping Bing Lee's (In the Mood for Love) camera to linger a few beats more than necessary now and then. I also can't say I ever got a good feel for either of the two other Renoir brothers, both Pierre and Claude faceless figures I knew no more about at the end of the film than I did at the beginning of it.
There is still a magnetic majesty to all of this I did not want for a single second to resist. Watching this movie was a beguiling joy that brought a smile to my face and filled my heart with the kind of rapture that lingered there for hours afterwards. Renoir drips with insight and meaning, its depiction of two famed artists both justly celebrated today as game-changing trendsetters one all involved can be justifiably proud of.
Film Rating: 3 (out of 4)