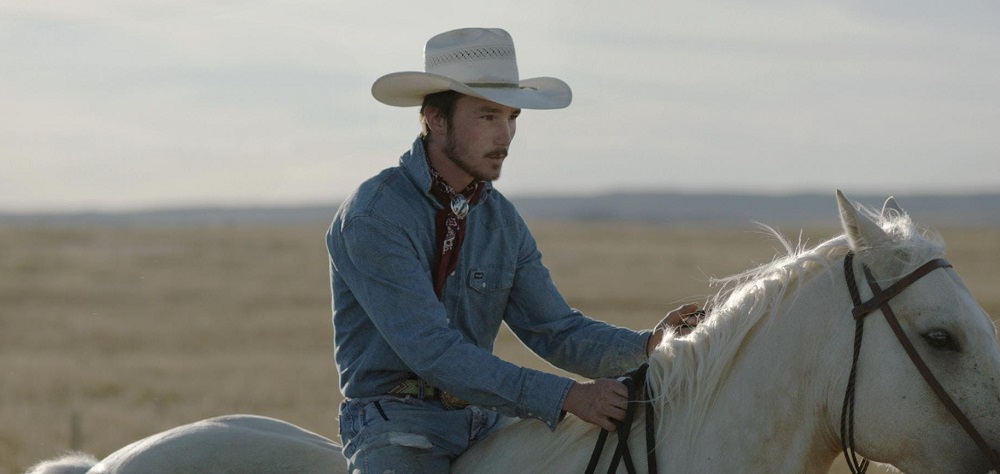 Majestic Rider a Hauntingly Intimate Triumph
On the Pine Ridge Indian Reservation in South Dakota sits a lonely trailer in the middle of the wide-open wilderness. Living there is cowboy Brady Blackburn (Brady Jandreau) with his gambling addict father Wayne (Tim Jandreau) and his little sister Lilly (Lilly Jandreau), the young woman never seeming to let her battle against Asperger's Syndrome ever get her down. Once a rising star on the rodeo circuit, Brady's skull was crushed by a horse after a fall. He was in a coma for three full days, waking up with a massive scar on the side of his head and a warning from his doctors that he'll likely never ride competitively ever again.
After Wayne sells his son's favorite horse to pay some outstanding bills, Brady takes a job in a local convenience store to make sure his family can keep a roof over their heads and food on the table. He also regularly visits former professional bull rider Lane (Lane Scott) in the hospital whenever he can, his friend's career cut short because of a horrific car accident that left him severely brain damaged and with only limited use of his arms and legs. As time goes by Brady finds he cannot stay away from horses and resumes training them for local ranchers, all the while mulling a return to the rodeo circuit even if doing so goes against the edicts handed down to him by his doctors.
I can't imagine I'll see a more visually gorgeous film in 2018 than writer/director Chloé Zhao's (Songs My Brother Taught Me) award-winning drama The Rider. Utilizing her Pine Ridge locations to perfection, featuring hushed, painterly majestic visuals courtesy of cinematographer Joshua James Richards (God's Own Country), there is minimalistic elegance to this film that couldn't help but blow me away. More than that, though, Zhao has also composed a story that tugs at the heartstrings, sparks the imagination and challenges the intellect almost all in equal measure, her focus on the minutia of life's miseries and miracles incredible.
Granted, the reason so much of this motion picture feels real is because it is. Jandreau was an up-and-coming rodeo star who suffered a horrific head injury that has put his competitive career in jeopardy. His sister Lilly really does battle Asperger's and does so with a positivity and a resilience that goes far beyond inspiring. Former bull rider Lane Scott portrays himself in the movie and does so with a fearless openness that's documentary-like in its nakedly raw candor. All of this helps the film ooze a form of truthfulness that cannot be faked, the austere grace of it all oftentimes magnificent.
But this isn't a documentary. Jandreau might be playing a character that resembles him in real life, and his father and sister might be acting right alongside him, but that doesn't mean he still isn't giving a complex, touchingly personal performance. There is a haunting longing burning inside of Brady that's primal in its fiery glow, his connection with the land, the people who live on it and the various horses he has the good fortune to become acquainted with bristling with a quiet realism that's sublime. Jandreau is electrically alive for every second of the movie's running time, commanding the screen in a way that would lead a casual viewer who knew nothing of his history to think he'd been doing so for his entire life.
There are moments where Zhao's script almost becomes too weightless, too ephemeral, the wispy nature of the themes she's so intimately trying to explore vanishing as if they've been carried away by the winds blowing through deserted South Dakota plains. But she keeps her characters at the forefront of all that's happening, the focus always on Brady and his interior battles. It gives the film an air of humane specificity that's poignantly affecting, making this cowboy's journey innately universal in the process. I could go on, but I find I'd rather let Zhao's sophomore narrative opus speak for itself. A naturalistic marvel of restraint, The Rider is a cinematic triumph I'll not soon forget.
Film Rating: 3½ (out of 4)
Additional Links: