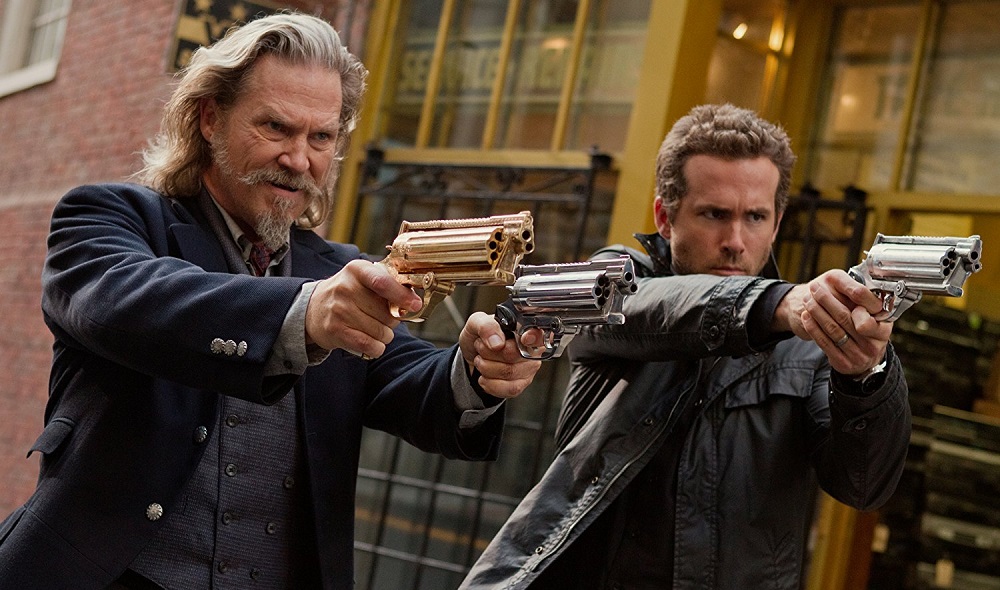 Slightly Amusing R.I.P.D. Still a Forgettable Misfire
Detective Nick Walker (Ryan Reynolds), a 15-year veteran of the Boston police force, is dead. Killed in action by fellow detective Bobby Hayes (Kevin Bacon) over a stash of gold he wanted to turn in but his duplicitous partner wanted to keep, the former cop suddenly finds himself sitting at the desk of an ethereal Proctor (Mary-Louise Parker) offering him an intriguing proposition. She wants him to join the Rest In Peace Department, R.I.P.D. for short, for a 100-year stint. He'll get sent back to Boston to clean up the streets of roaming spirits and demons looking to skip out on judgment, otherwise Nick will go stand before the Pearly Gates and see which direction, up or down, he might be headed.
For the driven detective the answer is an easy one. Not so much worried about being labeled a dirty cop by the powers that be, he wants to head back down to his hometown to bring his killer to justice and hopefully let his still grieving wife Julia (Stephanie Szostak) know he's still looking out for her. His new partner, an old school lawman named Roy Pulsifer (Jeff Bridges) who came of age cleaning up the streets of cities named Dodge and Tombstone, doesn't think this is a particularly good idea but he'll let the rookie learn that for himself. Thing is, Nick might be on to more than he knows, Bobby potentially caught up in something that could bring about Armageddon, Julia inadvertently right at the center of all this end-of-days hullabaloo.
There's not a lot to say about R.I.P.D., director Robert Schwentke's (Red) somewhat ambitious adaptation of the relatively popular Dark Horse comic created by Peter M. Lenkov. A combination of Men in Black, Ghostbusters and Lethal Weapon, once the rules are outlined and things get going the movie ends up being a familiar, supernaturally-tinged buddy action comedy that doesn't go anywhere new or original. At the same time, the leads, especially Bridges, are terrific while the movie itself has an absurdist comedic bent to it that's initially intriguing. Honestly? If not for an underwhelming final 20 minutes the movie might have been something to talk about, the first two-thirds decent enough to make me wonder what might have been had Phil Hay and Matt Manfredi (Æon Flux, Clash of the Titans) put a bit more thought into their finished script.
Comparisons to Men in Black are inevitable and, in this case at least, also regrettable. Schwentke goes for the exact same surrealistic comedic tone that Barry Sonnenfeld and company achieved with that 1997 Tommy Lee Jones/Will Smith smash, and there are times where I felt I was watching a carbon copy. Tension never blossoms, and by the time Armageddon was on the verge of blossoming and Roy and Nick were all that stood in its path the been there-done that quotient was sadly unbelievably high.
Until that point, though, I was slightly surprised I was enjoying the film as much as I was. Schwentke doesn't push things, allows his actors room breathe, more interested in character-driven comedic beats than he is in large-scale CGI-filled sequences of action and mayhem. Bridges and Reynolds play off one another nicely while Parker steals countless scenes with her deadpan comebacks, this trio almost reason enough to give the film a chance all by themselves.
But that final climactic act is a bona fide mess, all of it so tiredly misbegotten any goodwill I had for the film quickly vanished. It's so overblown, so tiredly frenetic, there just wasn't any reason to care about anything that was happening, all the computer generated misery and mayhem doing nothing for me whatsoever. While Bridges manages to cut a fine swath as a Western lawman saddling up for modern warfare, the sight of him quick-drawing his six-shooters can only take you so far, and by the time he and Reynolds were back-to-back taking on all comers it was all I could do to stifle a disaffected yawn.
There's more I could write about, both positive and negative, but to be frank I just don't feel the need. R.I.P.D. isn't a movie to hate, isn't a movie to love and, most of all, isn't a movie to get very excited about one way or the other. It has some great moments, a fair share of bad ones and on the whole ends up being nothing special. While the film isn't firing blanks, it does miss the target the majority of the time, making the finished feature a forgettable misfire not worth pulling the trigger on.
Film Rating: 2 (out of 4)