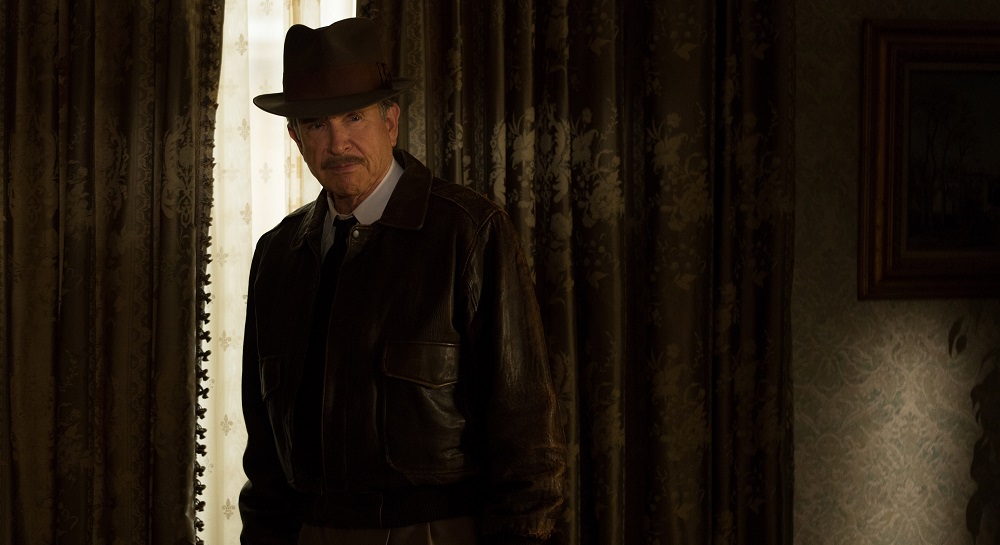 Beatty's Rules a Rapturously Romantic Flight of Fancy
It's been 15 years since Warren Beatty has appeared in a motion picture, and considering how troubled the production of Peter Chelsom's star-studded comedy Town & Country proved to be it's hard to blame the Hollywood legend and Academy Award-winner for being reticent to step back in front of the camera. But it's been even longer since he took his place behind it as well, his last directorial effort Bulworth, a modern political classic that looks more prescient than ever considering current events, hitting theatres back in 1998.
Working with veteran Bo Goldman (One Flew Over the Cuckoo's Nest, Scent of Woman) to come up with the story, Beatty's long-in-coming return Rules Don't Apply is a fictionalized accounting of the latter days of reclusive billionaire Howard Hughes' life. The film is one part romantic comedy, one part observational drama and one part surrealistic genre-buster defying easy categorization, Hughes the central cog around which everything revolves around. It is a wacky, often hysterical, frequently moving and sometimes head-scratching effort I personally adored, Beatty's return a rollicking ride filled with imagination and emotional insights worth getting excited about.
Midwest beauty queen and aspirant songwriter Marla Mabrey (Lily Collins) has journeyed to Hollywood with her protective mother Lucy (Annette Bening) for a screen test courtesy of the great Howard Hughes (Beatty) himself. He's set her up with a house in the hills, acting lessons, a $400-a-week paycheck and her own personal car with an on-call driver. It's all a bit of a blur, and while Marla is thankful for the opportunity that's come her way the devout Baptist virgin is equally wary her benefactor might want more from her than she's willing to give.
Frank Forbes (Alden Ehrenreich) is one of the drivers assigned to Marla and the other contract actresses. Engaged to childhood sweetheart Sarah Bransford (Taissa Farmiga), he's hopeful he'll get the opportunity to sometime soon meet with his employer as he has an idea for a land development deal he's positive Hughes will be interested in. What he didn't expect was to become completely infatuated with Marla, and while it's verboten for the pair to engage in anything even remotely romantic, the sparks flying between them cannot be dismissed, each uncertain how they should proceed considering the way their mutual feelings for one another are starting to bloom.
It's all pretty straightforward, following a standard romantic comedy path for about half of the film's 126-minute running time. But then Beatty morphs the story into something else entirely, Hughes taking center stage as his growing mental illness, insecurity and mania take full hold of him. Marla and Frank become major players during this stretch, their own relationship put on hold as each attempts to assist the billionaire in ways they both feel is best. But as his fights with creditors, Pan Am, the U.S. government and a number of others spiral into chaos, all he wants is to get back up into the sky and fly one of his planes or sit in a screening room watching his 1930 aerial action classic Hell's Angels eating banana nut ice cream, things going more than a little sideways for everyone involved, no one close to Hughes certain about what is going to happen next.
Beatty's script is all over the map, but in its own, idiosyncratic way it manages to come together splendidly, the film having a Robert Altman meets Hal Ashby-like zip that reminded me of M*A*S*H*, Short Cuts, Being There and Shampoo. It's mangy and disheveled, but that messiness is also part of the charm, the fracturing of the narrative mirroring Hughes' own state of mind as he drifts in and out of coherence as things work their way through to the finish.
The editing can frankly be a little bizarre, especially during the pivotal third act when all the varying story tangents begin to coalesce but, once again, I kind of feel like this is by design, Beatty going out of his way to try and put the viewer inside Hughes' headspace in a way that makes things feel uncomfortably out of whack. There are also some curious musical and sound design choices, some of which struck me as if they are peculiar just for the sake of being peculiar. But for a guy that hasn't made a movie in almost two decades, Beatty is as confident and as controlled as he has ever been, and it's easy to see how the director of this is also the same person who made classics like Heaven Can Wait and Reds.
It helps that both Collins and Ehrenreich are fantastic as the two youngsters vying for Hughes' attention, while the writer/director himself is a knockout as the mentally unbalanced billionaire. This trio is the movie's heart and soul, each delivering a performance that can stand proudly against any of the year's best. What's most notable is how none of them choose the ordinary path, each finding ways to give their respective characters unexpected complexity and depth, all three tugging on the heartstrings or producing a laugh in the most honest and authentic of ways.
The cavalcade of veteran stars showing up in supporting roles (a Hollywood who's who that includes the likes of Matthew Broderick, Alec Baldwin, Ed Harris, Oliver Platt, Martin Sheen, Candice Bergen, Hart Bochner, Paul Sorvino, Haley Bennett, Amy Madigan and Steve Coogan) can be slightly distracting as one can potentially spend more time pointing them out than they do listening to what they have to say. Yet all of them fit in to the story as best they can and as such I can't really complain, Beatty utilizing each actor in ways that fit the proceedings in a manner that is seldom flashy or reckless.
I have this feeling Rules Don't Apply is going to grow on me. There's so much about it that I just plain love, not the least of which is the effortlessness of the relationship that develops between Marla and Frank and the naturalistic way Hughes becomes a part of it. Beatty's return as actor and director is just plain glorious and, even with its flaws, this rapturously romantic escapade ends up being an insightful lark that has far more on its mind than initially meets the eye.
– Review reprinted courtesy of the SGN in Seattle
Film Rating: 3½ (out of 4)