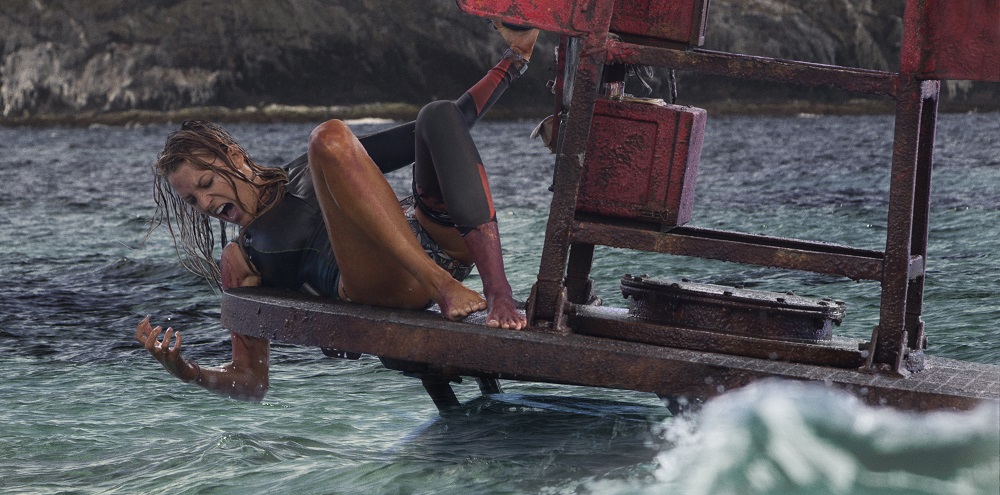 B-Thriller The Shallows an Electrifying Shark Tale
On a secluded Mexican beach, Nancy (Blake Lively) has come to surf, commune with nature and, more than anything else, say goodbye to her mother. It was here the woman came while pregnant with her. It is here she would talk frequently about having the adventure of a lifetime. It is here that Nancy, a former medical student who has taken leave of her studies, has come to hopefully lay her grief to rest.
There is nothing complicated about The Shallows. Young woman heads into the wild to surf. Meets a few fellow travelers. Has a wonderful time. Ends up getting attacked by a Great White Shark. Must do everything and anything possible in order to survive. That's it. That's all one needs to know about this simple, straightforward thriller from director Jaume Collet-Serra (Run All Night, Non-Stop) and screenwriter Anthony Jaswinski (Vanishing on 7th Street), the nuts and bolts to all of this as simple as they are effective.
And when I say they are effective I mean it. Sure this movie is nothing more than a Jaws meets Gravity meets All Is Lost riff where the outcome is never in doubt, but that doesn't make the thrills and chills any less sublime. Collet-Serra has managed to craft an efficient B-grade chiller that gets right to the point and never overstays its welcome. It's a picturesque meat grinder, beautifully shot by Flavio Martínez Labiano (The Gunman) and kinetically edited by Joel Negron (The Nice Guys), tension building nicely all the way through to the end.
The contrivances can dip into pulp silliness, especially as they pertain to a drunken slob who awakens on the beach to the screams of a trapped Nancy pleading for help. I also grew a little tired of a visual construct Collet-Serra utilizes in order to showcase iPhone pictures, GoPro videos and text messages, the way they fill up the screen a little too obnoxious and obvious for my taste.
Except, one of the film's best, most unanticipated shocks comes courtesy of said drunk. As for the superimposing of images, there comes a point in the proceedings where Nancy starts using her intellect, not just her physicality, to defeat her lethal adversary, the time to doom ticking away like an NBA shot clock over on the right side of the frame. Even random bits of foreshadowing don't annoy as they probably should, and it goes without saying that if someone is introduced in an earlier portion of the story it shouldn't come as a surprise if they reappear at some point near the end.
Lively proves her enchanting, lithely subtle performance in last year's The Age of Adaline wasn't a fluke, her turn as Nancy full-bodied, complex and intimately vigorous. I felt her grief, her euphoria, her terror and her resolve, the young actress anchoring things nicely. True, she never does more than what is expected or required, but that doesn't make Lively any less strong in the role, her confident, self-assured turn one she rightfully deserves to be proud of.
Collet-Serra lathers on the melodrama near the end, and while I imagine the majority of audiences will likely find the film's coda emotionally soothing personally I kind of wished he and Jaswinski would have ended things one scene earlier. Also, the climactic showdown between Nancy and the Great White is belligerently histrionic, the underwater physics of their face-off difficult to take seriously no matter how incredibly staged the sequence proves to be. Even so, as flaws go these are comparatively minor as far as the grand scheme is concerned, The Shallows proving to be an exhilarating shark tale worth getting more than a little bit excited about.
Film Rating: 3 (out of 4)