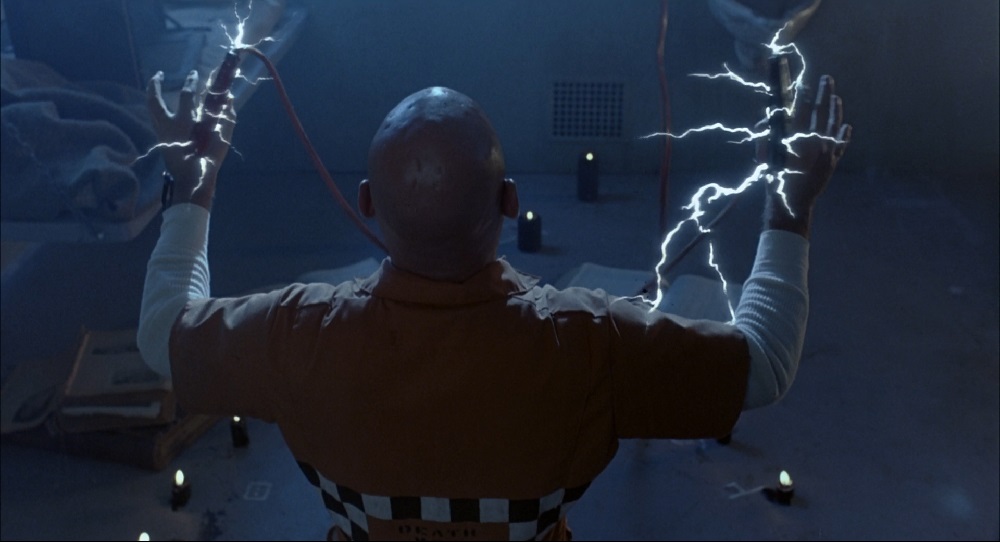 How does the Blu-ray/DVD Disc stack up? (all ratings out of 10.)
Movie
Video
Audio
Extras
Overall
SYNOPSIS
"This is screwball beyond belief."
–      Lt. Don Parker
CRITIQUE
In the wake of Wes Craven's death back on August 30, I admit I had a lot of trouble writing reviews for both The People Under the Stairs and Shocker Blu-rays released by Scream! Factory. Craven was just too important to me, his films firing my imagination in such a way I can't help but feel I owe at least some of my enduring love for cinema and it's possibilities to him.
Shocker isn't Craven at his best. It is, however, potentially the renowned filmmaker at his most playful, creative and idiosyncratic. He's trying out a ton of different things here, some of them working wonderfully, while others fall flat on their face. Certain elements are a little too similar to stuff he tried out and worked with in A Nightmare on Elm Street. Others are ideas he was figuring out how to best utilize, concepts and tricks he would later use to great success in better motion pictures like The People Under the Stairs, Wes Craven's New Nightmare and Scream.  All-in-all, it's as oddball a genre effort as any the late 1980s ever produced, and as such it's a gotta-see-it opus worthy of a look, probably more than one.
High School football star Jonathan Parker (a blandly detached Peter Berg) is responsible for bringing serial killer Horace Pinker (a clearly having a blast, animatedly over the top Mitch Pileggi). Sitting in the electric chair awaiting execution, he promises to get back at the teen, letting him know with few minced words he knows exactly who the orphan's father was and that he's prepared to use that knowledge against the teen even after he's dead.
But not gone. That's the trick Craven employs, the electric chair nothing more than a gateway for Pinker to become a being of pure evil able to travel through anything with an electrical current allowing him to briefly possess bodies as he restarts his killing spree. It's silly stuff, especially when the ghost of a dead girlfriend (Cami Cooper) gets thrown into the mix, the spectral soothsayer both prone to giving Jonathan advice on how to handle Pinker best while also facing him head-on herself displaying angelic powers that are as random as they are bizarre.
What's really weird is that for as convoluted and as nuts as the movie is, the central narrative Craven has constructed is actually fairly rudimentary and straightforward. He's more interested in the set pieces (a climactic jaunt through the world of television is superb), the where and the how of what it is going to happen next, than he is in the why, Shocker a freewheeling oddity that, while never truly taking flight, proves to be incredibly easy to watch, faults and all.
THE VIDEO
Shocker is presented on a dual-layer 50GB Blu-ray with a MPEG-4 AVC encode and a 1.85:1 1080p transfer.
THE AUDIO
This Blu-ray feature an English DTS-HD Master Audio 5.1 soundtrack along with an English DTS-HD Master Audio 2.0 track and comes with optional English subtitles.
THE EXTRAS
Extras here include:
Audio Commentary with writer/director Wes Craven – Another wonderful Craven commentary track, the filmmaker in introspective mode as he does a fine job of contextualizing just where Shocker fits inside his filmography and the importance that it played, whether intentional or not, on what he decided to do next.
Audio Commentary with director of photography Jacques Haitkin, producer Robert Engleman and composer William Goldstein – Easygoing, if incredibly technical, this is a surprisingly measured commentary that goes more inside the nuts and bolts of how the film was made more than it does anything else.
Cable Guy – An Interview with Actor Mitch Pileggi (17:36) – Wonderful little interview piece with The X-Files icon who has obvious affinity for both this character and the film itself, embracing the absurdities that made it what it was full-throttle.
Alison's Adventures – An Interview with Actress Cami Cooper (17:12) – Solid look back at the film by the ethereal former actress whose ghostly presence inside the film is one of its stranger, and more absurd, attributes.
It's Alive – An Interview with Producer Shep Gordon (11:57) – Producer Gordon talking about what he did to see Craven was given a free hand and how the film itself fits inside his extensive filmography working with the likes of Wes Craven and John Carpenter.
No More Mr. Nice Guy – The Music of Shocker (26:13) – Superb featurette looking at the film's iconic Heavy Metal soundtrack, one of the first of its kind, and in all honesty one of the primary elements Shocker is truly remembered for.
Vintage Making Of (8:48)
Storyboard Gallery (8:55)
Still Gallery (6:32)
Trailer and TV Spots (2:32)
Radio Spots (1:09)
FINAL THOUGHTS
Shocker isn't one of writer/director Wes Craven's best. It is, however, one of his most eccentric, unhinged and just plain weird. The filmmaker is trying stuff out here, ideas and concepts he'd expand upon in films as diverse as The People Under the Stairs, Vampire in Brooklyn, Wes Craven's New Nightmare, Scream, Cursed, Red Eye and My Soul to Take to varying degrees of success. While not a good movie, it's a heck of a lot fun to watch all the same, Scream! Factory's Blu-ray release an electrifying treat for fans they'll want to add to their collections right away.