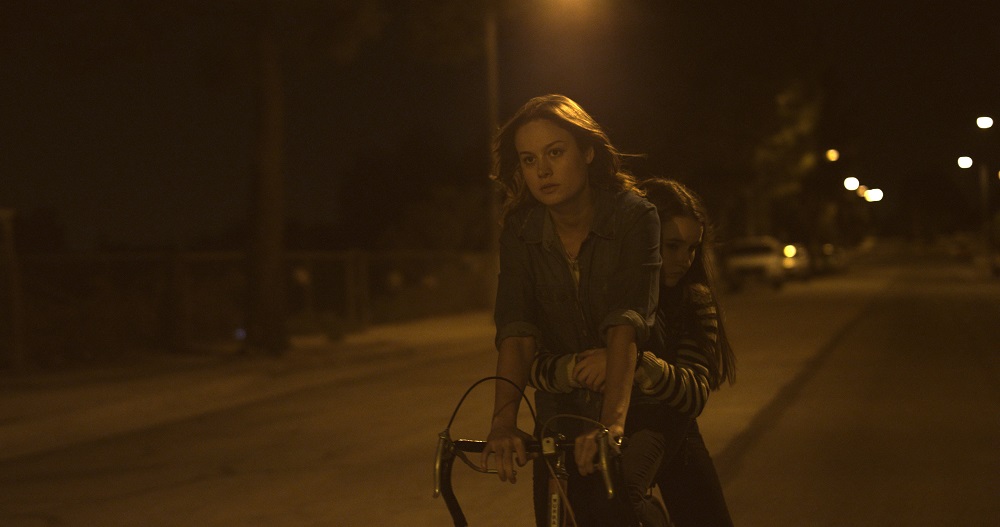 a SIFF 2013 review
Beautifully Realized Short Term 12 an Emotional Marvel
Grace (Brie Larson) is a supervisor at a short-term foster facility for at-risk teenagers. She's in a loving relationship with co-worker Mason (John Gallagher Jr.). Her boss Jack (Frantz Turner) is impressed with her commitment to her charges yet also a little worried she can sometimes get far too emotionally involved with what is happening to them.
Case in point, the dual cases involving newcomer to the facility Jayden (Kaitlyn Dever) and on the verge of turning 18 and aging out Marcus (Keith Stanfield), both of their fates sending Grace into an emotional tailspin she's having trouble putting the brakes on. The former is in a constant state of agitation, obsessed with getting out of the institution and returning to a parent who by all appearances wants nothing to do with her. The latter is struggling with the thought he's suddenly going to be out in the world, unsure about how he is going to handle things without supervision and where all choices being made are entirely of his own design.
Short Term 12 is perfect. Seriously. That isn't hyperbole. Writer and director Destin Cretton's drama is honest, heartfelt, emotionally pure and constantly engaging. It treats both its characters and its audience with deep, unadulterated respect, and while the story being told isn't exactly groundbreaking that doesn't make it any less impactful. The film moves with a naturalistic intensity that never feels false or forced, Grace's journey so all-encompassing the overall effect it had on me as a viewer was more or less extraordinary.
Larson is a revelation. The actress, best known for her comedic turns in 21 Jump Street and Scott Pilgrim vs. the World, delivers a dexterous, emotionally nuanced portrait of youth in transition, a young woman stuck precariously between her memories of her own teenage turmoil and her current reality of trying to be a mentor to those she's not all that far removed from. She falls complete within the confines of the role, embracing every layer and every fiber of Grace's being. When she falls apart, I fell with her, when she fought, I stood right there next to her, and when she found strength to persevere and inspire those who came into her circle, once again, as with every step of the journey, I felt compelled to join in with her exultations.
But she's not the only one who is fantastic. The whole cast, including key small role supporting players Turner, Rami Malek and Stephanie Beatriz, are terrific, while Gallagher and Dever more than hold their own when sharing scenes with Larson. But it is Stanfield who makes the most indelible impression, watching him navigate the interiors of Marcus' journey something special. He manages to walk a delicately fine line that's constantly invigorating no matter how full of pain steps of it might turn out to be, the young newcomer bringing a magnetic candid forcefulness to his performance fitting the material and Cretton's documentary-like approach to it all splendidly.
As for the director's script, its brilliance can be found in its directness. It doesn't try to be anything that it is not, doesn't overplay its hand or go off on unnecessary tangents. The film remains razor-focused on Grace and her story, the secondary characters feeding into it at every turn. Yet they also remain fully three-dimensional, characters worth caring about and becoming invested in. Every piece of the puzzle inserts into the one next to it with remarkable ease, the cinéma vérité verisimilitude of it all consistently stunning.
There are no big reveals here, no last second twists of fate that move things in an unforeseen direction, and all of that is to the good. Cretton understands his story and his characters in ways that are inspiring, never once belittling them or taking them for granted. The final moments of Short Term 12 are as refreshingly invigorating as any I could have dreamt of, and as such the filmmaker's latest effort is cause for complete and total celebration.
Review reprinted courtesy of the SGN in Seattle
Film Rating: 4 (out of 4)
ADDITIONAL LINK:
Interview with writer/director Destin Cretton by Sara Michelle Fetters