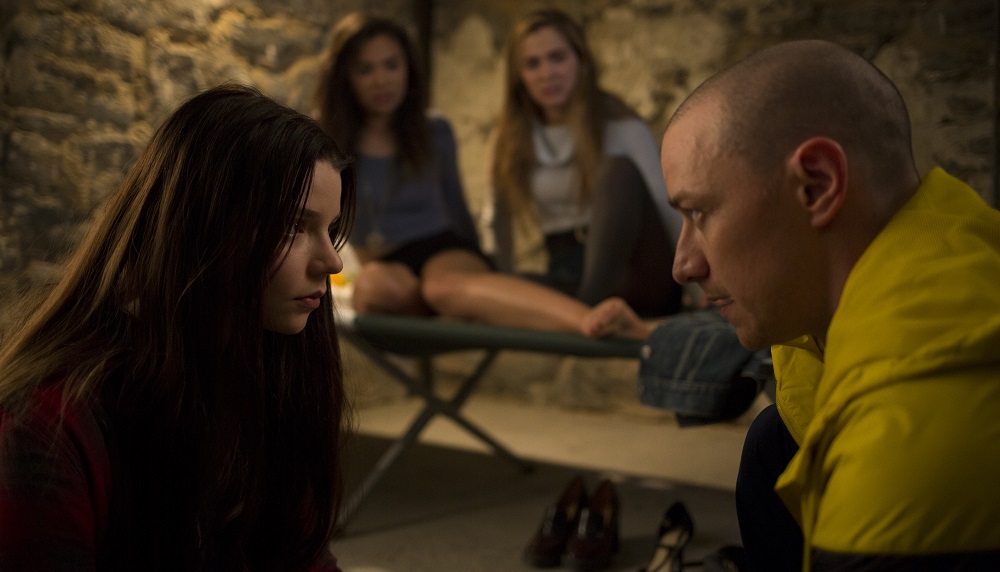 Ferociously Suspenseful Split Overflowing in Personality
Casey Cooke (Anya Taylor-Joy) and her two high school classmates Claire (Haley Lu Richardson) and Marcia (Jessica Sula) have been abducted by Kevin (James McAvoy). They are trapped in an underground complex in a small room with two beds, a pearly white bathroom and a single door to the outside world; where it leads none of them know. Yet Kevin has no idea he's done anything because he's literally asleep at the wheel. Suffering from a mysterious psychological condition dubbed Dissociative Identity Disorder or D.I.D., the young man has 23 distinct personalities battling for control of his psyche, each one a totally unique individual that's nothing like the others.
But that's not the real problem for Casey and the other two teenagers. What they need be afraid of is the one additional personality that has remained submerged deep inside Kevin since this psychological split materialized. This beast of a creature has been hungering for release for a long time, these three youngsters exactly what it needs to satiate its desires and to come into the light and take control of the consciousness it's submerged within.
From the mind of writer/director M. Night Shyamalan, the suspense-thriller Split fits comfortably inside the Signs, The Sixth Sense and Unbreakable filmmaker's wheelhouse. It's a twisted shocker that's more complex and character-driven than a first glance would initially hits at, each narrative stratum revealing fissures of abuse and trauma allowing for villains and heroes to take shape in the most unimaginable of forms. It's an aggressively nasty bit of pulp filmmaking, all of it building to a conclusion that's as insidiously open-ended as it is fearlessly cathartic.
The initial descent into this madness and mayhem is the strongest part of the film. Shyamalan orchestrates the abduction of the three teens with precision, granting Tayor-Joy an early moment to establish her character's inner dynamics, showcasing who Casey is with minimal brushstrokes while also setting the stage of how she will make her decisions and when she will resolve to take action later on. He also introduces Kevin and his various dominant personalities with ingenious brevity, allowing the reactions of the imperiled captives to do the majority if the emotional heavy lifting without any extraneous interjections on his part.
Still, like a lot of Shyamalan's works the director doesn't always know when to say when, throwing in outside subplots that, while interesting, don't necessarily add a lot to the bigger picture. The most obvious of these involves our potential heroine. We've got an important flashback to Casey (portrayed by expressive, fresh-faced newcomer Izzie Leigh Coffey) as a child running around the woods with her father (Sebastian Arcelus) and uncle (Brad William Henke), and as integral to the character's mental makeup as these moments are, I'm just as certain I didn't need to see every single one of them.
The same could be said about an even more significant tangent involving Kevin's caring therapist Dr. Karen Fletcher (Betty Buckley, delivering a delightfully minimalist performance). She's vital to the proceedings, and it's key that, as a viewer, we get to know her, that we have an understanding of how she works as well as just how much she worries about her patients, her whole life devoted to them. At the same time, a lot of what is going on with Dr. Fletcher turns out to be a massive red herring, almost as if Shyamalan is channeling his inner Stephen King treating her much in the same way that iconic horror author dealt Sheriff Buster in Misery or Overlook Hotel chef Halloran in The Shining.
On the flipside, tension builds beautifully throughout, Shyamalan doing a superb job ratcheting things up as Kevin's various personalities get ready for the arrival of the new one which will either lead them towards an unforeseen glorious future or ignominious, blood-splattered doom. Cinematographer Michael Gioulakis, much like he did with 2015's masterful It Follows, lenses things magnificently, his long, moody takes creating a palpable sense of unknowing fear and apprehension that had me squirming in my seat. It's unrelenting, and while much of the climactic revelations are hardly surprising the shock value manages to remain exhilaratingly high all the same.
This might be the best performance of McAvoy's career, eclipsing his award-worthy work in films as diverse as Atonement, The Disappearance of Eleanor Rigby: Him or Filth. He makes all of Kevin's personalities distinct individuals yet ones that all still relate back to a decidedly damaged human figure who houses them all. It's a remarkable turn, the type of performance we seldom have the good fortune to see in a January release, the actor a magnetic treasure-trove of emotional complexities I was captivated by.
Nearly equaling him is newcomer Taylor-Joy. After making a stunning impression in last year's horror masterwork The Witch (and, to a lesser extent, the underwhelming sci-fi shocker Morgan), I found it impossible to take my eyes off the young actress in this. Her turn as Casey is extraordinarily multifaceted, Tayor-Joy revealing new and differing layers each time her character comes into the frame. There is something innately refined about what it is the actress is doing, the line she walks between hero and victim far more satisfying and, more importantly, empowering than I was anticipating it to be.
There is an elephant in the room, and it's one I cannot talk about. Just know that Shyamalan is back to his old tricks, his overriding impulse to play one last trick on the audience and unleash a climactic twist that forces an instant reevaluation of everything that's transpired fully on display. Part of me cheers his misdirection as far as this is concerned, loving the revelation so much a might have audibly squealed when I realized what was going on. Same time, this little bit of subterfuge takes this stripped-down horror tale into an entirely new direction I'm not sure it should have gone in, leaving me mulling the meaning of what is what and who is who in a way that's not nearly as nourishing as I think the director intended it to be.
Be that as it may, Split is still really entertaining. Shyamalan, after a bunch of disasters one after the other, now seems back on pretty firm ground, both this film as well as 2015's giddily enjoyable found footage shocker The Visit showing the director back in control of the majority of his creative faculties. This movie, even with some interesting side tangents I still need to think about and ruminate on, is ferocious, and coupled with sensational performances from McAvoy and Taylor-Joy proves to be January spellbinder worthy of a viewer's undivided attention.
– Review reprinted courtesy of the SGN in Seattle
Film Rating: 3 (out of 4)