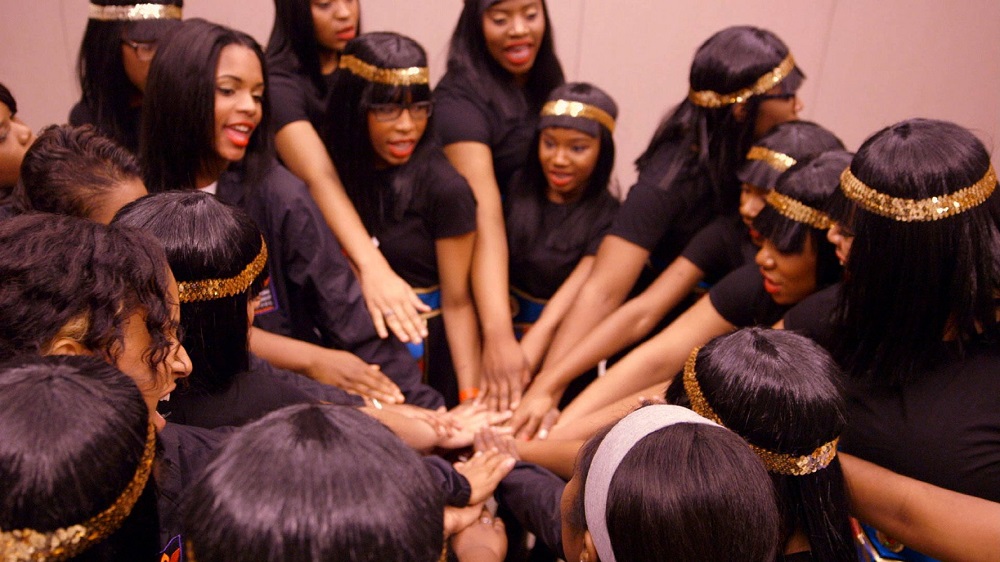 a SIFF 2017 review
Dynamic Step a Lively Celebration of Achievement
"Step is life."
So says one of the central figures early on in director Amanda Lipitz's remarkable, life-affirming documentary Step. For the teenagers of the Lethal Ladies of BLSYW (Baltimore Leadership School for Young Women) Step Team, these aren't just random words. These are powerful shouts to the heavens announcing who these youngsters are. They are proud pronouncements that they will not bend or break, that they won't allow outside forces, no matter how hateful, difficult or outside of their control they might be, to stop them from achieving their goals.
The film chronicles a year in the life for the Lethal Ladies, focusing most of its attentions on the senior members of the team, all of whom will be the first graduates to come out of the Baltimore Leadership School, an institution founded with the goal of ensuring that every single graduate gets into college. For these girls, while that is also on their checklist, they also have designs of seeing their team perform as it never has before. They want to win championships, most notably a prestigious competition held each year at Bowie State featuring the region's best Step teams, and they're hoping with a new coach to lead them they'll bring home a first place trophy.
A female-driven Hoop Dreams transpiring in the immediate aftermath of the Freddie Gray tragedy that rocked Baltimore to its core, Lipitz's movie is a treasure trove of emotion, rolling through a thunderous cavalcade situations and moments ranging from the difficult to watch to the triumphantly euphoric in seemingly the blink of an eye. It never shies away from the darkness trying to pull each girl down into the muck and mire. At same time, the film focuses on the many adult voices attempting to lend their support and guidance, most notably the team's coach Gari "Coach G" McIntyre and the school's collegiate advisor Paula Dofat, both of whom are driven to go above and beyond to see these youngsters excel in life, not just in Step competitions.
But the true focus remains on the girls themselves, which is exactly as it should be. With 19 members, Lipitz understandably has to centralize her spotlight. While a number of the girls do get a moment for their personal lives and situations to come to life, there are three primary members of the team whose stories end up being focused upon in the most minute detail, founding members Blessin Giraldo, Cori Grainger and Tayla Solomon, each of them facing their own unique set of circumstances which could affect whether or not they end up getting into college. Blessin's home life is an adventure all its own. Cori, whose mother had her when she was only 16, is the school's valedictorian with dreams of attending John Hopkins University, that $50,000 per year tuition understandably giving her pause. Tayla is going to get into college, and she's going to enjoy her senior year, doing her best to stay on the right path even with her well-meaning, if unintentionally smothering mother Maisha Graves spending potentially too much time trying to keep her daughter on the straight and narrow.
It's sensational stuff, Lipitz keeping things intimate and insightful without ever feeling like she's prying. There is an observational naturalism to her documentary that allows for this decidedly human drama to sparkle with inspirational vitality, and no matter how dark or unsettling things can sometimes become the heart beating at the center of things remains pure and strong throughout. We watch these Lethal Ladies grow to become a true team, and even with their differences, even when outside events threaten to rip them all apart, each finds a way to overcome these obstacles, learning that to become a true unit working together as one each soul most support the other no matter what the situation might be.
No movie has lifted up my soul this year as much as this one has. No movie has had me crying tears of pure joy in quite the volume this one has. What these Lethal Ladies achieve, what they go through, what they allow us as viewers to experience right there alongside them, the heartbreak and the sorrow, the ecstasy and the bliss, every facet of the emotional spectrum right there on display, all of it is magical. For these young women, Step is life, but it is also something to strive for, to believe in and to use as a means to make the leap into the unknown, hopefully to even greater achievements. For the viewer, Step is a wonder, and for the life of me I now can't imagine a world where this documentary does not exist.
– Review reprinted courtesy of the SGN in Seattle
Film Rating: 4 (out of 4)
Additional Link:
Interview with Gari "Coach G" McIntyre