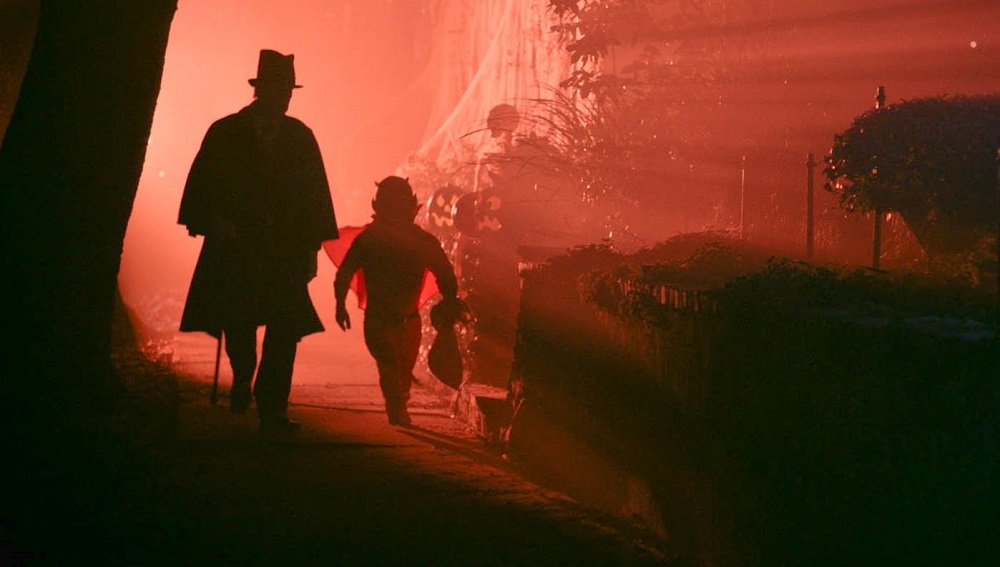 Holiday-Themed Tales of Halloween More Treat than Trick
The stuff that's pleasing in the holiday anthology horror effort Tales of Halloween is truly sublime. Running a quick 92 minutes, the short films on display are remarkably brief, the talented lineup of filmmakers assembled to bring them to life not exactly given a lot of room or leeway to do particularly much. While not all rise to the occasion, those that do manages to craft bits of giddily gory idiosyncratic genre weirdness that's almost impossible not to love, resulting in a mixed bag of terrifying silliness that's happily more treat than trick.
Oddly, the best part of all of this isn't scary at all, it's the casting of The Fog star Adrienne Barbeau as a late night radio DJ who introduces each of the ten, semi-interlocking stories, all taking place in unnamed suburban wasteland that looks like a cross between Haddonfield and Woodsborough. Her smooth, silky delivery is just as seductive as ever, the way she takes delight in setting up these short horror excursions is marvelous, and whomever was responsible for convincing her to come onboard the production deserves some sort of bonus.
The first story, "Sweet Tooth," written and directed by Dave Parker (The Hills Run Red), starts things on a high, its urban legend of a kid-turned-demon who doesn't take kindly to not being left a little candy from the homes he chooses to visit more grisly fun than it maybe has any right to be. The same, however, cannot be said about the second episode, "The Night Billy Raised Hell," from director Darren Lynn Bousman (Repo! The Genetic Opera) and writer Clint Sears. Featuring a game Barry Bostwick this chaotic black comedy sadly goes nowhere interesting, becoming nothing more than an overly violent game of abuse and vandalism that never shocks and is rarely funny.
Adam Gierasch, who made Autopsy, a gleefully disgusting, gore-filled hospital-set shocker back in 2008 that I kind of love, directs "Trick," a twisted little hallucination about a group of a pint-sized trick-or-treaters playing lethal pranks on a quartet of unsuspecting adults culminating in a suitably disturbing twist that's excellent. As for Paul Solet's (Dark Summer) "The Weak and the Wicked," it's one of the more stylishly moody efforts in the anthology yet also one of the more disappointing, and I can't say I was entirely happy with where things ended up. Thankfully Axelle Carolyn's (Soulmate) "Grimm Grinning Ghost" comes next, and while it's perhaps the most predictable and straightforward of the shorts it's also one of the more eerily effective, the climactic jump scare managing to illicit a tiny little shriek out of me even if I knew it was coming.
The weirdest, most outlandish story has to be Lucky McKee's (May) gonzo "Ding Dong," the tale of a witch longing to have a child and her cuckolded significant other (whom she frequently refers to as 'Hansel,' a tasty tidbit to keep in mind) like some psychedelic nightmare that's as fascinating as it is bizarre. I can't say I liked this one, but it certainly captured my attention all the same, all of it building to a warped finale sequence that's easily the most original and creative even if it doesn't make anything close to sense. It's followed by "This Means War" from horror documentarian Andrew Kasch (Never Sleep Again: The Elm Street Legacy) and The Nightmare on Elm Street 5: The Dream Child writer John Skipp, arguably the least inspired short in the entire film, a number of notable cameos by semi-famous faces notwithstanding.
The film saves the best for last, the final three shorts, Mike Mendez's (Big Ass Spider) splendid Friday the 31st, Ryan Schifrin's (Abominable) ingenious O. Henry homage "The Ransom of Rusty Rex" with a divine John Landis cameo and Neil Marshall's (The Descent) wickedly aggressive killer pumpkin tale "Bad Seed," all terrific. Mendez's might be the best of the lot, this seriously entertaining look at a mutant marauder meeting his otherworldly comeuppance an absolute joy that had me grinning ear-to-ear.
Tales of Halloween isn't perfect. A number of the stories do not work near as well as they potentially could have, even some of the enjoyable ones – i.e. Marshall's "Bad Seed" – maybe could have been made even better had they been given a little more time to tell their respective stories. But some of these filmmakers, like Mendez, like Schifrin, like Parker, do a wonderful job, crafting short, sweet and merrily ghoulish holiday-themed yarns deserving of praise. As anthologies go, this one is a heck of a lot of fun, even the misses having a spunky, go-for-broke attitude worthy of going a tiny bit crazy for.
Film Rating: 2½ (out of 4)