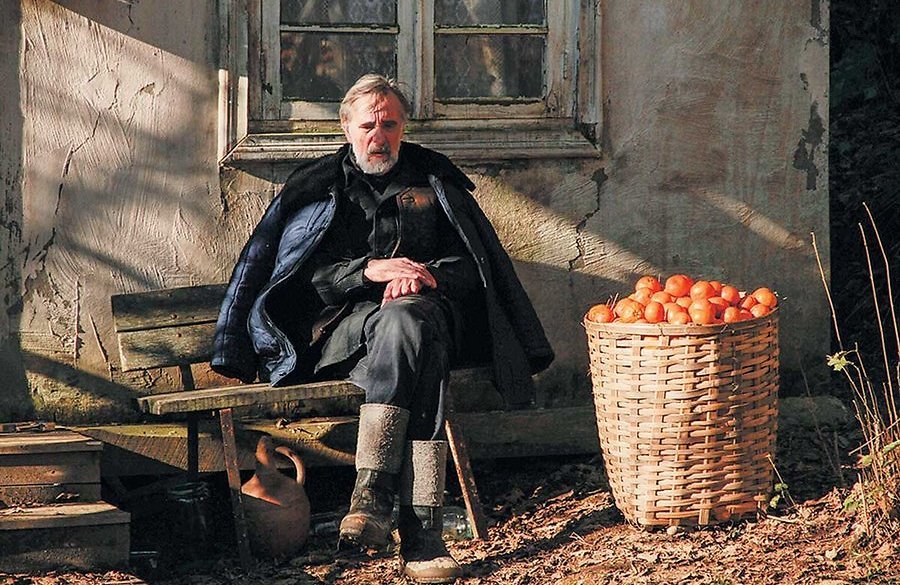 Anti-war Polemic Tangerines a Spellbinding Treat
As the conflict between Georgia and Abkhazian continues to escalate, many in Ivo's (Lembit Ulfsak) close-knit Estonian community have chosen to flee instead of staying to see the violence get worse. But his and his friend Margus' (Elmo Nüganen) crop of tangerines are ripe and ready for picking so he decides to stay to see the job of harvesting them completed, hoping he can work in quiet as war begins to rage around him. Things get complicated when a pair of soldiers, Chechen Ahmed (Giorgi Nakashidze) and Georgian Niko (Misha Meskhi), appear upon his porch at death's door. He must help them but, in doing so, he threatens bringing the war inside his home, their distrust and disgust for one another potentially trumping the gentle tranquility of Ivo's tangerine harvest.
The Estonian import Tangerines, a Best Foreign Language Film Academy Award nominee, is a spellbinding treat, a delectable antiwar polemic of understanding and forgiveness that breaks the heart just as it uplifts the soul. Featuring a stupendous central performance from legendary character actor Ulfsak, writer/director Zaza Urushadze's pacifist melodrama might wear its intentions on its sleeve yet that doesn't make its central message any less powerful. Subtle, intimate and emotionally authentic, this is one motion picture deserving of just about every award and bit of praise thrown its way over the past year.
None of this is meant as hyperbole. Urushadze's scenario might not be full of any surprises – not a one – but that somehow doesn't make it any less impactful. In Ivo he crafts a strikingly delicate, miraculously nuanced central character easy to get behind and root for, his decisions making perfect sense even if one's initial instincts might be almost entirely opposite of the one's he is working by. His reasons for staying are heartfelt, deeply personal, while his decision to care for both wounded soldiers, even though they're on opposite sides of the conflict, are intimately multifaceted.
It helps considerably that, in Ulfsak, he has a star who is completely unafraid to wear his thoughts, opinions and his heart on his sleeve, the actor delivering a strikingly complex performance that's marvelous. His initial reactions to both Ahmed and Niko's appearances are sublime, while his early interactions with Margus crackle with friendly sincerity. While not familiar with him myself, it's immediately clear why Ulfsak is considered an Estonian treasure, his performance coming remarkably close to perfection.
Visually, there's not a lot to talk about, Urushadze content to let his camera observe free from any additional flourishes on his or cinematographer Rein Kotov's parts. And, again, the point of all this is never in doubt, the filmmaker's comments on war and friendship decidedly obvious. As antiwar treatises go this one doesn't offer up anything new, things coming to a close exactly as anticipated back when the film first begins. Yet Tangerines works, oftentimes spectacularly, watching it an ebullient joy start to finish.
Review reprinted courtesy of the SGN in Seattle
Film Rating: 3 ½ (out of 4)