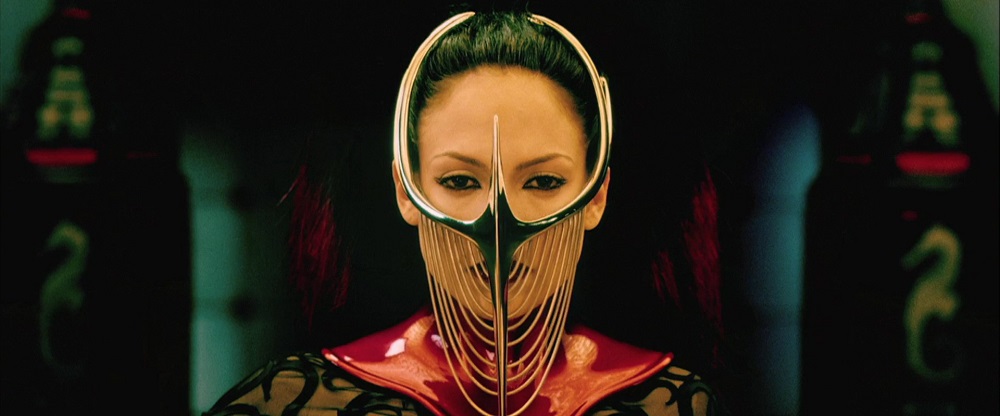 How does the Blu-ray/DVD Disc stack up? (all ratings out of 10.)
Movie
Video
Audio
Extras
Overall
SYNOPSIS
"Do you believe there is a part of yourself, deep inside in your mind, with things you don't want other people to see? During a session when I'm inside, I get to see those things."
–      Catharine Deane
CRITIQUE
In many ways, The Cell should be everything I hate about modern 21st century filmmaking. The focus on the intricacies of Mark Protosevich's (Thor)script is vague at best. Character development isn't a priority. The central mystery is never truly in doubt. All of that is true and more, actors as varied and as magnificent as Dylan Baker, Marianne Jean-Baptiste, Patrick Bauchau, James Gammon, Dean Norris and Jake Weber not exactly given a whole heck of a lot to do except spout spurts of expository informational hogwash at the appropriate moment.
But then there is the style, the visual razzle-dazzle, the look and the feel and the texture of the piece, and on that front The Cell doesn't just soar, it heads straight up into the stratosphere. Making the jump from music videos and commercials, director Tarsem Singh instantly makes a name for himself crafting an ambience and a mood that, even 15 years later, is still at times jaw-dropping. I find this movie impossible to forget and even more difficult to resist, it's shaggy dog story of an FBI investigator (a perfectly cast against type Vince Vaughn) tasking a dream researcher/social worker (effortless portrayed by Jennifer Lopez; a reminder that she has talent as an actress – if anyone care to be reminded) to head into the mind of a comatose serial killer (Vincent D'Onofrio, at his most unsettlingly quirky) and find answers within his subconscious to the location of his latest kidnap victim (Tara Subkoff) a bizarre, misshapen mess that's still more emotionally affecting than it by any real measure has any right to be.
The whole thing is like some dirty, S&M-fueled melding of Dreamscape and The Silence of the Lambs using Catholic, Indian and Egyptian iconography in ways that continually confound, startle, shock and amaze. Women are turned into dolls. A killer takes on the visage of a minotaur crossed with the gate, stride and demeanor of Tim Curry's Darkness from Ridley Scott's Legend. Lopez strides atop the sand dunes of Namibia in regal attire befitting a Greek goddess descending from the heavens. It's creepy, upsetting, emotional and fascinating, all pretty much at the same time, and if ever a movie could make the case for its style being enough to compensate for its lack of substance this would arguably be it.
Tarsem has subsequently made better films than The Cell, his magnificent tall tale The Fall and his winning Snow White reinvention Mirror Mirror most notably (although I'm also quite fond of his visually audacious mythological whirligig Immortals, as well). But there is something about this movie that refuses to let me go. I get that there isn't a lot going on, that its practical human mystery is hardly superior to a random episode of "Perry Mason" or "C.S.I." But Tarsem's ability to create a sense of mood, his grasp on emotional dichotomies and how audiences will respond all of that and more is without question, and as such I find his debut a fascinating decent into madness I could watch over and over again and probably never grow tired of.
THE VIDEO
The Cell is presented on a dual-layer 50GB Blu-ray with a MPEG-4 AVC encode and a 2.40:1 1080p transfer.
THE AUDIO
This Blu-ray features an English DTS-HD Master Audio 5.1 soundtrack along with a slew of additional audio tracks and comes with optional English SDH, French, Spanish, Japanese, German SDH, Dutch and Italian SDH subtitles.
THE EXTRAS
Extras here are ported over from the previous DVD release and include:
Audio Commentary with director Tarsem Singh – Super commentary track…if you can keep up with Tarsem's pace. He talks fast and he goes over things with spectacular speed. It's a lot of information, a ton of it, and in many ways it's the type of commentary track you have to listen to multiple times to pick up all of its nuances and intricacies.
Audio Commentary with director of photography Paul Laufer, production designer Tom Loden, makeup supervisor Michèle Burke, costume designer April Napier, visual effects supervisor Kevin Tod Haug and composer Howard Shore – Another solid commentary track (even if the participants were recorded separately), each talking about the different technical aspects of the film and what it was they were tasked to bringing to the production by the director. Fascinating.
Style as Substance: Reflections on Tarsem (11:51) – Solid, if not particularly incredible, vintage EPK-style featurette featuring cast and crew interviews most revolving around just how fantastic a "vision" the director Tarsem Singh has and how he spun the script into an entirely unforeseen direction.
Deleted Scenes with optional commentary with director Tarsem Singh – Sensational collection of deleted material, including the highly controversial (at least, controversial as far as the MPAA was concerned) "Extended Carl with Victim" scene kept out of the domestic cut of the film but included everywhere else in the world where The Cell was released.
–      Trapped in the Cell (1:04)
–      Despair in the Cell (00:43)
–      Extended Raid (3:30)
–      Early Exit (1:55)
–      Novak and Ramsey (1:32)
–      Stargher's Room (3:26)
–      Extended Confrontation with Carl (9:56)
–      Extended Carl with Victim (3:36)
Special Effects with Multi-Angle Vignettes – There's an error in the first selection, "The Hoist." See if you can catch it.
–      The Hoist (9:43)
–      First Entry (17:00)
–      Second Entry (18:47)
–      Novak's Entry (11:25)
–      Catherine's World (9:56)
–      Edward's World (3:54)
Theatrical Trailers
–      Original Theatrical Trailer (1:23)
–      International Theatrical Trailer (1:20) 
FINAL THOUGHT
The Cell is a wonderful introduction to director Tarsem Singh, and even if the movie itself isn't as great as some might lead you to believe it's still a fascinating descent into a surreal dreamscape unique in and of itself. Warner's Blu-ray presentation is glorious, fans of the film certain to be delighted even if all the extras are ported over from previous releases.