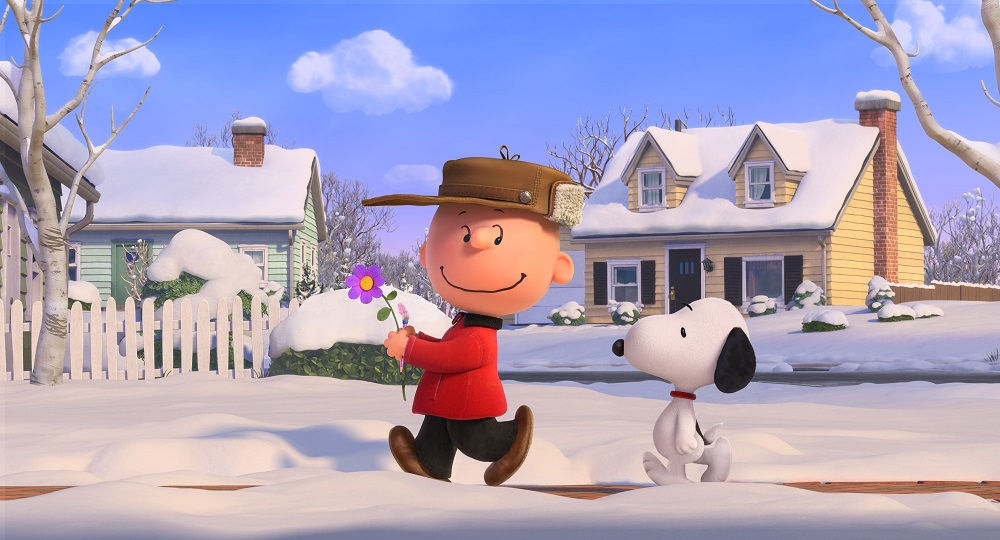 Peanuts Movie is a Hit, Charlie Brown!
The Little Red-Haired Girl (voiced by Francesca Capaldi) has moved in across the street, and Charlie Brown (Noah Schnapp) is smitten. Lucy (Hadley Belle Miller) still thinks he's a blockhead, and Peppermint Patty (Venus Schultheis) would rather go play hockey, so getting advice from them won't do a lot of good. Linus (Alexander Garfin), however, thinks he should walk across the street and introduce himself, while little sister Sally (Mariel Sheets) just thinks it is amusing her big brother has a crush on someone. Yet, no matter how hard it gets, how neurotic he sometimes might become, there's always his trusted dog Snoopy (Bill Melendez) right by his side, proving to be this boy's best friend come what may.
There is nothing flashy about The Peanuts Movie. There is nothing big. There is nothing bold. There is nothing extreme or out of the ordinary. There is nothing going on that lifelong fans of creator Charles M. Schulz's timeless characters or aficionados of either classic animated holiday special (1965's "A Charlie Brown Christmas" and 1966's "It's the Great Pumpkin, Charlie Brown") will not recognize. All-in-all, other than the somewhat flashy 3-D CG animation, this is an exceedingly safe motion picture, never for an instant risking its family-friendly G-rating for anything that could be construed as even slightly beyond the pale.
And that, as far as I'm concerned, isn't just fine, it's practically perfect. The greatest risk going into this production was finding a way to refuse the temptation to take any. Schulz's comic strip, the animated efforts that were created under his direction or with his blessing, all of that speaks to a world of kids being kids filled with universal highs, lows and complicated in-betweens young and old alike can relate to the world over. That a new high-profile feature would be content to stay within the confines of this said world speaks volumes in regards to its creators, director Steve Martino (Ice Age: Continental Drift) and his crew refusing to gussy things up or add unnecessary bits of freneticism just to bow to modern cinematic kid-movie conventions.
With a script by Charles Schulz's son Craig and grandson Bryan (with an additional assist from the latter's writing partner Cornelius Uliano), it isn't a surprise this new film knows so confidently what will work in Charlie Brown's world and what will not. They allow the story to play like a series of loosely connected vignettes with a central thread running between all of the segments that holds them all together beautifully, never losing focus on who their main character is and the core goodness that fuels all of his actions. While Charlie wants to please the Little Red-Haired Girl, wants to make himself look like a hero to her, he's also instantly willing to put those aspirations on hold when others are in need, a sequence during the school's talent show an adorable reminder of just that.
All of this is juxtaposed with Snoopy's consistently ingenious flights of fancy battling the nefarious Red Baron in the skies above France during WWI, his trusty yellow-feathered companion Woodstock (also voiced by Melendez) with him every step of the way. These sequences are gorgeously animated, filled with eye-popping colors and rapturous backgrounds that are continually stunning. On top of that, these little asides are just plain funny, making me chuckle often and out loud to the point I almost worried I was making a fool of myself.
Does the movie knock one out like those timeless animated specials do? Does it pack the same sort of wallop, leading the viewer to a state of joyous tears that warm the heart and tickle the funny bone, both at the exact same time? Not quite, but it does come awfully close, building to a splendid conclusion that had me grinning so broadly I felt a little like Lucy greedily ogling her next five cents. The Peanuts Movie might not be anything more than what it is expected to be, but, just as importantly, it isn't anything less than that, either. To paraphrase a speech made once upon a time in a pumpkin patch, there's no hypocrisy to be found in any of this, just sincerity, pretty much as far as the eye can see.
Film Rating: 3½ (out of 4)