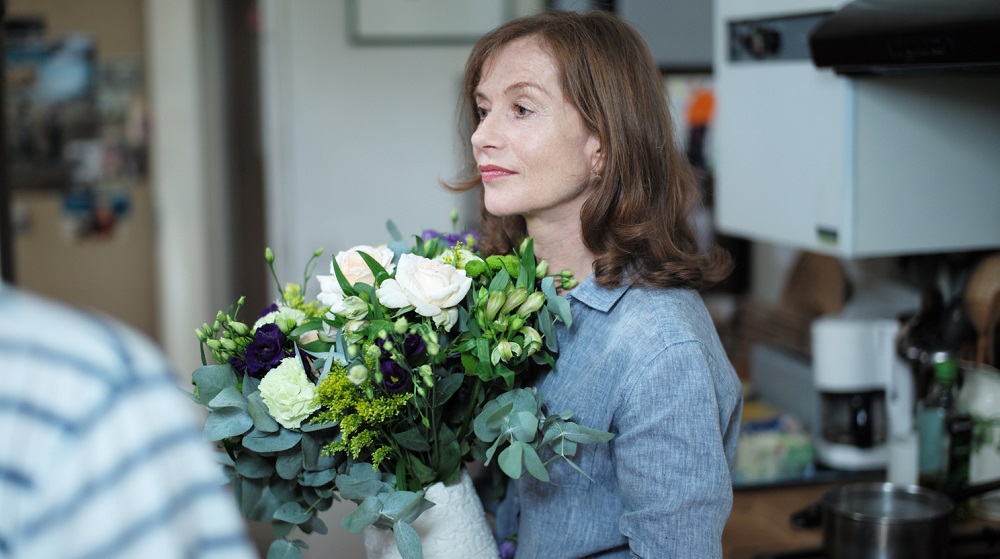 Thoughtfully Unforced Things to Come a Lived-In Triumph
Nathalie Chazeaux (Isabelle Huppert) is a popular professor of philosophy who looks to challenge her students, hoping they will venture into the world ready to think for themselves freely and without reservation. She has been married for a quarter of a century to her husband Heinz (André Marcon), the pair having two grown children who they love dearly are ecstatic to see attempting to build lives of their own. Nathalie is also beholden to the whims of her eccentric, hypochondriac mother, Yvette Lavastre (Edith Scob), the older woman prone to calling the fire department whenever she has a health issue as she's fearful of hospitals and doctors.
An unforeseen series of events changes everything. Suddenly Nathalie is on her own, sitting inside an empty house and charged with taking care of Yvette's cantankerous cat. She strikes up a collegial friendship with former student Fabien (Roman Kolinka), heading out to his mountain hideaway for a brief bit of rest, relaxation, intelligent conversation and mental stimulation. As the days pass, Nathalie feels liberated by her newfound freedom yet is also torn up about the sudden isolation. But this is life, and she's determined to make the best of it, especially with her eldest Chloé (Sarah Le Picard) expecting her first child.
There is a thoughtful, unforced vitality to writer/director Mia Hansen-Løve's Things to Come that is spellbinding in its subtle gracefulness. The mind behind such films as Eden and Father of My Children, the filmmaker's latest is a relatively straightforward examination of a woman dealing with various ups and downs in her life with fortitude and resilience. More than that, though, she allows us to see Nathalie in full, revels in her intelligence while never shortchanging her shifting emotions as things spiral this way and that. It's magnificent, the quiet dignity of it all having a rhapsodic eloquence that's simply beautiful.
Huppert, having already delivered a powerful performance earlier this year in Joachim Trier's Louder Than Bombs and is likely on the verge of an Academy Award nomination for her stellar, ferociously complicated work in Paul Verhoeven's upcoming Elle, is once again stunning. Her work as Nathalie never goes the way I thought it would, the light, almost playful ebullience she showcases in some scenes completely catching me off guard. More than that, though, Huppert's responses have astonishing depth and nuance, the power of her emotional outbursts, when they do occur, just shattering in their impact. It is almost as if she is Nathalie and Nathalie is her, Hansen-Løve grabbing a camera and following the actress around as if she were filming a documentary and a not a piece of cinematic fiction.
There's honestly not a lot to the movie if I'm being entirely honest. Hansen-Løve has constructed an observational enterprise that ticks off days and years as if they were hands on a clock. But there is a lot more happening here than it might initially appear, this examination of this middle-aged woman's life and times speaking poignant volumes for those with the willingness to listen. Things to Come is astonishing, bringing delicate truths into the glaring light of day that are as timeless as they are universal, Hansen-Løve showing just how less can indeed be more when the hands sewing the pieces together into a seamless whole are as confident and as talented as hers are.
– Review reprinted courtesy of the SGN in Seattle
Film Rating: 3½ (out of 4)