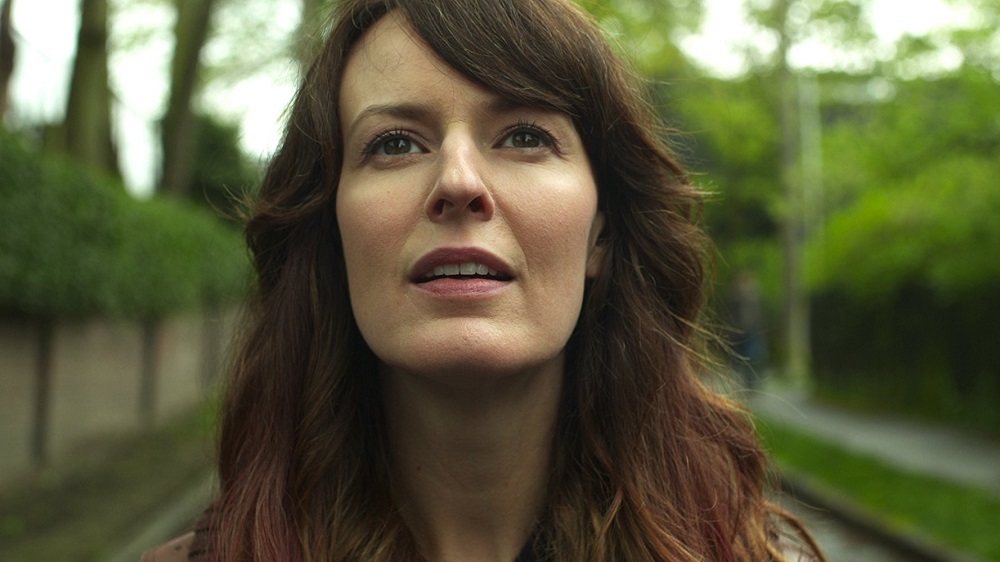 Slight Touch Feely Still an Emotionally Pure Gem
Abby (Rosemarie DeWitt) is a well-respected massage therapist sought out for her caring touch. Her older brother Paul (Josh Pais) is reserved dentist whose practice is barely getting by, subsisting on a series of elderly clientele and not showing any signs of being able to grow beyond them. His daughter, and dental assistant, Jenny (Ellen Page), wants to advertise, shake things up and build dad's business even if he doesn't want to put forth the expense or the effort. Granted, she also has eyes for Abby's bike-obsessed boyfriend Jesse (Scoot McNairy), her ability to differentiate between right and wrong not always what it should be.
Something weird has happened. Abby, about to move in with Jesse, her clients flocking to her office thanks to her seemingly magic hands, has suddenly developed a complete aversion to human touch. On the flip side, Paul, a man who typically avoids human contact, has suddenly discovered his hands can heal, an ability that surprises and excites him in almost equal measure. Now the two siblings are walking down paths they never could have imagined possible, these changes affecting both them and those they are closest to in a variety of indescribable ways.
Seattle filmmaker Lynn Shelton's latest Touchy Feely is a bit off her usual beat. This ensemble piece is as far removed from Your Sister's Sister and Humpday as you can get, the whimsical, freewheeling nature of the narrative both absurdist yet surprisingly tetchy. But its eccentricities are remarkably concrete, while the ephemeral nature of the idea itself is grounded in a real world familial aesthetic that's easy to relate to.
There is some whimsical disconnect. Some of the tangents don't hit their mark, stuff dealing with Jenny's growing infatuation with Jesse not having the same emotional connectivity the core parts of the rest of the story revel in. Key supporting roles portrayed by Allison Janney and Ron Livingston, as good as both actors are, remain rather nebulous and not fully developed, making what happens to them and how they end up interacting with Abby and Paul not as important as it probably should have been.
Yet, for me at least, as slight as it all is, as inconsequential as maybe the main elements of this tale might prove to be, the movie still works. In large part this is due to the performances of both DeWitt and Pais. In others it is due to Shelton's confident direction. The combination of DeWitt, Pais and Shelton, all working together in such beautiful symmetry, ends up making the underlying themes integral to the central plot's core mechanics come to life in ways that otherwise would not have been possible without the trio's spellbinding efforts.
I'm not sure Pais has ever been better. He's wonderful as Paul, the actor seeming to be having a blast giving the dentist life as he discovers his new talents with a combination of disbelief and enthusiasm. Paul blossoms, opening up his life to new experiences and unexplored territories once his gift begins to manifest itself more full, coming alive as he never has before. Even when things change as they almost assuredly have to, he's now discovered a brightness and levity to life that he's never bothered to embrace before this magical event transpired. Pais makes these transformations physically palpable, the inherent emotional nuances of his makeover reflected in every facial tick and vocal inflection.
DeWitt, as underrated and as underappreciated an actress as any working today (a solid case could be made she's been shafted Oscar nomination twice for both Your Sister's Sister and Rachel Getting Married) is equally superb, her affinity for the material noticeable right from the jump. Shelton gives the actress a freedom to explore and to take risks, DeWitt challenging expectation as she moves Abby through her paces. The fear she feels, the terror that lies at the heart of what is happening, all of it comes across with striking authenticity, the emotionality of her performance a high-wire act that allows for the catharsis to come to resonate with purpose and strength.
I like what Shelton is doing here, her growth as a filmmaker readily apparent. The movie has a heartfelt quality to it that spoke to me, both DeWitt and Pais delivering performances that kept me curious to see what each was going to do next. Touchy Feely got to me, that's all that matters, and I have this feeling that, much like Shelton's previous efforts, it's a movie I'll gladly return to again in order to discover little subtle nuances I might not have noticed the first time around.
– Review reprinted courtesy of the SGN in Seattle
Film Rating: 3 (out of 4)