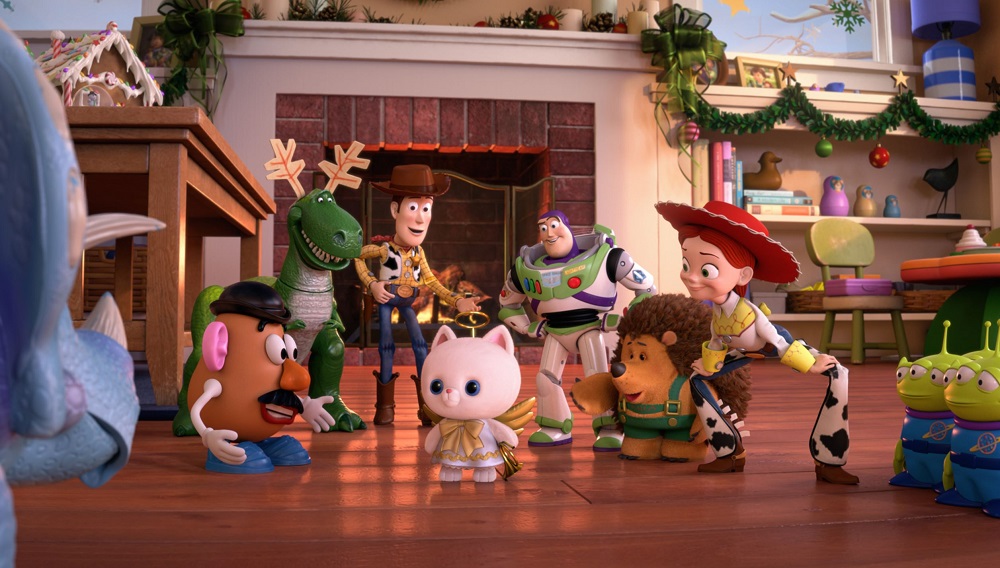 How does the Blu-ray/DVD Disc stack up? (all ratings out of 10.)
Movie
Video
Audio
Extras
Overall
SYNOPSIS
It's after Christmas, and Bonnie (voiced by Emily Hahn) is heading over to Mason's (R.C. Cope) for a post-holiday play date. She's taking toys Woody (Tom Hanks), Buzz (Tim Allen), Jessie (Joan Cusack), Rex (Wallace Shawn) and a few others along with her, dinosaur Trixie (Kristen Schaal) particularly excited to be going on this adventure. Why? Mason's just gotten his hands on the new Battlesaurs, and for the first time in a long while she's going to get played with as a member of her own species and not some creative figment of Bonnie's complex imagination.
CRITIQUE
Much like Toy Story of Terror! in 2013, Toy Story That Time Forgot is a delightful holiday special that's awfully difficult to dislike. Beautifully animated, filled with some idiosyncratically creative characters designs, those behind the 22-minute short, namely writer/director Steve Purcell (Brave), keep the emphasis on the characters and their story making all that happens resonate on a much deeper level because of this. It's supremely entertaining, Kevin McKidd's Reptillus Maximus a particular treat, as is the creepy, Jim Henson-inspired spiritual leader of the Battlesaurs The Cleric (voiced by the director), the simple, subtle and emotionally innocent life-lessons Trixie learns at the end absolute universal for young and old alike.
THE VIDEO
Toy Story That Time Forgot is presented on a single-layer 25GB Blu-ray with a MPEG-4 AVC encode and a 1.78:1 1080p transfer.
THE AUDIO
Toy Story That Time Forgot features an English DTS-HD Master Audio 7.1 soundtrack along with French and Spanish Dolby Digital 5.1 tracks and comes with optional English SDH, French and Spanish subtitles.
THE EXTRAS
Extras here include:
Audio Commentary with director Steve Purcell and head of story Derek Thompson – Solid commentary track, Purcell and Thompson trying to get through as much information as they can considering the holiday special's brief running time.
Reptillus! (10:51) – A brief look at the film's creation and the importance of building up the characters first, the world they inhabit of reflection of who they are as well as the story they are currently on.
Toy Story Goes to Comic-Con (3:39) – Members of the cast at San Diego's Comic-Con.
Battlesaurs – Animated Opening (0:50) – Faux opening of the 'Battlesaurs' animated television series. Fans of "Thundercats," "Transformers" and/or "Voltron" will get a huge kick out of this.
Karaoke: My Unexpected Friend (3:59) – Two versions of the same song, one sung by Reptillus Maximus, the other – in theory – by the viewer.
Deleted Scenes (with Steve Purcell introductions) – Five of them, cut for obvious reasons (i.e. running time) the longish (just over three minutes) 'Battlesaurs Christmas' arguably the most amusing. 
An HD Digital Copy of the animated special is included with this release. 
FINAL THOUGHTS 
Much like Toy Story of Terror!, Disney/Pixar's latest animate special Toy Story That Time Forgot is a heck of a lot of fun, made with much the same love and care each of the three highly acclaimed, Oscar-winning motion pictures were. For the right price, I'd definitely add this Blu-ray to my library, and I'm guessing kids will watch it over and over again no matter what the date on the calendar reads.