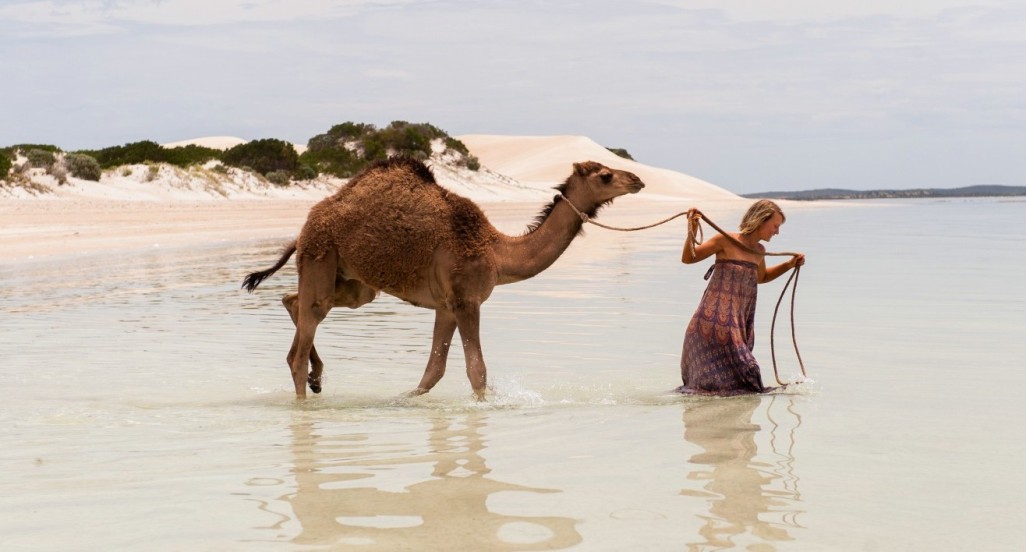 Epic Outback Survivalist Tale Tracks Lacking Danger
Tracks is a movie I wished I liked more than I actually do. Directed by the talented John Curran (The Painted Veil, We Don't Live Here Anymore), based on the memoir by Robyn Davidson, the film brings to life a timeless saga of courage chronicling a 1,700 mile journey across the Australian continent through the heart of the Outback, all of it by foot, most of it alone. What should be a rousing story of survival and resilience disappointingly ends up being rather forgettable, never rising to the occasion like its heroine did during her 1977 expedition.
With a screenplay by newcomer Marion Nelson, the movie follows Robyn (Mia Wasikowska) as she arrives in the small town of Alice Springs with the supposed intent of walking from there all the way to the ocean, entirely on her on with only a small team of camels to aid her in the journey. Her reasons are completely ephemeral and nondescript, having something to do with her father, but by and large she's keeping the answers to countless questions mostly to herself. Spending the next couple of years learning how to wrangle camels, her mind entirely made up to the point it cannot, will not be changed, she slowly starts making ready for the journey, putting everything in place so that once she begins changing her mind and stop will be practically impossible.
All of which is fine, the stage set for an existential Outback adventure that's one part All Is Lost, another Into the Wild and a final piece Picnic at Hanging Rock or Walkabout. Problem is, the sense of danger, the idea that Robyn is in any sort of peril, by and large it simply does not exist, and very rarely at any point during her long and perilous journey did I ever feel like the worst was about to happen. People kept popping up at every opportunity, and more often than not it was as if the National Geographic reporter, Rick Smolan (nicely played by Adam Driver), assigned to chronicle her trek could ascertain her whereabouts anytime he felt like it.
It's honestly more than a little weird, and while I guess the film faithfully follows the anecdotes described in Davidson's best-selling memoir that doesn't make them anymore affecting when replicated on-screen. There is an odd detachment between the character and the audience that's plain bizarre, the whole thing feeling more like a PBS travelogue through the Outback than it does anything remotely more substantive or emotionally involving.
Don't blame Wasikowska. She's fantastic, fearlessly giving a complex, multifaceted performance that's brutally honest about showcasing the heroine in full, warts and all. It doesn't sympathize with her in ways that feel unnecessary. It doesn't try to make a case there's some grand design behind her desire to engage in this particular adventure. The actress reveals the character's interior motivations slowly, bit by bit, never overdoing it or trying to make Davidson something she was not. It's a fascinating portrait, showing once again that Wasikowska is without question one of the more dynamic, fascinating and flat-out talented young performers working today.
The movie is also, unsurprisingly, visually stunning, cinematographer Mandy Walker (Red Riding Hood) achieving a level of eloquence that's continually bewitching. The camerawork is remarkable, imbuing the film with a timeless, opulently epic quality the narrative itself rarely lives up to. It's a sight to see, and whether Robyn is stuck in the middle of a never-ending desert or making friends with Aborigines in their dilapidated homesteads there's always something to look at and be consumed by making the film as a whole far more worthwhile than it otherwise would have been.
There are also some wonderful sequences sprinkled throughout, not the least of which is Robyn's meeting up with a cadre of elder Aborigines, the result of which leads to one of them joining her on a critical part of her trek. It's a magical montage, much of it wordless, the whole portion striking the sort of awe-inspiring, intensely personal tone I can't help but think Curran was going for.
Yet I remain disappointed nonetheless. Tracks kept me at arm's length, never allowed me to embrace any facet in ways that were entirely satisfying. While Davidson's journey remains incredible, and while Wasikowska's performance is superb, I can't help but feel like Curran has dropped the ball as far as this film goes, this epic tale feeling far more insignificant and not nearly as insightful as they intrinsically should have.
Film Rating: 2.5 out of 4