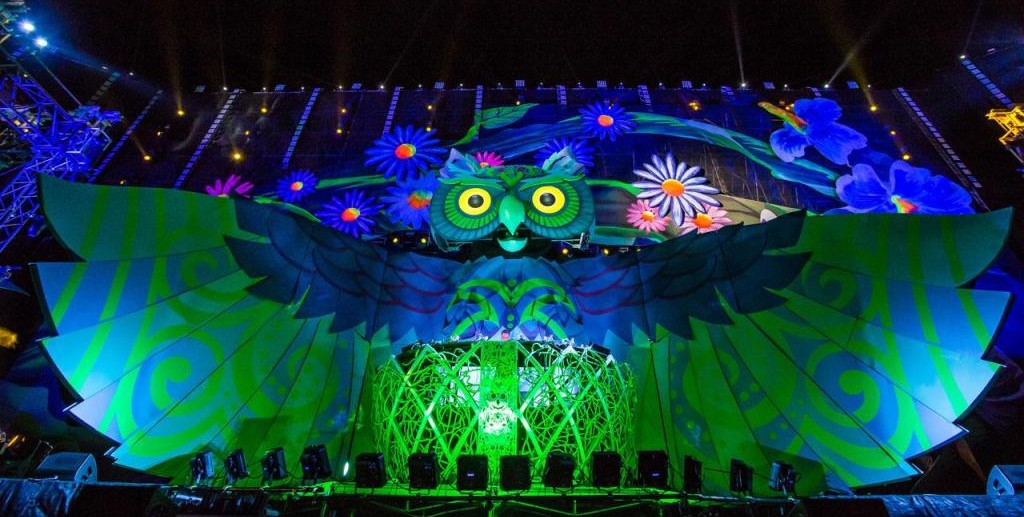 Colorful Electric Sky Singing to the Converted
Under the Electric Sky is a concert documentary composed and manufactured for the converted and, sad to say, for the converted alone. A look at the annual three-day Electric Daisy Carnival (EDC) held in the Las Vegas desert, Under the Electric Sky attempts to tell a collection of stories looking at the lives of a handful of the concert goers and what it is that compels them to attend, some making treks from the other side of the globe in order to be a part of the festivities. Filled with the musical stylings of electronic dance music DJs like Fatboy Slim, Avicii, Calvin Harris, Above & Beyond, Afrojack and Armin Van Buuren, the movie is nonetheless a rather slight affair, its overall insights more of the Reality TV variety than they are sadly anything else.
The reason? The focus is all wrong. More than that, it fails to showcase the diversity, hope, love and universal ideas of acceptance and understanding EDC founder Pasquale Rotella feels is the key element to the success of his events around the globe. Other than a couple of notable exceptions, this is an incredibly Caucasian, and altogether straight affair, and while concepts of gender and sexual diversity are hinted at they're never done so in a way that feels like anything more than a neon-colored smokescreen.
The best two stories revolve around Sadie, a small-town Texas college student suffering from issues with anxiety and self-esteem, and Jose, a wheelchair-bound dance music enthusiast who longs to be a part of the action but knows more often than not he'll have to sit on the outside and soak things up from a distance. What happens to both of them is, without question, beyond beautiful, their respective tales climaxing in moments of sublime emotional purity that speaks to exactly the ideas Rotella feels his event grows and thrives upon.
The others? They're okay, for the most part, if almost instantly forgettable, one involving longtime couple Alli and Matt finally getting married after initially meeting 15 years prior at a previous EDC the only one that's even slightly interesting. In fact, one revolving around a group of longtime New Jersey friends nicknamed 'The Wolfpack' is oddly loathsome, playing like some half-baked variation of a subpar episode of "The Jersey Shore," the fact the group is there to ostensibly toast and remember a dearly departed friend not helping matters in the slightest.
Not that I don't give co-directors Dan Cutforth and Jane Lipsitz at least some modicum of credit for what they've accomplished. They show the same delicate, sweetly nonintrusive touch they showcased on their previous music documentary, Katy Perry: Part of Me. They attempt to let moments speak for themselves without additional accompaniment, keeping melodramatic excess to a happy minimum.
But, as stated, the focus is misdirected. For as much as some interviewed want to talk about Woodstock, the seminal documentary all concert films hope and pray they can bare even a passing resemblance to, this one is more concerned with the whitebread antics of festival goers than it is with the music itself. The artists and their compositions take a backseat to everything else which can't help but feel a little odd especially when everyone being interviewed, including Rotella, keep stating it was the music that initially got them excited in the first place.
Not that die-hard fans of EDC and this sort of music will care. As already stated, the converted are going to be falling all over themselves aching to give Under the Electric Sky a look, and I doubt they're going to have any of the same problems with the motion picture that I have. Maybe that's how it should be. I do not know. But in my mind a movie such as this should be broadening the fan base, not just preaching to the already fervent following, and on that front this concert documentary sings a series of songs I have no wish to ever hear again.
Film Rating: 2 out of 4
Review reprinted courtesy of the SGN in Seattle